We previously compared Nokia Corporation (NYSE:NOK) against Research in Motion (RIMM) back in September and we were able to conclude that while Nokia has no chance in catching up to the Android-iOS smartphone operating system duopoly, at least it has a decent chance of outperforming Research in Motion. While Nokia World's Lumia Launch may have been another flop by Stephen Elop, at least it released the Nokia Lumia Windows Phone 8 smartphone devices in early November whereas RIMM won't even release its BlackBerry 10 phones until January 30th. Although Apple's (NASDAQ:AAPL) cutting-edge iPhone 5 was released on September 21st and had a 6 week advantage in the market versus the Nokia Windows Phone, Nokia Nation can take comfort in the fact that the Lumia Windows Phone devices will have a 13 week advantage versus the devices powered by BlackBerry 10. Although RIMM's smartphone sales in its quarterly reporting period ending in September (7.4M) were slightly higher than Nokia's smartphone sales in that same period (6.3M), we believe that Nokia offers greater near term potential than RIMM because it has released its news smartphone product line whereas RIMM's BlackBerry 10 will miss the holiday shopping season. This will give Nokia and its Windows Phone partner Microsoft (NASDAQ:MSFT) a leg up in its battle for 3rd place in the smartphone operating system market.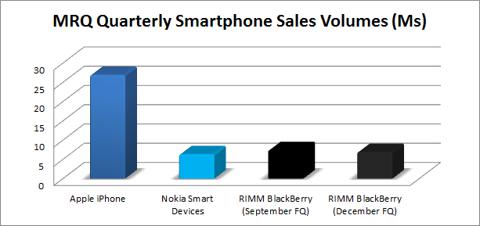 Sources: September and December Quarterly Reports for RIMM and MRQ Reports for Apple and Nokia
As far back as 2009 Nokia and Research in Motion were the dominant players in mobile communications devices industry. Nokia had held the market leadership in overall mobile phone volumes from 1998-2011 and Research in Motion was the leading smartphone maker in terms of revenues up until FY 2009. Unfortunately, both of these firms suffered from the one-two punch combination from Apple's iPhone (iOS) and later by smartphones powered by Google's (NASDAQ:GOOG) Android operating system. We won't go into the specifics of how Google allegedly ripped off Apple's iOS operating system because that will be the subject of its own report. Nevertheless, both Nokia and RIMM have suffered a terrible reversal of fortune due to various management missteps, most notably underestimating the trend towards consumer oriented smartphones like the iPhone.
One area that Research in Motion has an advantage in its battle against Nokia is its presence in tablet computing devices. Research in Motion introduced its BlackBerry Playbook tablet computer on April 19th, 2011 while Nokia does not currently offer a tablet computing device. We are aware that there have been rumors circulating around Nokia bringing a tablet computing device to market for much of 2012 and DigiTimes reports that Nokia will resume development of a 10 inch Windows RT tablet in cooperation with Microsoft, Qualcomm (NASDAQ:QCOM) and Compal Electronics. Nokia is looking to unveil the potential model at the 2013 Mobile World Congress in Barcelona, Spain, during February 25-28. Nokia had previously planned to develop a 10 inch Windows RT tablet equipped with Qualcomm's S4 processor in first-quarter 2012. When Microsoft announced it was developing the Surface tablet computing device, Nokia focused its resources on developing Windows Phone 8 smartphones and delayed its tablet offering. Considering that Apple sold 14M of its revolutionary, cutting edge iPad tablet devices in its most recent quarterly period even though people were waiting on its new iPad offerings that were announced in October, we can see that RIMM and Nokia have a long way to go if it wants to break the iPad's dominance of the tablet computing marketplace.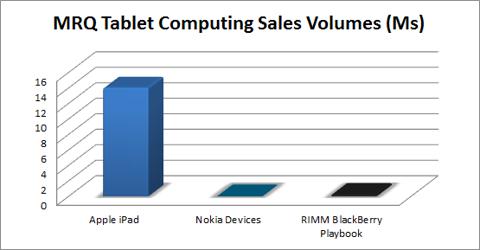 Sources: MRQ Reports for Apple, RIMM and Nokia
Although RIMM has an incremental advantage in the tablet computing marketplace versus Nokia, we believe that Nokia's advantage in the smartphone marketplace more than offsets RIMM's tiny advantage in tablets. Nokia has a 13 week head-start with its Lumia Windows Phone 8 smartphone devices in comparison to RIMM's new smartphone devices on its new BlackBerry 10 operating system. Not only has Nokia been able to sell its Lumia Windows Phone 8 devices during the holiday season, but it has struck a deal with China Mobile (NYSE:CHL) to sell a version of its Lumia 920 device (Lumia 920T) that is compatible with China Mobile's network. PhoneArena.com and UnwiredReview.com even reports that the Lumia 920T can be purchased for as little as 1 Renminbi upfront if a customer is willing to sign a 2 year contract and pay 388 Renminbi each month. That's one advantage Nokia has versus Apple as Apple has not been able to come to terms with China Mobile with regards to creating that is compatible with China Mobile's 3G network system.

Sources: UnwiredReview
We are expecting Nokia/Symbian/Windows Phone to eventually seize 3rd place in the smartphone operating system horse race versus Research In Motion. Unfortunately for Nokia it will still be a distant 3rd compared to the Android-iOS duopoly. We believe that the Android-iOS duopoly is a hungry bear and Nokia and RIMM are campers trying to outrun the bear. While we don't think that Nokia can outrun the bear with its Lumia Windows Phone devices, we believe that Nokia can certainly outrun RIMM especially because Nokia has released its Windows Phone 8 devices while RIMM won't release BlackBerry 10 until January. We also expect Nokia to outlast Research In Motion because Nokia has more liquidity to sustain it during this time period.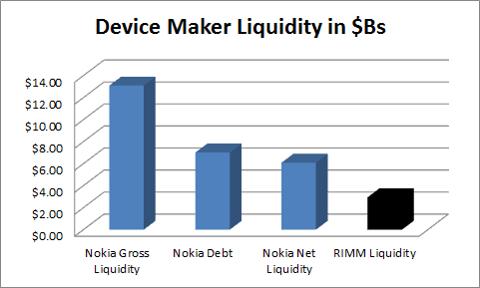 Source: Morningstar Direct
In conclusion, we were unimpressed with the launch of the Lumia 820 and 920 and we expect to be underwhelmed by Research in Motion's BlackBerry 10 launch in January. However, we give kudos to Nokia for at least holding a Nokia World 2012 event and announcing that it would be selling the Lumia 920 and 820 devices and attempting to position those devices to be the featured flagship smartphone devices on Microsoft's Windows Phone 8 operating system. While the Lumia WP8 phones suffered from a 6-8 week delay versus Apple, at least it will have a 13 week head start on the BlackBerry 10. We think that the shares of both companies have run up too far too fast based on irrational exuberance pertaining to the potential sales volumes associated with the "new marquee devices". However, we expect Nokia to perform better than RIMM over the long-term because of its head start in releasing its Lumia 920 Windows Phone 8 devices. Finally, the reason why we believe that Nokia will be able to outrun its fellow mobile device also-ran RIMM is because Nokia also has other businesses (Nokia Siemens and Nokia Location & Commerce) that are generating positive cash flows and Nokia could try to monetize these businesses in order to raise funds to ensure that it outruns RIMM.
Disclosure: I am long AAPL. I wrote this article myself, and it expresses my own opinions. I am not receiving compensation for it (other than from Seeking Alpha). I have no business relationship with any company whose stock is mentioned in this article.
Additional disclosure: Additional disclosure: This article was written by an analyst at Saibus Research. Saibus Research has not received compensation directly or indirectly for expressing the recommendation in this article. We have no business relationship with any company whose stock is mentioned in this article. Under no circumstances must this report be considered an offer to buy, sell, subscribe for or trade securities or other instruments.