BP Plc (NYSE:BP) is an integrated oil and gas company with operations across six continents. BP operates in two business segments: Exploration and Production, and Refining and Marketing. BP's upstream operation (including TNK-BP) produced 3.5 million barrels of oil equivalent per day during 2011. The downstream operation includes refining, chemicals, lubricants, and service stations. BP's $38 billion divestiture program due to the Gulf of Mexico oil spill had $26.5 billion (69.74%) completed as of June 30. While BP did not perform for BP investors for 2012, where the share price is still down $1.02 as of December 24, 2012 at $41.72 compared to the closing on December 30, 2011 of $42.74 ($1.98 dividend distributed), BP is expected to generate higher revenue with a stronger EPS for 2013.
Latest Highlights
On December 24, 2012, BP inked a sale agreement with Kuwait Foreign Petroleum Exploration Company, KUFPEC, relating to its 34.3% stake in the Yacheng gas field in the South China Sea, for $308 million cash. This sales decision is part of a broader program to focus on high value assets with long-term growth potential. BP expects the deal to close in the second half of 2013.
On December 22, 2012, a U.S. judge gave final approval to BP's settlement with individuals and businesses who lost money and property in the 2010 Gulf of Mexico oil spill. The order only addressed the settlement of economic and property damage claims, not a separate medical benefits settlement for cleanup workers and others who say the spill made them sick. BP has estimated that it will pay $7.8 billion to settle more than 100,000 claims in the class action litigation. As reported, "U.S. District Judge Carl Barbier initially approved the deal in May, but held a "fairness hearing" in November to weigh objections from about 13,000 claimants challenging the settlement to resolve some of BP's liability for the worst offshore oil spill in U.S. history." In a 125-page order approving the settlement, Barbier called the deal "fair, reasonable and adequate," citing the low number of class members who objected or opted out.
In a settlement with the U.S. government announced last month, BP agreed to pay $4.5 billion in penalties and plead guilty to felony misconduct. The government also indicted the two highest-ranking BP supervisors aboard the Deepwater Horizon rig during the disaster, charging them with 23 criminal counts including manslaughter.
Analyst's Call and Earnings Estimates
On December 24, Zacks reiterated their neutral rating on BP with a $44.00 price target. Zacks' analyst wrote,
"We are maintaining our recommendation on BP Plc at Neutral. The company maintains a leadership position among the global offshore drillers despite the oil spill in 2010. Its strategy of offloading non-core upstream properties will prove beneficial over time, while creating a portfolio with potentially stronger growth from a smaller base. Additionally, BP's natural gas operations will be aided by its positions in the Woodford, Haynesville, Fayetteville, Eagle Ford and Utica shale plays, along with its vast resource base and profound knowledge in unconventional gas. However, earnings decreased from the prior-year quarter due to low oil and gas prize realization. Further, headwinds from a number of global macro issues including sovereign debt risks, defaults on sovereign credits, and changes in U.S. monetary, fiscal and tax policies are concerns moving forward. "
Analysts are expecting $82.63 billion revenue and $1.30 EPS for the current quarter ending in December, 2012. The full 2012 revenue estimate is $332.91 billion and EPS of $4.97. Analysts are expecting $5.17 EPS and revenue of $336.52B, with 1.08% increase compared to 2012, as seen from the table below.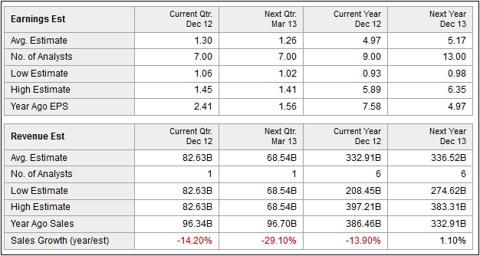 Source: Yahoo! Finance
Key Stats and Valuation
BP currently has an enterprise value of $165.19B with a market cap of $132.47B. BP has a total cash of $16.36B with an operating cash flow of $19.07B, ttm, and a levered free cash flow of $1.14B, ttm. BP has a book value of $37.04 per share.
By using the data obtained from Morningstar, BP's key stats will be compared to its peers in the oil & gas integrated industry, including Exxon Mobil Corporation (NYSE:XOM) and Chevron Corp (NYSE:CVX). BP has a higher revenue growth (3 year average) of 1.7 and EPS growth (3 year average) of 6.4, comparing to the industry averages of 1.6 and 1.2. However, BP is generating lower operating margin of 7.2%, ttm, net margin of 4.6, ttm, and ROE of 15.6, ttm, as compared to the averages of 12.5%, 7.3%, and 17.0, ttm. BP has a lower debt-to-equity of 0.4, as compared to the average of 0.7.
BP has a P/E of 7.5, which is lower than the industry average of 9.8. The P/B of 1.1 and P/S of 0.3 are all lower than the industry averages of 1.5 and 0.7, as well as BP's 5 year averages of 1.7 and 0.6. BP is under-valued compared to its peers.
Technical Analysis
BP closed at $41.72 with 0.95% loss on Friday with a light volume of 2.42M. BP had been trading in the range of $36.25-$48.34 in the past 52 weeks. The MACD (12, 26, 9) indicator started to show a bullish sign on November 23; however, the MACD difference had been converging in past 2 trading days. The momentum indicator, RSI (14), is near neutral at 51.40. BP is approaching its supports at 50- day MA of $41.69 and 200-day MA of $41.59, as seen from the chart below.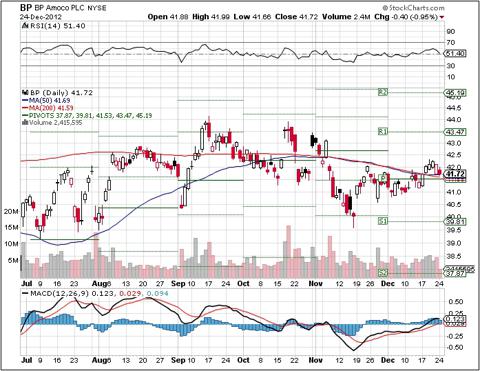 Source: StockCharts.com
Options Play
BP did not perform in 2012; however, it should improve in 2013 but the degree of improvement will be subjected to the macro economic conditions. Here, a credit put spread will be reviewed for investors who would like to acquire BP with a margin of safety while gaining some upside potentials.
Short 1x April 20, 2013 put at the strike price of $39.00 for the credit of $1.27
Buy 1x April 20, 2013 put at the strike price of $37.00 for the cost of $0.79
The maximum profit is $0.48, and the maximum risk/margin requirement is $1.52 ($2 loss - $0.48 credit received). If BP closes above $39.00 on April 20, 2013, 31.58% return on margin will be gained. If BP falls below $39.00 upon options expiration, BP stock will be acquired at $38.52, which is 7.67% lower than the current price of $41.72. The projected dividend yield will be 5.61% based on the acquisition cost of $38.52 and the projected dividend of $0.54 per quarter.
Note: All prices are quoted from the closing of December 24, 2012 and all calculations are before fees and expenses. Investors and traders are recommended to do their own due diligence and research before making any trading/investing decisions.
Disclosure: I have no positions in any stocks mentioned, and no plans to initiate any positions within the next 72 hours. I wrote this article myself, and it expresses my own opinions. I am not receiving compensation for it (other than from Seeking Alpha). I have no business relationship with any company whose stock is mentioned in this article.