Shares of Priceline.com (NASDAQ:PCLN) have dropped by 20.3% from their 52-week high of $774.96 attained in April. Has the pullback created a buying opportunity for the stock? In this article, I will elaborate on my value analysis that may help you in formulating the investment decision.
On a relative valuation basis, Priceline appears to be cheap based on the company's robust financial performance relative to its peers' (see comparable analysis chart). Analysts on average predict the firm's revenue, EBITDA, and EPS to rise at 3-year CAGRs of 19.0%, 25.7%, and 24.6%, respectively, over the current and next 2 fiscal years. The consensus growth estimates are significantly superior to the averages of 13.6%, 16.0%, and 4.0%, respectively, for a peer group consisting of Priceline's primary competitors including TripAdvisor (NASDAQ:TRIP), Expedia (NASDAQ:EXPE), and Orbitz Worldwide (NYSE:OWW). The company's EBITDA margin is also forecasted to expand substantially by 5.9% over the same period, compared to the peer average of only 1.3%. On the profit side, Priceline has also demonstrated its superior profitability performance as most of the company's margin and capital return metrics are considerably above the group averages. In terms of leverage and liquidity, Priceline carries a low level of debt as indicated by the firm's below-average debt to capitalization and debt-to-EBITDA ratios. The firm's trailing free cash flow is slightly above the peer average. Due to the robust profit margins and the low leverage, Priceline was able to maintain a superior interest coverage ratio. Both the company's current and quick ratios are markedly above the par, reflecting a fortress-like corporate balance sheet.

To summarize the comparable company analysis, Priceline's excellent financial performance in growth, profitability, and liquidity should justify a solid stock valuation premium relative to the peer-average level. Nonetheless, the current stock valuation at 17.1x forward P/E (next 12 months) is fairly in line with the peer average of 17.1x, and its 0.9x PEG is even 28.8% below the peer average at 1.2x (see chart above), suggesting that the stock is likely undervalued.
Moreover, Priceline's trailing P/E multiple of 23.3x is currently trading at a 21.9% discount to its 5-year historical average at 29.9x (see chart below). I believe this multiple discount is exaggerated provided that 1) Priceline's capital return metrics including ROIC and ROE have improved substantially over the past 5 years; 2) the company's various profitability margins have also experienced steady expansion over the same period; and 3) despite a slowdown trend for the EBITDA and EPS growth, the firm's top-line growth is expected to be steady and fairly consistent with the historical level (see charts below).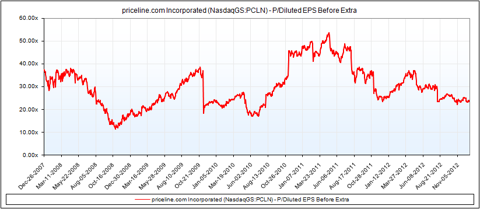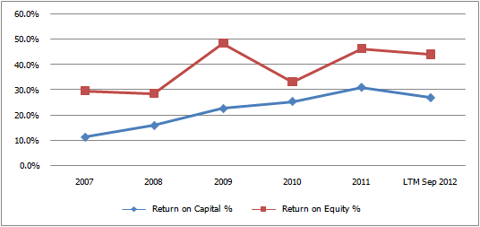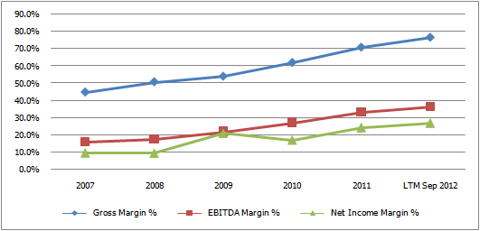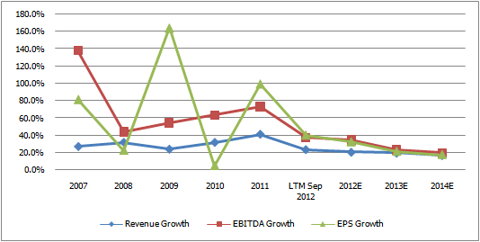 To support my view that the stock is undervalued, I also performed a DCF analysis that incorporates the market's consensus revenue and EBITDA estimates from fiscal 2012 to fiscal 2016 (see DCF chart). Other free cash flow related items including depreciation, tax expense, capital expenditure, and net working capital investment are forecasted based on their historical figures relative to the revenue as the ratios have been trending steadily over time. To be conservative and reasonable, a company-specific risk premium of 6.0% is applied in the cost of equity calculation to account for the financial projection risk. A normalized 10-year risk-free rate of 2.5% is also used instead of the current distorted 10-year US Treasury Bond yield.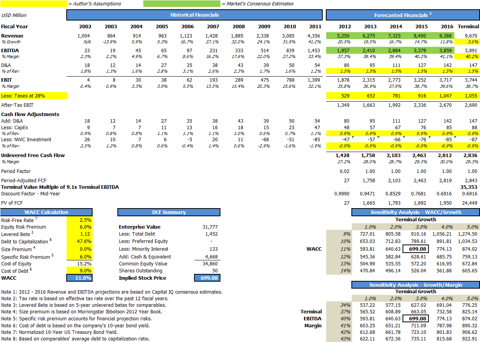 As such, based on a WACC of 11.0% and a terminal growth rate of 3.0%, the DCF model yields a stock value of $699.08, representing a 13.2% upside from the current share price of $617.34. Based on the same WACC, the current share price appears to have factored in a lower than 3.0% terminal growth rate and a terminal EBITDA margin below 35.0%, which is significantly lower than the average consensus estimated margin of 39.3% from fiscal 2012 to fiscal 2016, indicating an undervaluation.
In November, the company announced an upbeat Q3 earnings result and issued a Q4 guidance that is higher than the Street's expectation primarily as a result of the firm's solid European operations despite the harsh macroeconomic environment. Following the quarterly results, analysts at RBC Capital Markets and Deutsche Bank reiterated their buy/outperform ratings on the stock and raised their target price from $720 and $750 to $770 and $800, respectively. Stifel Nicolaus raised their stock rating from hold to buy with a price target of $760. The broker cited the stabilized European outlook as the primary reason for the upgrade.
Bottom line, Priceline's operation resilience is demonstrated by the solid Q3 performance. Given that the stock is somewhat undervalued on both the relative and absolute valuation basis, I recommend buying the shares now.
The comparable analysis and DCF charts are created by the author, other charts are sourced from Capital IQ, and all historical and consensus estimated financial data in the article and the charts is sourced from Capital IQ unless specified.
Disclosure: I have no positions in any stocks mentioned, and no plans to initiate any positions within the next 72 hours. I wrote this article myself, and it expresses my own opinions. I am not receiving compensation for it (other than from Seeking Alpha). I have no business relationship with any company whose stock is mentioned in this article.