It's been a while since I've written on Seeking Alpha. Since my early Q4 articles advocating a defensive posture, I have been waiting for incremental data to either defend or abandon my position. I am happy to report that after sifting through Q3 macro data, my bearish convictions are stronger today than at any time during the 3-1/2 year economic expansion and associated bull market.
In coming to this assessment, I rely on my personal road map - the Market Thermometer. As of the last market close, here is my snapshot interpretation of where we stand.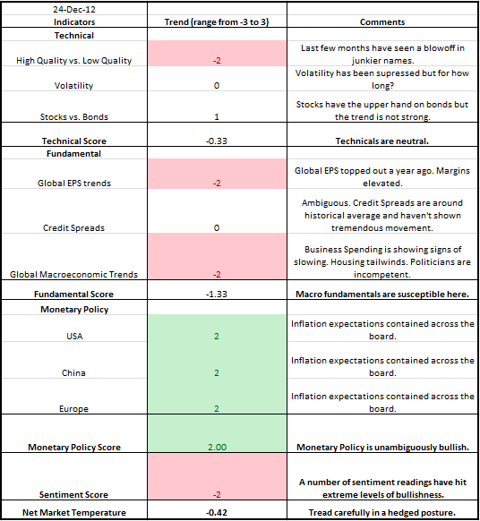 Drilling down into the Thermometer reveals some interesting cross-currents.
While we have seen some interesting swings, the S&P500 hasn't really done much. In fact, as measured by the 63 day ROC, stock investors have seen negative returns over the last 3 months and arguably key indicators like the MACD seem primed to turn down within this negative momentum trend.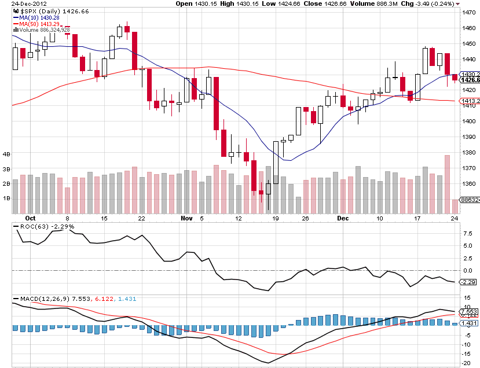 Perversely, despite a lack of new highs, sentiment has become ever more bullish, with the recent upward sentiment spike from the November lows being exceptionally sharp. At least according to NAAIM, manager sentiment at these levels has been seen only a few times during this bull market, including Spring 2011 - a few months before the debt ceiling debacle and S&P's downgrade of America's AAA rating.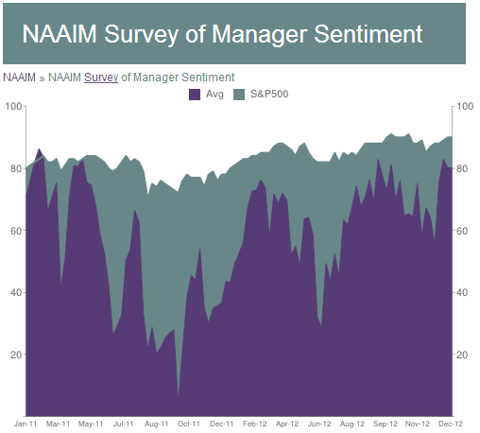 I suppose it is somewhat fitting that back then there was a near unanimous consensus that a deal would be struck. Market participants held their collective breath and volatility died while traders placed bets on a huge market rally once a deal was passed. If that sounds familiar, it should, because I believe it also describes the environment today.
When a deal was eventually struck, market participants finally focused on what actually counts - the fundamentals. And while they had deteriorated significantly going into the summer of 2011, U.S. companies and the U.S. economy still had enough gas to wreak havoc on the portfolios of short-sellers, hedge funds and other hot money investors. Fast forward to today and I simply do not see the same fundamental momentum to carry markets when the next selloff comes.
For one, US companies have far less earnings power today then 18 months ago. Trailing 12 month earnings clearly peaked in Q2 of 2012 are negative on a year-over-year basis, and I believe are now entering a protracted decline. To give you perspective on how rare this is, negative YoY earnings occurred in 1990, 1998, 2000 and 2007. Market veterans will certainly know the significance of those years.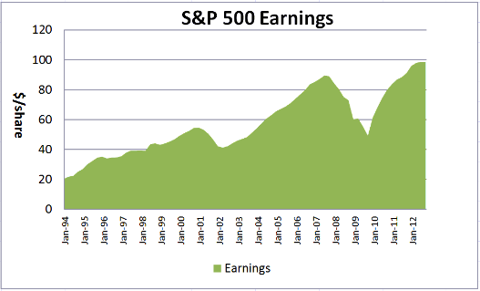 The catalyst for the earnings decline is a slowdown in U.S. business investment spending. In my previous article, outlining my intermediate term benign view on Treasuries I discussed this subject using Q2-12 data. Since then, my view of a slowdown has been further substantiated with Q3-12 data showing investment spending grinding to a halt. Total spending has also slowed, buoyed only by the silver lining in the U.S. economy - the Housing Recovery. But as we saw in the 2000-2002 bear market, housing need not collapse to provide a headwind to asset prices. Non-residential spending is a far more important part of the macroeconomy and hence has a higher order affect on risky assets. This point was sorely missed when analysts thought the economy would immediately crash when housing spending collapsed in 2006 and is being missed again as analysts overstate the positive role of housing in the current economic expansion.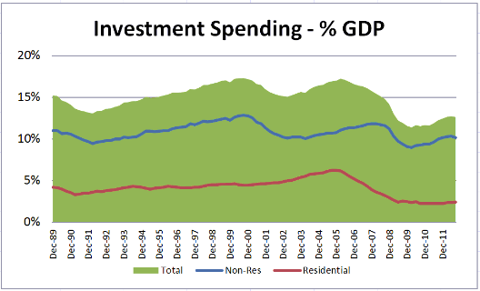 If there is any sliver of good news, it's the ammunition of monetary officials and their ability to keep borrowing rates contained. This is the one aspect of my bearish thesis that is most difficult to handicap. I have noted accordingly the firepower of monetary officials in the Thermometer. Indeed that, and the associated lack of a "smoking gun" in credit spreads, is what keeps me from going "all in" in an outright short of various risk assets. Central Banks have far more leeway than they did in the summer of 2011, when inflation was a real danger (particularly in Emerging Markets), while credit conditions appear far more contained... at least for the moment.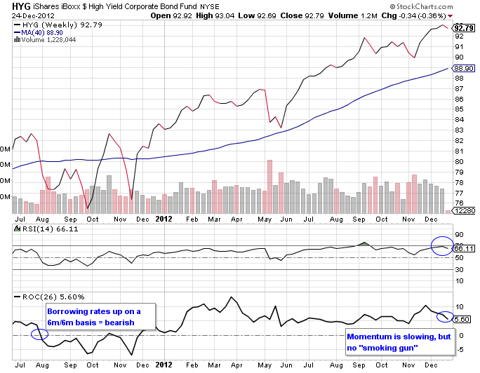 Based on Q3 earnings, recent macroeconomic data, sentiment, and potential inter-market divergences, investors would be wise to take a cautious approach to investing and avoid the S&P500 (NYSEARCA:SPY). The run-up in credit against a deteriorating capital investment outlook also makes higher yielding credit (NYSEARCA:HYG) plays particularly risky. Credit investments with low default risk continue to be my preferred option. I continue to maintain that investors can embrace duration in the face of an economy heading into stall speed and an environment where deflation, rather than inflation, is the bigger threat.
Disclosure: I am long EMB, XLU, XLE. I wrote this article myself, and it expresses my own opinions. I am not receiving compensation for it (other than from Seeking Alpha). I have no business relationship with any company whose stock is mentioned in this article.