Over the past few weeks, the Obama administration has been contemplating the expansion of several of its mortgage-refinance programs. These expansions would now include the borrowers with mortgages that aren't backed by the government (better known in most mortgage circles as non-agency based paper) and borrowers who owe more than their homes are worth (better known as underwater borrowers).
According to Nick Timiraos of the Wall Street Journal, "Such a move would benefit borrowers and provide a boost to the economy by unleashing cash that homeowners could spend elsewhere. One of the proposals currently being considered would also transfer potentially riskier loans held by private investors into the taxpayer-supported mortgage giants such as Fannie Mae (OTCQB:FNMA)." The benefit to Fannie Mae could be quite positive and as a result I wanted to examine several key catalysts that could boost the stock over the next six-to-twelve months.
Fannie Mae which is based in Washington, DC, currently "provides liquidity and stability support in the secondary mortgage market in the United States. The company securitizes mortgage loans originated by lenders in the primary mortgage market into Fannie Mae mortgage-backed securities (Fannie Mae MBS). It operates in three segments: Single-Family Credit Guaranty, Multifamily, and Capital Markets". (Yahoo! Finance)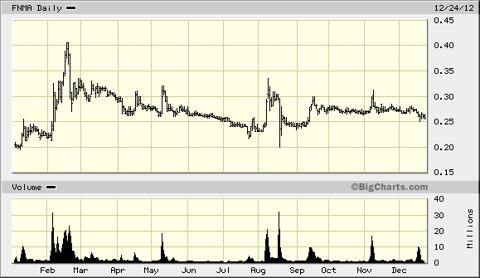 Click to enlarge
Fundamentally speaking shares of FNMA have risen 23.81% on the year, carry a market cap of $1.47 billion and currently trade at 5.19% discount to their 50-DMA and at a 1.54% discount to their 200-DMA. When it comes to Fannie Mae, the company's margins and debt remind me of a Mortgage REIT without the attractive double-digit yield, and as a result I tend to apply similar theories.
The first key catalyst I wanted to examine is the company's potential earnings growth. On November 7th, Fannie Mae reported Q3 net income of $1.8 billion vs. a $5.1 billion loss from a year ago as an improving housing market allowed for a $9 billion drop in loan loss reserves. That change represented an 11.84% improvement to $67 billion. If Fannie Mae can continue to demonstrate similar results over the next few quarters, I'd look to increase my position in the wake of those announcements.
Similar to its sector counterpart Freddie Mac (OTCQB:FMCC), more and more of the company's loan book (roughly 63% as of November) consists of mortgages originated post-bubble. The fact these mortgages are post-bubble simply means borrowers credit ratings are significantly higher and therefore have better chance of paying the loan on time each and every month. The company also expects to report an annual profit for the first time since 2006 when it reports sometime in early January.
The second key catalyst for Fannie Mae could very well be an attempt at diversification, similar in scope to the way Annaly Capital (NYSE:NLY) has come to the same conclusion. Both firms have realized that agency-paper, although steady, is facing mounting pressure and overall supply could very well dwindle due largely in part to the $85 billion a month the Fed is planning to spend on Mortgages and Treasuries beginning in January.
If the supply runs out, many of the agency-based Mortgage REITs could face sustainability issues, and although the post-bubble agency-paper is some of the highest grade, where would names like Fannie Mae and Freddie Mac turn for short-term investments? The same place many of Mortgage REITs are, and that is outside the agency-based realm.
Final Analysis
For investors looking to establish a position in Fannie Mae, I'd look to establish a moderate to medium sized position at current levels and keep a close eye on such things as quarterly revenue growth and Fed spending. Unless the Obama administration sets forth a clear plan in an effort to go outside the realm of agency-paper, I'd refrain from adding additional shares in my current position.
Disclosure: I am long NLY. I wrote this article myself, and it expresses my own opinions. I am not receiving compensation for it (other than from Seeking Alpha). I have no business relationship with any company whose stock is mentioned in this article.