I recently wrote a post "Apple The Fire Sale Ends Dec. 31?" in which I proposed the theory that shares of Apple (NASDAQ:AAPL) will see a very strong rebound in the new year.
The post was so popular that I thought I would expand on it.
Here I present an expanded view of what I believe is a very plausible scenario. [Please note emphasis on plausible.]
In a third part, I will present some options scenarios gathered from the readers, along with one of my own.
The current situation
Currently, Apple is down about 28% from its September intraday high of $705. There have been many reasons suggested for the swoon, and I covered these in the previous post.
Also in the previous post, I proposed that this is a trend that may very well end abruptly on December 31, and that it provides a truly unique opportunity to capitalize on a specific, singular, historical situation. This historical situation is the likelihood that long term capital gains rates will likely go up next year, so people are selling to take gains at the significantly lower rates that could save them as much as $50 per share.
I concluded:
If this capital gains issue is the main driver behind the current drop in Apple prices, then you can look to a very rapid rise back to the $700 level and perhaps beyond.
Now I would like to flesh out my vision of a scenario, but first, the assumptions.
Assumptions
The current drop in Apple share price is due largely to the Capital Gains issue.
With the removal of this motivation, shares will "re-correct" back upwards.
Given these two assumptions, I make the following, short term predictions.
Scenario
My scenario has four phases:
Through December 31
Through Earnings release (January 22 - unofficial)
Post Earnings - through January 25/30
Onwards - to end of February
IF (big if) the situation is as I assume then the following scenario should play out to some degree of accuracy. The price will, of course, be influenced by external events. (If Iran invades Israel, or a 9.7 earthquake hits San Jose, then all bets are off.)
#1
The rest of December should follow the pattern of the last couple of months, with the price dipping down to about $500 and retracting upwards. It is possible it may even close below $500 on the last two days of the month. The determinant here will be how many people are driving last minute tax incentivized sales vs. the number of people who realize that the holiday season has been big for Apple. In other words, it is quite possible that the upward trend will start immediately.
#2
On Tuesday, January 1, the price will take a leap and the rest of the week will see a run up to the $580 range.
Meanwhile, seeing the run up, the press will jump on board trying to justify it, with glowing holiday sales reports. The analysts will follow suit the next week, gathering sales data and raising estimates.
By the time Friday January 18 arrives, just before the earnings release most likely scheduled for January 22, the price will be in the $680-$720 range.
#3
Even if Apple blows away the estimates, there will likely be a short swoon for those who absolutely must sell off after the news.
#4
What follows here depends very much on Apple's earning results. If they are bad, then the stock will collapse once again. If in line with the analysts, or vaguely higher, then the stock will continue higher at a moderate pace into the mid $700s.
I, however, feel strongly that the Apple's results will once again go beyond expectations. I have presented my analysis elsewhere for why we should expect an EPS of about $16.90. Currently, Yahoo Finance gives an analysts average of $13.33. This will rise, as noted, as it always does in the weeks before the release. I expect that the mean EPS estimate will go to just above $15. I stand by my own, especially given recent reports of iPhone growth in market share, iPhone 5 sales in China, and that Apple has ordered increased iPad mini production. (I will admit, however, that if there is greater margin compression than I allowed for, then that could take close to a dollar off the EPS.)
An earnings report in this range (EPS at $16+) would send shares even higher over time.
Precedence
Interestingly, there is a precedence for a rise such as this. There have been several rapid rises in Apple's share price over the last few years, but to my mind, one stands out from 2008. The run up was this:
| | |
| --- | --- |
| 3.10.08 | $120 |
| 5.13.08 | $190 |
| 2 mos | + 58% |
Here is the chart: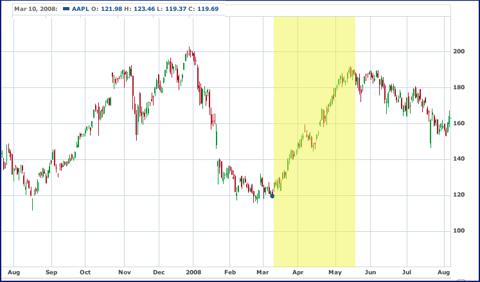 [Chart: Yahoo Finance]
There are a couple of interesting things here to note. First is the sharp rise of 58% in only two months. The other is how the situation resembles the existing one. There had been an earlier run up to an even multiple of 100. This was followed by a deep retraction. Finally, there was a bottom formed with multiple tests of the floor ($120 in 2008, $500 now).
Obviously, what happened four years ago has no direct relation to what is happening now. It does, however, show what is possible, given the circumstances.
A rise of 58% from the recent lows would give a price $790 at the end of February. This is a price that is in line with several analysts' predictions (Yahoo Finance: median target $750).
Counter possibilities
A couple of possible events could throw this all off.
A move - even temporarily - below $500 could trigger a broad automatic selloff by large funds. That could drive prices seriously lower. Recovery might happen quickly, or might take as much as half a year.
It is possible that all the competition from Google's (NASDAQ:GOOG) Android, and Microsoft's (NASDAQ:MSFT) Windows Phone 8 really has taken a toll on Apple sales, and they are truly beginning a retraction. It is possible that all the negative arguments are really coming true at last, and that Apple is beginning its decline. Personally, I still do not buy this, but one should be aware of the risks, and accept the other possibilities before acting.
Conclusion
There are many reasons to discount Apple's stock and rationalize the price drop. The question is, which of these are valid?
IF the upcoming change in capital gains structure is the main driver of the current drop in price, then it is likely that the recovery scenario that I present has some semblance to what is to come. And this will present a unique opportunity to the investor willing to take the implied risk.
In the next installment I will present some potential options plays. Please suggest your ideas on how to best play this potential move.
The third part of this series can be seen here.
Disclosure: I am long AAPL. I wrote this article myself, and it expresses my own opinions. I am not receiving compensation for it (other than from Seeking Alpha). I have no business relationship with any company whose stock is mentioned in this article.
Additional disclosure: May open options positions in the next 72 hours.