The Rural Mainstreet Index (RMI) increased for the fourth consecutive month and posted its highest level since June of 2007. The farmland price index remains above growth neutral for the 35th consecutive month.
The RMI increased to a 60.6 from a 57.5 in November. According to Creighton University economist Ernie Goss, "This is the healthiest reading that we have recorded since well before the national economic recession began in 2007."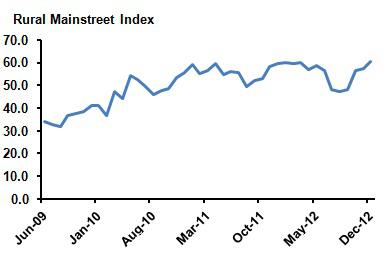 Agriculture
The farmland price index decreased slightly to a 82.5 from a 83.9 the previous month. This marks the 35th consecutive month the index has been above growth neutral. The farm equipment sales index increased to a 67.0 vs. 60.4 last month.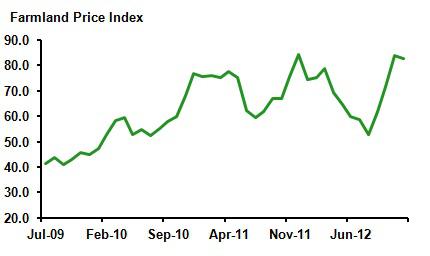 Bankers were asked where cash rents have moved over the last 12 months. On average, they believe that cash rents have increased by 15%. Bankers were also asked about the ethanol industry. 23.2% of bankers expect shutdowns or temporary closings of ethanol plants in their respective areas.
Banking
The loan volume index increased substantially to 62.1 from a 47.8 in November. The check deposit index increased to 75.8 from 75.1 last month and the certificate of deposit and savings instruments declined to 40.2 from 45.5 in November. "Bank CEOs are reporting significant increases in borrowing to purchase farmland and farm equipment," explained Goss.
December's hiring index increased slightly to 53.5 compared to 53.0 last month. The economic confidence index, which reflects expectations of the economy in the next six months, increased heavily to 55.5 from November's 45.6. Ernie Goss said, "Improvements in retail sales, home purchases and lower energy prices boosted banker's economic outlook."
Survey
This survey represents an early snapshot of the economy of rural, agriculturally and energy-dependent portions of the nation. The RMI is an unique index covering 10 regional states, focusing on approximately 200 rural communities with an average population of 1,300. It gives the most current real-time analysis of the rural economy.
Disclosure: I have no positions in any stocks mentioned, and no plans to initiate any positions within the next 72 hours. I wrote this article myself, and it expresses my own opinions. I am not receiving compensation for it. I have no business relationship with any company whose stock is mentioned in this article.