The Zambian economy has come a long way since hyperinflation in the early nineties. The IMF estimates that it will grow by 7.7% in 2012, up from 6.6% in 2011. Its macroeconomic fundamentals have been going from strength to strength over the last 10 years, putting it parri passu with some of the fastest growing economies in the world. Zambia is becoming one of the major drivers of growth in Southern Africa - with a little help from record copper prices, of course. It is one of the few countries in the world where investors, with the adequate know-how, can enjoy the increasingly elusive 'alpha' as part of their returns.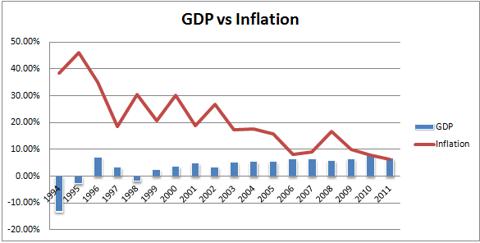 Political stability
Zambia has a strong record of democracy and peace since its independence in 1964. It is now on its 5th president, Michael Sata from the PF party, who has recently taken over the mantle from former president Rupiah Banda of the MMD which had been in power for the last 20 years prior to defeat. The 2011 elections, in a country of more than 72 dialects, were peaceful, albeit with a few skirmishes. At a time of instability in other regions of Africa, Zambia was praised on the international scene for being one of the paragons of peaceful elections.
Fiscal prudence
The Euro zone debt crisis has illustrated how important fiscal discipline is for an economy to function well. Zambia's public debt stood at 28% of GDP at the end of 2011. The country recently issued an inaugural $750 million sovereign bond which was 24 times oversubscribed at a coupon of 5.35%. Ratings agency Moody's assigned Zambia a rating of B1 with a stable outlook. With Zambia being classified as a 'Lower Middle Income' country, support in form of donor grants from developed countries has decreased significantly - only 4.7% of the 2013 national budget was financed by cooperating partners (14.5% in 2010). As a consequence, the country will have to tap the international markets for financing when the need arises. Despite all the positives, the government has a lot of work to do in order to put Zambia on track to be the economic powerhouse it can be. The tax base is too narrow - in the 2013 National budget 15.9% (15.2% in 2012) of the $6.2b budget is expected to be financed by the income tax 'Pay-as-you-earn'. Now on face value, it looks like a very good thing but, considering that only between 600k to 700k people out of a population of 13.5m are paying this tax, it does not bode well for future fiscal success.
Location, Location!
Successful retailers that operate in prominent cities like New York, London or Paris always stress the importance of having a good location. Zambia is a landlocked country; it has no direct access to the sea. Many will look at this as a disadvantage but shrewd investors will observe that it is surrounded by 8 countries who are currently net food importers with a combined GDP of $169.4bn (2010) and total population of 182.9m. Hitachi (OTCPK:HTHIY) is already taking advantage of the centrality of Zambia's location - they recently set up a plant to re-manufacture mining equipment with which they intend to service Zambia and its mineral-rich neighbors.
Key growth sectors
Agriculture
Zambia has a natural competitive advantage in agriculture - it is endowed with vast amounts of rich undeveloped land. Out of a total of 7.5mn hectares of land, only an estimated 14%-15% is currently cultivated. Zambia also boasts free-flowing and easily accessible water, owing to its possession of about 40% of southern Africa's water resources. Zambia's agricultural sector accounts for approximately 13.3% of the country's GDP and employs about 70% of the population (mostly subsistence farmers). A number of factors will positively influence the sector's future growth: an Increasing population (growing middle class), demand from neighboring countries, rising world food prices, government support (corporate tax rate in the sector lowered from 15% to 10% in 2011) and breweries are set to spend $33m a year on locally produced ingredients.
Minerals
Zambia is Africa's top copper producer and 7th largest in the world. Some of the mining giants operating in the country include First Quantum, Barrick Gold (NYSE:ABX) and Vale SA (NYSE:VALE) - they have been expanding operations to take advantage of record high copper prices. The country is also the world's second largest producer of cobalt. Despite strong copper mining performance, Zambia misses out on additional revenue by exporting copper in its raw form. The country is still only scratching the surface with its mineral wealth. It also has large deposits of precious stones (which are also mostly exported in their rough form as a result of there being very few lapidary operations in Zambia) - gold, diamonds and gemstones - which are not being fully utilized. Gemfields, (majority owner of Kagem mine) is the biggest player in this sector in Zambia. It recently recorded strong financial performance.
Telecom
The sector only has 3 players; Bharti Airtel, MTN and Zamtel - in that order, although MTN has been gaining subscribers at a very fast pace. These companies are making money with African focused strategies, e.g. 'pay-as-you-go' mobile phone plans vastly outnumber postpaid contract plans (the opposite holds in developed countries). Mobile user penetration is currently estimated at 8.2 million subscribers (4.2million in 2009) - in a country of 13 million, this opens up an abundance of investment opportunities which companies like Celpay are taking advantage of. The current government is in the process of opening up the market to a fourth mobile operator in a bid to increase competition in a sector in which consumers have been hit with some of the highest data and call rates in the region. However, data and call rates have gradually been declining as a consequence of increased investment in a fiber optic network as well as connection to two submarine cables.
Energy
Zambia generates over 90% of its power from hydro-electricity. Major economic activities such as mining, agriculture and a growing urban population have led to demand for electricity outstripping supply, resulting in a deficit of 250mw. This has resulted in ZESCO (Zambia's main electricity supplier) to embark on a 'load-shedding' exercise all over the country, causing power outages over certain periods of time in order to mitigate the impact of the deficit. ZESCO, though, has been implementing a number of long overdue projects to tackle the power deficit. Upon completion, the works should also result in a power surplus within the next 5 years. With most of southern African economies having energy deficits of their own, Zambia could find themselves significantly increasing revenues from electricity exports.
Key Challenges
Unemployment
It has been estimated that 300k young people enter the labor market each year to compete for scant employment opportunities. The biggest hurdles to youth employment include: the inability of the educational system to equip people with skills required by the job market, high school dropout rates, a lack of entrepreneurial opportunities and poor access to labor market information for job seekers and employees. According to a Labor Force survey carried out in 2008, Zambia had an unemployment rate of 20% (with informal employment taken into account) and 92% when informal employment was excluded. The preliminary results of the 2012 survey should be available in March of 2013.
In addition, many people have seen individuals leaving the private sector and joining the public sector/politics where they prosper financially (common in Africa), which should actually be the other way round - this has set a bad precedent for future generations. However, the government has started making positive moves by highlighting key sectors with high employment potential in the 2013 National budget which they will target to help curb unemployment.
Lending rates
Leverage has been a very expensive undertaking in Zambia, with lending rates hovering around 25% just prior to and during the 2008 financial crisis. Over the years, high lending rates have stifled small business from taking full advantage of the vast potential that Zambia has to offer. The Bank of Zambia (Zambia's central bank) undertook a survey to understand why commercial bank lending rates were so high which yielded interesting results. However, there has been a strong push to reduce rates, courtesy of the central bank's intervention as well as a reduction of commercial banks' corporate tax rate from 40 to 35%. Average lending rates to small businesses have reduced from 24.6%to 17.83% as of June 2012. Despite the progress, rates are still not at an affordable level. Small businesses will be the key to tackling unemployment in Zambia.
Transport
Road: Zambia currently has about 20,000km of paved roads and 71,000km of unpaved roads and is also an oil importer. It has one of the highest oil prices per gallon/liter in the region - a whopping K8,150 per liter (approx. $6.40c a gallon) - as a result of the inefficient procurement process. The government has set in motion plans to spend $5.6bn on building and improving roads over the next five years under the 'Link 8000 project'.
Rail and Air: Zambia has a railway system that is in need of repair and an upgrade. As a result, many companies prefer to transport copper (and other bulk goods) by road because rail is too costly - putting extra strain on the road network. $120m from the Eurobond proceeds is set to be invested in rail infrastructure but much more needs to be invested in order to bring rail infrastructure in line with international standards.
It's tough to make money in the airline industry and Zambia Airways, the country's former flagship carrier, is a testament to that. Commuter and air charter operations have been on the rise (though fares are still quite high), but the country also needs to improve its air cargo capacity, which has not done well over the last decade.
The failings of the transport sector have also had a negative impact on a tourism industry which has been underperforming over the years. In 2011, Zambia received just over 900k tourists whereas Zimbabwe (a country with comparable touristic features) received 3.5m. However, the government has actively been exploring ways in which to resuscitate the national airline and as well as the railway sector.
Investor perception of Africa is gradually becoming more positive but has clearly lagged what has been happening on the ground. Each country needs to be looked at as a project on its own and investment strategies need to be tailored (what worked in South Africa may not necessarily work in Zambia). There is no question that Zambia still has issues to iron out, but the take-away point is that they are being addressed. Ultimately, investors who have done their homework will be thinking about the manner in which they want to expose their portfolios to Zambia. The Lusaka Stock Exchange is one way to go (even though liquidity is not yet as liquid as other markets) or via ETFs which have exposure to Zambia - COPX, CU, AFK, and EWC. Dollar denominated Zambian grain derivatives will also commence trading on the Johannesburg Stock Exchange in 2013.
Disclosure: I have no positions in any stocks mentioned, and no plans to initiate any positions within the next 72 hours. I wrote this article myself, and it expresses my own opinions. I am not receiving compensation for it. I have no business relationship with any company whose stock is mentioned in this article.