If you've read my writing for a while, you know that I'm a big fan of Donaldson (NYSE:DCI), the filtration company. The company has delivered record earnings for 19 straight years.
On Monday, Donaldson reported earnings for its fiscal first quarter and it looks like they're on their way to a 20th record year. For Q1, Donaldson earned 60 cents a share. That's up from 53 cents last year. Revenue jumped 9.1% to $573.3 million. Wall Street was expecting 54 cents a share on revenue of $561.8 million.
Donaldson now expects full-year EPS to range from $2.16 to $2.36. Bill Cook, the CEO, said:
While we had a solid start to our new fiscal year, we also foresee a challenging global economic environment in front of us. As a result, we have been proactively managing our business and working aggressively to reduce our expense levels. Our progress to date is evident as our operating expenses decreased to 20.4 percent of sales this quarter compared to 22.0 percent in the fourth quarter of FY08. We expect that the combination of our continued focus on operating expense controls, product and process cost reductions, and the strength of our diversified portfolio of filtration businesses will allow us to achieve our 20th consecutive year of record earnings.
The stock rose 7.0% on Friday, 6.5% on Monday, 6.7% Tuesday, and was up another 7.9% Wednesday.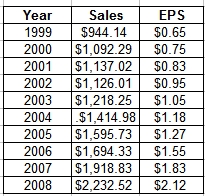 Here's the earnings call from Seeking Alpha.
Disclosure: Long DCI