It has been an interesting year for the stock market with the S&P 500 up 14% despite of the uncertainties from Europe, China as well as the U.S. In the tide of the bullish run, the Baltimore, Maryland based sports performance apparel maker Under Armour (NYSE:UA) stands out with 37% gain so far this year, which is outperforming the almighty iPhone maker, Apple Inc. (NASDAQ:AAPL). A natural question for investors would probably be: what drove the stock and whether it is a good investment decision to own UA shares.
Growth Momentum
In the most recent quarter, Under Armour accomplished 23.56% net revenue growth and 24.63% net income growth, which are both impressive numbers. Under Armour also achieved 10 straight quarters of above 20 percent top line growth. However, UA share price declined about 16% since the release of the quarterly results on Oct, 24th. Many investors scratch their heads while others view it as a buying opportunity. In my opinion, it is a warning sign that is largely due to the expectation to the rate of growth.
Rate of Growth
Since the end of the Great Recession, the performance apparel maker enjoyed the ride as economy and consumer confidence recovered from the lows of the financial crisis.
| | | | | | | | |
| --- | --- | --- | --- | --- | --- | --- | --- |
| | 2008 | 2009 | 2010 | 2011 | 9 months ended Set 30, 2011 | 9 months ended Set 30, 2012 | 2012 full year estimate |
| Net Revenue | 725,244 | 856,411 | 1,063,927 | 1,472,684 | 1,069,558 | 1,329,058 | 1.82B estimated |
| Growth Rate | | 18.08% | 24.23% | 38.41% | | 24.38% | 23.8% estimated |
| Operating Income | 76,925 | 85,273 | 112,355 | 162,767 | 107,465 | 127,103 | 207M estimated |
| Growth Rate | | 10.85% | 31.75% | 44.86% | | 18.27% | 27.2% estimated |
As shown in the table, the rate of growth soared from 2009 then peaked around 2011. Numbers in 2012 are still impressive, but the rate has declined dramatically. What is more troubling is that the company is expecting "2013 net revenues to be at the lower end of our long-term growth target of 20% to 25%, and operating income growth to be closer to the midpoint of our long-term growth target of 20% to 25%." As a result, the recent decline of share price is very reasonable.
Potential and Associated Risks
The key drivers for Under Armour's growth are the apparel segment, the footwear segment and the international presence.
Apparel Segment
If you name the most popular product of Under Armour, the quick answer to that would probably be the compression gears. It is not only the brand image of Under Armour, but also it is the main source of revenue and profits for the company. Apparel segment as a whole generates about 76% of total revenue. This year, UA achieved 12 consecutive quarters of 20-plus percent growth in Apparel. However, companies like Skins (OTC:SKNN) and Nike (NYSE:NKE) are making similar products to compete with Under Armour. Warm weather would also have effects on the ColdGear's sales performance. In the latest earning conference call, when analyst Mitchel Kummetz from Robert W. Baird & Co. Incorporated asked "can you remind us how that business performed last year in Q4? I assume it was not very strong?" CFO Brad Dickerson answered as follow "While obviously, our cold weather-dependent product did not perform as well … So again in this environment, this year kind of the same balance. We're kind of forecasting and planning our business in the same weather environment as last year, so we would expect our versatile product, our less weather-dependent product to perform well and our cold weather-product would not perform well if the weather was warm." Now it is almost the end of 2012 and it turns out to be one of the warmest winters, which would very likely hurt Under Armour's weather-dependent products' sales.
Footwear Segment
The company and investors have been counting on the growth of footwear as the global athletic shoes market is as big as $31B in 2012 according to Lucintel. With very small market shares for Under Armour, which is below 2%, investors and the company are expecting gaining market share in the segment to drive the revenue and profits higher. In the most recent quarter, Under Armour achieved $63,153 thousand or an impressive 21.37% revenue growth. However, the second quarter's revenue was $67,425 thousand or up 43.81% from second quarter last year. The sales number was down sequentially and the growth rate was just half of the second quarter. Last year's third quarter growth was a staggering 96.67%, but this year's growth was not even one quarter of that number.
Third. Quarter 2010

Third. Quarter 2011

Third. Quarter 2012

2010

2011

Nine months ended 2011

Nine months

ended 2012

Revenue

26,458

52,034

63,153

127,175

181,684

150,355

194,241

Growth Rate

96.67%

21.37%

42.86%

29.19%
source link: 2011_10Q 2011_10K 2012_10Q
In my opinion, Under Armour's footwear segment will be very likely to grow, but the rate of growth would probably not as robust as it was before. Competition wise, Nike is still the dominant athletic footwear producer which owns about 50% of the market in the US. Unlike the leading status in the apparel segment, Under Armour will have to fight against many established competitors such as Nike, Adidas (OTCQX:ADDYY), New Balance, Puma (OTCPK:PMMAF), Reebok, Asics (OTC:ASCCF) etc. It is almost certain that gaining market in the athletic footwear market will not be as easy as most people would expect.
Global Expansion
Under Armour only has about 6% revenue come out of the North America, which represents magnificent potential for UA to grow. However, recent quarterly results show that UA's international revenue was basically flat during that period. The lack of channels and distributors will impede the growth from overseas. In fact, over 70% of sales of Under Armour come from sporting goods retailers such as the Dick's Sporting Goods (NYSE:DKS), Sports Authority, and Foot Locker (NYSE:FL). Since many of the channels are not available in Europe and Asia, Under Armour would have to find other ways to expand their business. In Japan, for example, Under Armour licenses Dome Corporation to sell their products. It sounds like a good deal but Under Armour needs to give away substantial amounts of profits to the licensee to make both sides be satisfied. After 10 years of operation in Japan, the licensing revenue only represents 2% of total revenue for Under Armour. In China, Under Armour did not find a partner like Dome. Consequently, the company is forced to slowly open direct to consumers stores in China. After nearly two years of operation in China, Under Armour only has four stores opened. As the company mentioned in the earning conference call, Under Armour is still in "investment mode" in Europe and China. Therefore, investors should not expect meaningful international growth at least in the near future.
To buy or not to buy
Some investors and analysts shrug off the slowing down of growth and claim that as long as UA is growing, it is good to buy. In my opinion, there are some concerns before you make the decision.
Concern 1: valuation
Instead of comparing to the industry titan Nike, I believe it is more reasonable to compare Under Armour with the smaller but still competitive player Puma since they are in the same weight class.
Units

In USD

TTM

Revenue

TTM Gross Profit

TTM Operating Income

TTM Net Earning

Gross Profit Margin

(TTM)

Net Profit

Margin

(2011)

LT Debt to Equity

Price

Over Earning

Price Over Sales

Market

Cap

Last 3 years Sales Growth

Puma

$4,202 million

$2,052 million

$390 million

$193

million

48.83%

7.66%

.02

22.9

1.05

$4.42B

7.9%

Under Armour

$1,732 million

$833

million

$182 million

$111 million

48.09%

6.58%

.04

47.4

2.98

$5.15B

28.7%
source link: Puma: 2012_Q3, 2011_full_year
Under Armour: 2012_10Q 2011_10K
(Note: Puma experienced a $105 million special item in third quarter 2012 due to Transformation Program and Cost Cutting). (Exchange rate: EUR/USD=1.319)
As shown in the table, Puma has better numbers in almost every metric than Under Armour except for the growth rate. As the rate of growth is fading, I don't know what else can support the current valuation. In addition, much of the projected growth is already priced in.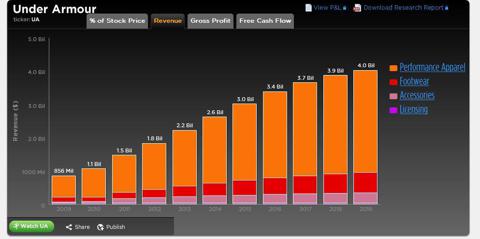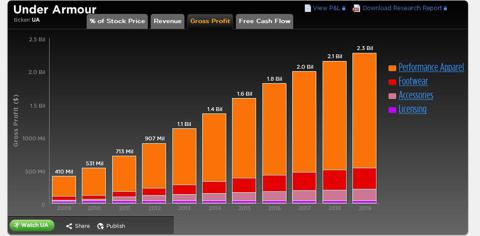 According to the Trefis.com, Under Armour is projected to have the similar level of company operating performance to Puma by as late as the end of the 2019. In other words, if investors buy UA shares at current price, they would risk everything for almost nothing. Of course, every projection is just an educated guess, but it is a view to demonstrate that the odds are not in the favor of buyers of current price. Marketing wise, Puma has much more important sponsorships such as 2006 FIFA World Cup Champion Italy, men's 100 meters world record keeper Usain Bolt. Just by comparing the sponsorship lists, investors would have to admit that Under Armour needs significant efforts to catch up with Puma.
Concern 2: Where is the king?
In the financial world, there is an idiom that is "Cash is king". However, the king is apparently running away from Under Armour. A key measure to assess the cash generating ability is the operating cash flow. (For those who are not familiar with the "operating cash flow", I recommend you to read this article briefly.)
| | | | | |
| --- | --- | --- | --- | --- |
| | 2009 | 2010 | 2011 | 1-9 months 2012 |
| Cash from operating activities | 119.04 | 50.11 | 15.22 | -6.01 |
| Growth Rate | | -57.90% | -69.63% | -139.49% |
source link: 2011_10K 2012_10Q
In the table, investors can clearly see that Under Armour's operating cash flow is not only tumbling, but also it is declining in a speedy fashion. For the first three quarters of 2012, the operating cash flow is even a negative number. This is a flashing warning light that investors must be cautious about. More importantly, cash is very crucial to marketing and strategic moves such as sponsorship and acquisition. Many investors believe that as long as Under Armour signs up more sponsorship, the brand recognition would grow then the revenue and profits would follow. However, marketing activities requires cash. In the recent deal with the English Premier League team Tottenham Hotspur, Under Armour needs to spend as much as $80 million dollars over 5 years, which is more than five times as much as the 2011's operating cash flow. In my opinion, it is costly but necessary. Unlike Under Armour, Nike has enough cash to do acquisitions. Back in 2008, since Nike is committed to compete with Adidas in the soccer segment, the goddess of victory acquired Umbro for £285 million in cash. After ripping off Umbro, the long time partner with the English Football Association as well as the kit sponsor of the Premier League's defending champion Manchester City, Nike dumped Umbro for about the half price ($225 million) this year. Once again, Nike shows people that sponsorship, a marketing strategy that seems to be very easy, requires cash and channel that Under Armour currently does not have.
Concern 3: We Must Get Out Of this House!
Something Under Armour insiders have done is aggressively selling company's shares.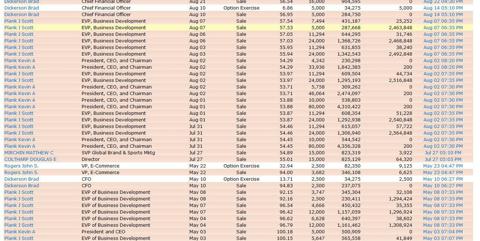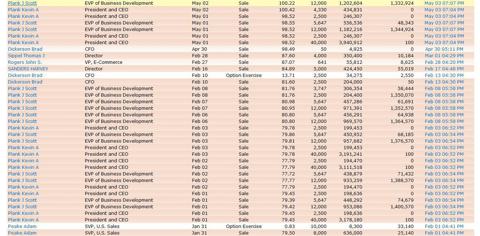 (screenshot from Finviz.com)
During the year 2012, company insiders sold approximately $88 million worth of stocks. It is a terrifying number considering Under Armour's net income was only $97 million in 2011. CEO Kevin Plank alone sold as much $53 million worth of stocks in the same period. According to SEC filing, the company's founder will sell around 1.3 million shares (worth $64 million as of today) next year. Since Mr. Plank is not contributing to the University of Maryland's ACC exiting fee, I would rather believe this move is simply for diversification. Therefore, Kevin Plank's own action proves that there are better investment opportunities than UA shares. Usually, company insiders have much better understandings to their company's value and the true performance. As the insiders flee away, it is very dangerous for outsiders like us to get in.
Conclusion
With 94% of revenue in North America, the consumer cyclical player Under Armour has significant exposure to the US economic headwinds that are just around the corner. Considering all the risks and concerns discussed above, buying Under Armour shares at current price would be extremely risky.
Recommendation
Even though I am recommending investors not to buy UA shares at current price, I am not strongly recommending net shorting UA shares at this price either. Instead, investors should consider option strategies that could take advantage of the volatilities.
Disclosure: I have no positions in any stocks mentioned, and no plans to initiate any positions within the next 72 hours. I wrote this article myself, and it expresses my own opinions. I am not receiving compensation for it (other than from Seeking Alpha). I have no business relationship with any company whose stock is mentioned in this article.