Bullish on the Economy for 2013-2015
'Tis the annual forecasting season. Every economist with a model is publishing detailed forecasts for the U.S. and world economies for 2013. I have no model, and my degrees are in history and law. But the signs now are clearer than they have been in some time: 2013-2015 should see beneficial growth of the American economy. And that will translate into good results for some companies and good returns for some stocks.
First the economy: The Fiscal Cliff, like the Millennial computer bug, will prove a dud. The U.S. economy runs on final demand, which primarily means consumer spending. Government spending also is part of demand, but it has to come either from taxes or from borrowing. Neither is as good as good consumer spending. Good consumer spending is spending based on increased income, not borrowing. On that front, recent news is encouraging. Here is a graph from one of my heroes, Bill McBride at Calculated Risk. The graph illustrates how consumer spending is getting healthier: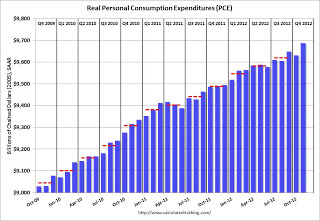 As Bill reported on December 21, 2012,
"Personal income increased $85.8 billion, or 0.6 percent ... in November, according to the Bureau of Economic Analysis. Personal consumption expenditures (PCE) increased $41.3 billion, or 0.4 percent."
That means that the growth in consumer spending was healthy, being based on growth of personal income. I believe this trend will continue.
It will continue because household formation is picking up. Don't fight the Fed and don't fight the Demographics. Household formation is, in many ways, the key to the American economy because it results in spending on so many forms of goods and services. People starting a household need everything from homes to refrigerators to paint jobs to pots and pans. Over the last five years, household formation has been at historic lows compared with increases in population. Exhibit 86 to a recent Credit Suisse research note (called to my attention by Bill McBride) shows the historical trend and the anomaly of depressed household formation during the 2008-2012 period. That anomaly means that not only do we have the usual forces propelling household formation; we also have pent-up household formation that gradually, over the next few years, should make for robust demand for everything a household needs. The Credit Suisse report illustrates the potential benefits by describing the situation in Florida:
"Florida, the fourth-biggest state economy with $750 billion in GDP, is an extreme case. Exhibit 93 shows the percentage of Floridian 25- to 34-year-olds who head a household, regardless of whether they rent or own. It fell from 49% in 2006 to 39% in 2011. In other words, in 2006, half of Floridian young adults had their own place, and five years later, a fifth of that group had moved in with their parents or someone else."
The Credit Suisse note is explicit that household formation is, in their opinion, on the rise:
"This type of thinking makes us optimistic that the long-awaited recovery in US household formation, which has begun in earnest, is set to go much further, with implications well beyond upward pressure on house prices. Consensus estimates of formation growth are already a major macro tailwind, but a plausible but hard-to-forecast further improvement could produce a different economic regime altogether.
"The future path of household formation depends on the labor market and demographics. We argue below that these two factors could combine to drive strong formation growth, potentially well above estimates consistent with population growth, which generally fall between 1.1 million and 1.3 million per year. Those numbers are sufficient to provide a substantial tailwind to GDP growth and the housing market, but a much stronger result is possible."
Household formation also, of course, will tend to drive the market for new homes and will tend to promote the emerging increases in house prices. These events will be part of a virtuous cycle in which increasing house prices will make it possible for aging boomers to sell their houses, move to warmer climes, and add to the household formation boom by engaging in their own redecorating and home improvement. Home building has traditionally led of the economy out of recessions. It has been held back in the last four years by the overhang of foreclosed properties and the lack of household formation. I discussed the dynamics of housing in February.
I would add to this economic tailwind the benefits of more abundant oil and gas. Over the next few years, the prices of these commodities are likely to stay in check. That will give American manufacturing businesses a leg up on foreign competition that should lead to increased sales and new jobs.
This growth in jobs and economic activity will increase tax revenues as well, thereby bringing down the U.S. fiscal deficit and easing the concerns about the ability of the U.S. to fund its debt. (I have no such concern. But it is a major part of today's political charade. Ending that charade might even allow politicians to focus on things that matter, like education.)
The process that I am describing is about a three-year process that should take us through 2015. I cannot quantify the progress that this process will create. As I said at the outset, I do not have a model.
My forecast for 2013 is more optimistic than the forecasts of many of the economists that I respect the most, but it is in line with their expectations for 2014-2015. The only substantial difference is that I think the first half of 2013 will not be as weak as they forecast.
What Could Go Wrong?
Of course anything could go wrong. The world is full of surprises. Here are a few things that I worry about:
Middle East: Very unstable. Israel is isolated and hated, which may lead to significant military action in which the U.S. may have to participate. Oil could be disrupted, affecting global prices. But that would have less of an impact on the U.S. than it would have had a few years ago.
Europe looks like it will continue to struggle economically for some time. That will be a drag on the world economy-and therefore on the U.S. economy. I do not foresee economic chaos in Europe. But European politics are fragile, and turns toward the right and left are possible, either one with unknown consequences.
China may well be looking inward and becoming, at the same time, more nationalistic. Looking inward may make it a less attractive market for American companies. Nationalism and its discontents could make for a very tense world-or worse.
American men continue to lag behind in educational attainment. If I am correct about the housing industry and related economic activity, this problem will remain masked for the next few years. But if the problem is not dealt with, then over the long term, America will become less competitive on a global basis, with bad effects on the economy. See my article comparing Chinese and American demographic trends based on educational emphases of parents.
Reduced government spending means reduced GDP in the strange world where the economic data we follow are based on spending. Since government spending is a part of GDP, by definition reduced government spending reduces GDP. And the Fiscal Cliff negotiations may lead to a reduction in government spending. The impact of reduced government spending on GDP growth will be important if the jobs it costs reduce the household formation that I believe will create private sector jobs. Jobs indeed are what count. A blip in GDP should not be seen as a major setback so long as it results only from a decrease in government spending and the jobs that costs are quickly replaced.
Interest rates could begin to go up, either because inflation begins to accelerate or because the Fed's jobs targets are met and it therefore changes its policy direction. Rising interest rates might not derail the economy, but they likely would affect financial assets adversely.
Job losses due to technology could accelerate, thereby canceling some of the benefits that I expect from increased household formation. I do not expect the recent negative job impact of technology to lessen over time, but I expect it to be less over the next few years than the benefits accruing from pent-up household formation.
There you have it: A bullish economic forecast for the next three years. So what about investing? What does it mean for where we should be putting our money to work?
I like equities. I like stocks of companies with sound balance sheets that make or sell the kinds of stuff that household formation causes people to buy. Many of those stocks already have increased in value substantially in 2012. They look expensive on a price to earnings basis. I have been hoping for a nice market correction to provide a buying opportunity, but it has not come along. Therefore over the next couple of months I will be researching which companies have the best prospects in the kind of economy that I envision, I am ready to begin nibbling at companies I know and like, such as Whirlpool (NYSE:WHR) (where I made a mistake and sold some of my holding in September), Lowe's (NYSE:LOW), Home Depot (NYSE:HD), and Simpson (NYSE:SSD). I already own enough of the homebuilder ETF, iShares Dow Jones Home Construction Index Fund (NYSEARCA:ITB). Although it is up substantially, I believe there still is room for substantial upside over the next few years.
For an investor with a lot of money on the sidelines and little time or inclination to do much research, I think probably this is not a bad time to buy a broad index fund, such as SPDR S&P 500 ETF (NYSEARCA:SPY), as long as the investor understands that the market in general goes up and down, often in ways unrelated to fundamental values and that global events often derail expectations for periods of time. We have had almost four years of market recovery. We should not expect big upsides over the next few years because the market already has priced in much of the good economy that I and others are forecasting. But I believe that stocks nevertheless will bring greater returns than other financial assets.
Disclosure: I am long LOW, WHR, ITB, SSD. I wrote this article myself, and it expresses my own opinions. I am not receiving compensation for it (other than from Seeking Alpha). I have no business relationship with any company whose stock is mentioned in this article.