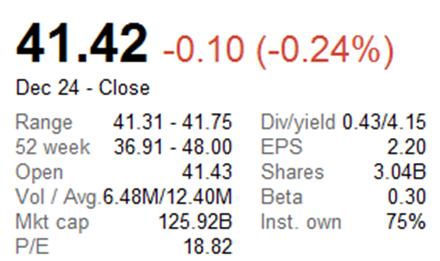 The recent flurry of news coming out of Merck & Company (NYSE:MRK) appears to have caused some concern and an accompanying dip in share price that may not be fully justified. Within the past week, the company reported that its cholesterol drug in development failed to produce the desired results in a long-term study. The FDA additionally denied a company request to block a generic form of its nasal spray Nasonex from entering the US market based upon patent infringement. Since these announcements, the stock has dropped over 6%, and it is down over 13% since reaching its 52-week high of $48 in mid-October. Despite these negative announcements, the company still displays some fundamentals which could make this an acceptable value or dividend play headed into the next year.
Merck is a large pharmaceutical company with a market capitalization well over $100 billion. Some of Merck's better-known drugs include Singulair (asthma), Vytorin (cholesterol), Nasonex (allergic rhinitis), and Gardasil (HPV). Other major competitors include the likes of Pfizer Inc. (NYSE:PFE), GlaxoSmithKline (NYSE:GSK) and Bristol Meyers Squibb (NYSE:BMY). The trailing P/E ratio stands at just under 19, however the forward P/E is just a little over 11. The company will remain profitable into the foreseeable future, although the trend is projected to be one of very slow earnings growth. At this time, analyst projections for EPS stand at $3.68 in 2013, $3.84 in 2014, and $4.11 in 2015.
At the current price, the dividend yield now exceeds 4%, and the recent increase to 43 cents represents a 2.4% increase in the dividend. However, Merck does not have an impressive record of increases. They raised the dividend from 38 cents to 42 cents in December 2011, but the last increase before that was in September 2004.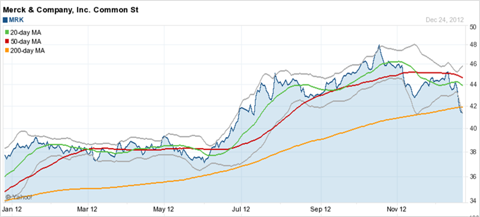 Looking at the 12-month chart, we can see the significant rise between June and October, followed by the drop in November with most of the market. The drop over the last several days is the point we should note as being somewhat unusual in that it has resulted in the stock dropping below the lower Bollinger band which may often be an indicator the stock will move towards the opposite band. This does not necessarily imply the price will quickly rise, but we should pay attention for any signals that the stock has either leveled off or else begun a return.

If we additionally examine the RSI chart for Merck with respect to the price chart above, we see that the stock currently falls into the oversold category with a rating of around 30. The stock recently dropped to the 20 range in November, but quickly bounced back to near 80 with only about a 5% increase in the stock price. I would anticipate that this stock could fall a little more, although I would tend to believe that most of the drop has already occurred based upon the press releases and the resulting oversold condition. You can see that the stock does sometimes move beyond the 80/20 boundaries, so again, this is not an absolute here.
As the market continues with its uncertainty regarding future changes in the tax code, market prices as a whole may continue to trend sideways to slightly downward. As the dividend payout provided by Merck is quite safe at only 47% of projected 2013 earnings, we could expect buyers to move back in as the yield increases relative to any further price drop. This may be especially true if we do see a shift in focus as investors look to maximize gains to combat higher tax rates on capital gains and/or dividends.
On the other hand, further bad news regarding the generic Nasonex could ultimately have a negative effect on future earnings. The thought is that a generic competitor will certainly reduce the income received from this product - $960 million in sales during the first nine months of 2012. If this turns out to be a legitimate threat, then the stock could drop further as this becomes priced into future expectations and if the company or analysts decide to revise earnings estimates downward.
The Bottom Line
At this point in time, Merck seems to fit the bill as a value stock fairly well. It is not often that we can find a stable, profitable company in an oversold position that pays a dividend above 4%. As history teaches us that the market overreacts in both directions, we see some indications that Merck has potentially been driven lower than what is currently fair.
Take a little time to analyze the company's merits in regards to your own personal investment criteria, and as always, be careful out there.
Disclosure: I am long BMY. I wrote this article myself, and it expresses my own opinions. I am not receiving compensation for it (other than from Seeking Alpha). I have no business relationship with any company whose stock is mentioned in this article.
Additional disclosure: I am considering establishing a long position in MRK over the next 72 hours using stock and/or options.