A few days ago, I wrote an article about my four favorite retail plays, based on both dividend yield and growth potential. Within minutes (literally), I began to receive comments and messages to the tone of "I can't believe you're recommending Best Buy (NYSE:BBY)", and some even went so far to say the company was heading toward bankruptcy. With this in mind, I thought it would be a good idea to clarify my position on the stock, and how I intend to play it.
First, as an income/value play, Best Buy pays a dividend yield of 5.88% as of this writing, and there is no reason to believe it will be cut anytime soon. The actual dividend rate is $0.68 per share, and consensus estimates call for BBY to earn $2.45 and $2.14 in 2013 and 2014, respectively, with earnings expected to stabilize afterwards. So, there will be plenty of cash to pay the dividend going forward. The company is trading very cheaply right now, in relation to these earnings estimates, in part due to one-time costs that resulted in negative earnings for FY 2012. Even so, if the consensus is right, Best Buy is currently trading at 4.7 times current fiscal year earnings (which ends in February), and 5.4 times forward earnings. This valuation alone makes the stock attractive, which has ranged over the past two years from the high 40's (trading as high as $48.83 in 2011), to the current level of $11.57 as of Monday's close, just above its 52-week low of $11.41. These price levels have not been seen since 2003.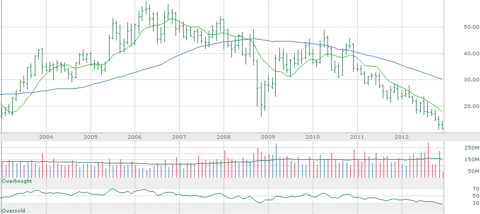 Click to enlarge
Although the consumer electronics retail landscape is increasingly migrating online, some market will always exist for physical retail stores. However, the company recognizes that too much physical space is currently devoted to its business. For instance, the Best Buy closest to my house still has a large amount (I would say 20-25%) of its square footage dedicated to CD and DVD sales. I would love to hear comments about the last time any readers physically drove to a store to buy a CD because it simply doesn't happen much anymore. I had to really research this, but the last time I bought an actual CD was in 2008 (I checked my Best Buy credit card statements). Clearly, that much square footage is wasted space for these products.
Best Buy is doing all of the right steps to adapt to the changing retail environment, but investors will want to see clear signs that the company's actions are leading to a turnaround. To give a brief summary of Best Buy's plans, the company plans $800 million in cost reductions by FY 2015, with $250 million of that occurring in FY 2013. Included in this is the company's plan to reduce square footage by 10%, which it appears the company is well on its way to achieving. On March 29, 2012, BBY announced it would be closing 50 of its U.S. stores, or 4.4% of the company's total square footage. In addition, the company plans to use the money it saves to become increasingly more competitive with online retailers, such as Amazon (NASDAQ:AMZN) and eBay (NASDAQ:EBAY).
Best Buy has one more "ace in the hole" worth noting. Company founder Richard Schulze, who resigned as chairman in June, has been actively pursuing a takeover of the company. In August, the company received a letter from Mr. Schulze informing them of an interest in acquiring the shares he doesn't already own at a price between $24-26 per share. After several delays and extensions, the company has agreed to let Mr. Schulze to present an offer in February, allowing him to take the holiday season results into account.
While I have no delusions of BBY being taken over for anywhere close to that initial range, I do believe the company will eventually be sold, with a $15-17 per share price more likely. However, assuming that a takeover does not happen, I am perfectly comfortable holding the shares, collecting my almost 6% yield, and watching the share rebound as soon as the effectiveness of the restructuring efforts become apparent in the company's bottom line.
In the short-term, since I believe the stock has considerable short-term upside regardless of a takeover, my favorite way to play Best Buy is through a call spread, using the March 2013 options. Using the low end of my takeover price range, I'm going to set my short-term (3 month) target price at $15. I want to buy the March $12 calls at $1.50 and sell the $15 calls for $0.60, giving me a net cost of $0.90. I like this trade for its low breakeven point of $12.90, which the company was trading higher than consistently until late November. Also, I love the extremely good risk/reward. If the company either gets taken over, or finishes over $15.00 per share at expiration, my profit is $2.10, or 233%. I believe there is a more than 50/50 chance that either an offer will be submitted by Mr. Schulze or the stock will trade higher due to holiday results, making this a very favorable low risk/high reward trade that could pay off very nicely.
Disclosure: I am long BBY. I wrote this article myself, and it expresses my own opinions. I am not receiving compensation for it (other than from Seeking Alpha). I have no business relationship with any company whose stock is mentioned in this article.