Overview
Key Real Estate Investment Trust (OTC:SOREF) owns a geographically diversified portfolio of retail properties across Canada with just over 320 million in total gross assets. As of September 30, 2012, Key REIT indirectly owned 231 properties in nine provinces across Canada. Key REIT's properties are well-located and geographically situated across Canada, which reduces its exposure to regional economic conditions that may affect a particular province or area. Properties are occupied by national brands including KFC, Taco Bell, Shoppers Drug Mart, Rexall Pharma Plus, Laurentian Bank, Tim Hortons, Staples, A&W, Starbucks Coffee and Subway.
Key REIT provides exposure to the Canadian real estate market and the Canadian dollar. Since the company's inception approximately 7 years ago, Key REIT has paid out $6.00 per share in dividends. It is worth noting that Key REIT's share price is currently trading around $6.30. Including dividends, the total 5-year return for Key Reit is approximately 25% when compared to a near-flat return against a S&P/TSX benchmark composite.
I believe that Key REIT would be a nice addition to a portfolio given its minimal correlation with the US markets, consistent monthly dividend and exposure to the stable Canadian commercial real estate market.
Macro Environment
The Canadian real estate market is relatively immune from the US market, as seen in the figure below. The S&P Case-Shiller 10-city home price index was found here, while the Canada 11 city composite data was pulled from here. During the US housing market crash from 2006 to 2009, the Canadian market increased at a relatively steady rate. There were only a few months of minimal price decline in the Canadian housing market during 2008. Other than that, the value of Canadian real estate has been increasing at a steady rate.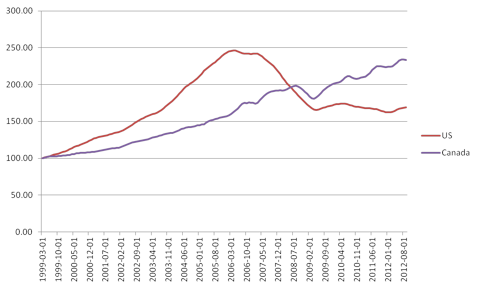 Furthermore, a recent CIBC market report was confident that Canada is much less susceptible to a US-style real estate crash:
"An astonishing one-third of (U.S.) mortgages taken out in 2005 and 2006, before the drop in prices, were in a negative equity position, and no less than half had less than five per cent equity, making them highly exposed to even a modest decline in prices," adds Mr. Tal. "In Canada, the negative equity position is nil, and only 15-20 per ent of new originations have an equity position of less than 15 percent. Furthermore, we estimate that the non-conforming market is currently at around seven percent of mortgage outstanding, up from five percent in 2005 but dramatically below the over 20 percent seen in the U.S. at the eve of the crash."
The takeaways here are that Key REIT operates in a healthy and growing Canadian real estate market, and is largely immune to US real estate fluctuations.
Market Correlation
Beta is a measure of a stock's volatility in relation to the market (henceforth, "market" will refer to the S&P 500). By definition, the market has a beta of 1.0. A stock that swings more than the market over time has a beta above 1.0. If a stock moves less than the market, the stock's beta is less than 1.0. High-beta stocks are supposed to be riskier but provide a potential for higher returns; low-beta stocks pose less risk but also lower returns.
To calculate beta, I first obtained historical stock price data (courtesy of Yahoo) with a temporal extent from December 2012 to January 2011, and calculated the beta over a 1-year and 2-year time frame from December 2012. The table below summarizes Key REIT's volatility relative to the S&P 500 for the aforementioned time frames.
Key REIT Beta relative to S&P 500
| | |
| --- | --- |
| Time | Beta |
| 1-year | -0.03 |
| 2-year | 0.01 |
The takeaway here is that changes in Key REIT stock price are uncorrelated with the broader market. Such an attribute is especially attractive given its 9+% yield.
Dividends
Key REIT has a monthly dividend of $0.05 CAD, or an annual payout of $0.60 per share. Based on its current share price of about $6.30 CAD per share, its dividend yield is 9.3%. Another advantage of Key REIT is that it represents a play on the Canadian dollar for US-based shareholders who receive the dividend in USD. As the value of CAD relative to USD increases, the converted dividend payouts in USD will increase as well. Exposure to CAD-USD exchange rates is a positive one given the prospects of the USD going forward.
2012 Financial Highlights
As of September 30th, 2012, Key REIT had 321M of total assets compared with 132M at the time of its 2005 IPO. This change in total assets reflects an approximate 20% growth rate on an annualized basis.
Full-year 2012 revenue (through the first 3 quarter of 2012 coupled with a 4th quarter estimate) is expected to come in at 26.M. For reference, revenue in 2007 was 14.8M, representing an increase of 77% over this six-year time frame.
The pro-forma occupancy rate for Key REIT is expected to come in at 96.9%. To put this number in perspective, Realty Income (NYSE:O) - considered by many to be a best of breed REIT - features a comparable percentage of 97.0%.
Priszm Update
The only black mark surrounding Key REIT is the status of one of its tenants - Priszm. In March of 2011, Priszm filed for bankruptcy, which led to a large amount of uncertainty regarding the leases with the company. 47 of the Priszm leases were disclaimed as a result of the bankruptcy. Of these 47 leases, 38 have been re-leased and are generating income. Leasing the remaining 9 vacant sites is one of Key REIT's main priorities, and is expected to be completed in 2013.
Management has this to say on the Priszm issue:
"The Priszm matter has now reached its conclusion. We are very pleased to put this issue behind us," said Teresa Neto, Chief Financial Officer of the REIT. "Today we have nearly 20 different tenants leasing these same properties, including well-known national tenants such as A&W, Pizza Pizza, Starbucks, McDonald's and Subway, and even greater tenant diversification is expected as the REIT completes its final re-leasing plans. This final Priszm sale allows KEY reit to move on from this chapter in its history and to fully focus on growing the REIT with a strong, diversified and stable tenant base across Canada. We expect the majority of these sites to either be re-leased or sold over the next 12 months."
2013 Financial guidance
It appears that the payout ratio will briefly exceed 100% as Key REIT deals with the Priszm issue. Given the 6+ year record of consistent payouts, I am confident that management will execute on this, and so is management based on their 2013 financial guidance. For 2013, management has provided the following financial guidance (slide 26):
Adjusted

flows from operation (AFFO) of $0.80 to $0.83 CAD per share

Continuing

the $0.05 CAD per share monthly dividend ($0.60 CAD per year)
Based on this guidance, KEY Reit is projecting a dividend coverage ratio (AFFO divided by annual dividend) of 1.33. US-based REITs typically have payout ratios of 1.0 to 1.1 based on the tax requirement that 90% of distributable income must be paid out to shareholders in order to maintain REIT status. On a going forward basis, Key REIT appears to be well-positioned to comfortably cover its dividend, and perhaps institute an increase in subsequent years based on the high coverage ratio.
Conclusion
The current stock price of $6.30 (USD) represents an opportune time to establish a position in Key REIT. I believe that Key REIT would be a nice addition to a portfolio given its negative correlation to the US markets, consistent monthly dividend, and exposure to the stable Canadian commercial real estate market.
Disclosure: I am long OTC:SOREF. I wrote this article myself, and it expresses my own opinions. I am not receiving compensation for it (other than from Seeking Alpha). I have no business relationship with any company whose stock is mentioned in this article.