The Dow Jones is now on a 1,000 point, four day winning streak in a defiant bear market rally that defies the ever darkening economic backdrop and the awful cowardly terrorist attacks in Mumbai. So as the ghastly slew of economic data continued unabated yesterday, the reality is that this mini rally has probably a lot to do with month-end portfolio adjustments from cash and bonds into stocks. Look at U.S. 10-year Treasuries yields which are below 3%, so the bond market is blowing this rally a big raspberry.
Today's Market Moving Stories
The stunning (and welcome) collapse in German inflation numbers yesterday has former uber-hawk and ECB heavyweight Axel Weber all wobbly at the knees promising that "diminishing inflation pressure has given the ECB ample room to move and it will use it". Mmmmmm, maybe it is time for the big one and a 75bp (3/4%) cut or even an Anglo-Saxon 1% cut is on the menu? French council member Guy Noyer sees Euro wonderland inflation below 2% through the entire of 2009. This is significant as his boss and fellow garlic muncher JC Trichet as recently as the last rates meeting didn't foresee this happening until 2010. Obviously the new crystal ball to be unveiled this week (at the next ECB rendezvous in the form of the new staff projections for the Eurozone area) will paint an embarrassingly grim picture.
UK credit card companies are to give the hard pressed British consumers an extra 60 days to pay overdue bills. But it's business as usual elsewhere with news that Woolworths has gone into administration and MFI have failed, putting 30k jobs on the line. And more gloom from the High St. this morning in the shape of results from Dixon's which were also poor, as were Kingfisher's.
Russian "President" (read glove puppet) says low oil prices are worrying. Maybe he should add that this is because his country so inefficient at extracting the stuff from the ground. And his new found Venezuelan chum Hugo Chavez has proposed an OPEC price target of $80-100.
The EU finally, and belatedly, threw its hat into the ring yesterday, approving a €200bn, 1.5% of GDP, plan to boost the economy. As often seems the case with eunuch-like Europe however, the interpretation of the package is far from straightforward and the plan is very sketchy. Unlike Eurozone monetary policy, where one size fits all, the fiscal approach is more bespoke, with individual member states having the last say in how they boost their economy. Hence, Germany has indicated that its existing stimulus package, worth around 1.3% of GDP, will be enough. Further, there are divergences with regard to what action should be taken. The UK is cutting indirect taxes to stimulate demand but other countries have said they will not follow. Hence, the risk is that the response will have a haphazard feel to it with Europe failing to act as one to shore up confidence and growth. Maybe this merely reflects the reality that the crisis has, and will continue to, affect different countries in different ways.
The latest move in the consolidation (rationalization) of the Irish banking sector is the Irish Association of Investment Managers approaching the government about investing in the banks. The association, whose 12 members manage about €260 billion, proposed that institutions which wish to be involved would co-invest with the state in the raising of new Tier 1 capital for Irish listed banks. My view is that using your own client's money to buy yourself is a tad unethical.
Separately, reports are that U.S. private equity companies Texas Pacific Group and Kohlberg Kravis Roberts (KFN) have held talks with Bank of Ireland about a possible investment. The bank has already been contacted by a consortium that includes J.C. Flowers, Irish Life and Permanent is looking to buy the EBS Building Society.
On a quiet day, read the latest musings of analyst pinup Meredith Whitney. She's been dead right thus far in this debacle.
Or join the dots and understand why China abandoned its policy of gradualism and slashed rates by 108bp (1.08%) yesterday.
And Finally… For The Day That's In It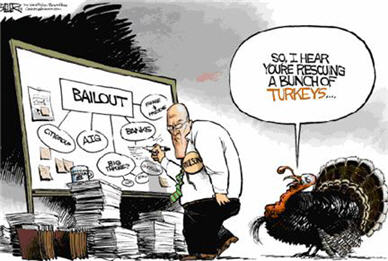 Thanksgiving Menu 2008 (from our French friends at Calyon)
Appetizers
Mélange Of Frozen Markets
Tossed Assets With Government Guarantees
Frisée Of Foreclosures And Defaults
Main Dishes
Évaporation de Credit àla Cold Turkey
House Signature Dish
Seared Investors In Bottomless Pit With Caramelized Investments
Overheated Markets Without Oversight àla SEC
Braised Bankers Rump With Bailout Coulis
Desserts
Sorbet Trio Of Shock, Disbelief And Insolvency
Off Balance Sheet flambé
Featured Wine
Great Depression Grand Siècle 1933 méthode creditoise
Disclosures: None