With the Liberal Democratic Party returning to power on the platform of aggressive measures to stimulate economic growth, the Japanese yen exchange traded fund has been weakening as currency traders bet on looser monetary policies.
CurrencyShares Japanese Yen Trust (NYSEARCA:FXY) is down more than 7% the past three months and about 9% lower year-to-date.
The Japanese yen is trading around 84.84 to the dollar, a 20-month low, after incoming Japanese Prime Minister Shinzo Abe stated he would retract the Bank of Japan's autonomy if it does not boost its inflation target.
"The currency's drop has been due to the pressure exerted by Shinzo Abe on the BOJ to increase their monetary activism," Ravi Bharadwaj, a market analyst at Western Union Business Solutions, said in a Bloomberg report. "Increases in quantitative easing or interest rate reducing programs generally weaken a nation's currency via the carry trade."
"Abe saying he will rewrite the legislation for the Bank of Japan (8301) if it doesn't impose its own higher inflation target has definitely been a reason for yen underperformance," Richard Franulovich, a senior currency strategist at Westpac Banking Corp., said in the Bloomberg article. "We're finally seeing how exactly he's going to implement one of his key election platforms, which is a much more dovish BOJ."
So far this year, the Japanese yen has dropped 12.8%, with a 3.6% dip in the past month alone.
For technical traders, the yen will test resistance at 94.13, the 38 percent Fibonacci retracement of the yen's gains from June 2007 to October 2011, according to Richard Adcock, head of fixed-income technical strategy at UBS.
CurrencyShares Japanese Yen Trust
(click image to enlarge)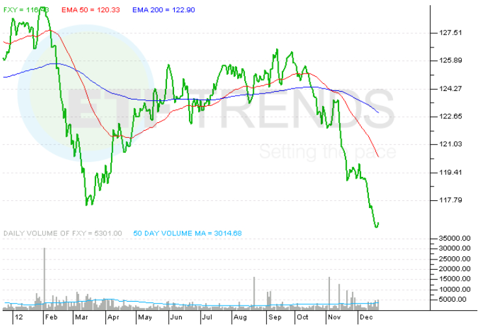 Max Chen contributed to this article.
Disclosure: I have no positions in any stocks mentioned, and no plans to initiate any positions within the next 72 hours. I wrote this article myself, and it expresses my own opinions. I am not receiving compensation for it. I have no business relationship with any company whose stock is mentioned in this article.
Additional disclosure: Mr. Lydon serves as an independent trustee of certain mutual funds and ETFs that are managed by Guggenheim Investments; however, any opinions or forecasts expressed herein are solely those of Mr. Lydon and not those of Guggenheim Funds; Guggenheim Investments; Guggenheim Specialized Products, LLC or any of their affiliates.