Raptor Pharmaceuticals (NASDAQ:RPTP) has been the subject of several positive comments from analysts this week. Since I am currently underweight biotech and the company seems to have good growth prospects, I decided to take a flyer on this small biotech firm today.
Key recent comments/positives for Raptor:
Raptor Pharmaceuticals is a small biotechnology company dedicated to speeding the delivery of new treatment options to patients by working to improve existing therapeutics through the application of highly specialized drug targeting platforms and formulation expertise.
4 additional reasons RPTP is a worthy highly speculative play at just over $5 a share.
The stock definitely has analyst support. The median price target on the shares by the four analysts that cover the stock is $10 a share. Price targets ranged from $7 to $12 a share, all significantly above the current stock price.
Unlike a lot of small biotechs, Raptor has actual current revenues totaling some $26mm in FY2012. That is projected to double in FY2013 on the back of the approval of Procysbi.
Earnings are heading in the right direction. The company lost 80 cents a share in FY2011, but is tracking to just a half a dollar a share loss in FY2012. Raptor is expected make a dime a share in FY2013.
The company already had net cash on the books before the $50mm loan agreement, so liquidity is not a current concern. It also seems to have some technical support in the $4.50 a share level (See chart)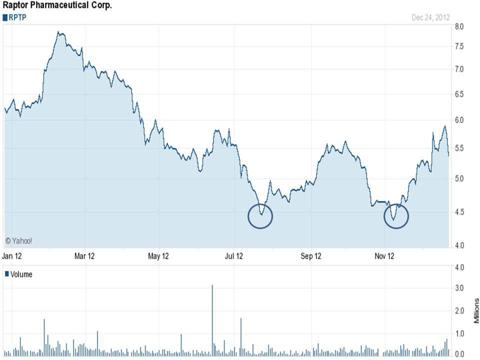 Click to enlarge
Note: I decided to do a buy-write on this position today to mitigate some downside risk. I bought shares at the $5.25 a share level while simultaneously selling the August $7.50 calls for $1.10.
Disclosure: I am long RPTP. I wrote this article myself, and it expresses my own opinions. I am not receiving compensation for it (other than from Seeking Alpha). I have no business relationship with any company whose stock is mentioned in this article.