Mobile World Congress is a yearly event at which everybody in the mobile/smartphone space comes to show off current and next generation products and technologies. It is where many of the major announcements are made and, as such, provides an interesting trading opportunity for investors.
In particular, the evidence seems to suggest that Intel (NASDAQ:INTC) will not only launch its Atom Z2580 (dual core platform + LTE modem), but it seems incredibly likely that it will announce design wins in the US. The major limitation for the current "Medfield" platform (Atom Z2460) is that it does not come paired with an LTE modem, a feature crucial for smartphones in the developed world that is critical to mind-share (and market share).
This new platform will remove this final barrier to entry, and I believe that this will lead to a dramatic shift in sentiment surrounding Intel's mobile strategy. Further, it is likely that Intel will demonstrate/detail future 22nm (and maybe even 14nm) "Atom" products to give investors visibility into the longer-term competitiveness of the firm's parts.
As such, I believe that there is a lucrative opportunity to capitalize on this, as investor sentiment (and Intel's share price) do not yet appear to reflect this fairly significant upcoming development. Many times, things that have been "known" to me as a follower in the industry have proven to be significant catalysts, as most do not follow products until they have launched with appropriate fanfare.
The Strategy
The options strategy is the following:
Sell 1 March $21 Put for $1.18/contract
Buy 3 March $22 Calls for $0.39/contract with proceeds from the put sale
So what we are really doing is obligating ourselves (per contract) to buy 100 shares of Intel at $21 (a slight premium to today's price) in exchange for the right to buy 300 shares of Intel at $22. The premium from the put sale funds the premium of the calls to cancel the premium received for the put as well as the premium paid for the call.
The Rationale
The rationale behind the trade is quite simple. Intel's recently announced debt offering to raise $6B for buybacks is a strong hint that shares are undervalued at these levels and could move significantly higher. The last time a similar buyback program was announced, the stock rocketed significantly higher: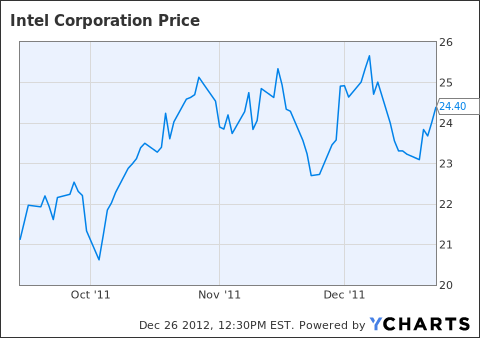 Further, in the worst case scenario in which we are assigned shares at $21, we end up with a high-yielding, very profitable company trading at historically low valuations from a P/S and P/E perspective, so risk/reward is actually quite good.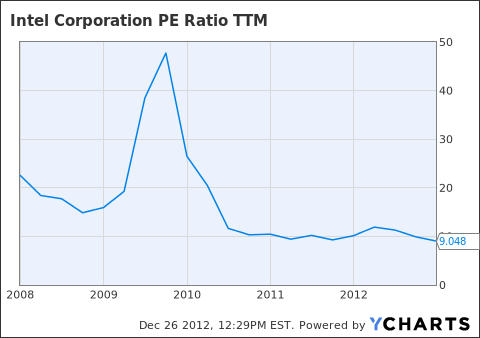 INTC PE Ratio TTM data by YCharts
Finally, the Mobile World Congress is a very significant event for the mobile/smartphone space, and a successful launch of a new product there could quell the fears that have led to Intel's extremely low valuation and provide a boost beyond $22 (a 6.2% increase from current levels). The trade itself provides nice leverage.
Conclusion
So this trade is simple: if you're betting that the two catalysts mentioned will help drive a share price recovery to beyond the $22 level, and if you further have no problems owning Intel at $21, then this is a way to get some nice leverage.
Disclosure: I am long INTC. I wrote this article myself, and it expresses my own opinions. I am not receiving compensation for it (other than from Seeking Alpha). I have no business relationship with any company whose stock is mentioned in this article.
Additional disclosure: Disclaimer: I take no responsibility for the outcome of the execution of any trade mentioned here. The information provided here is solely for informational purposes. Do your own due diligence, and consult with your financial adviser before making any trades. Options, in particular, carry a significant amount of risk, and as such are not suitable for all investors.