This past January, Furniture Brands International (FBN) turned in an 82% gain, moving from a low of $1.07 on Dec. 28, 2011, to a high of $1.89 on Jan. 25, 2012. Much like last year, Furniture Brands is exiting the year with storm clouds overhead. Much has been written about their recent poor earnings report and how they appear to be lagging the overall bounce in their sector. However, as a January Popper play, the stars appear aligned for another nice performance into 2013.
Furniture Brands engages in the designing, manufacturing, sourcing, and sale of home furnishings in the United States. The company''s brand portfolio includes Thomasville, Broyhill, Lane, Drexel Heritage, Henredon, Pearson, Hickory Chair, Lane Venture, Maitland-Smith, and La Barge. The Furniture sector has begun to see a nice turnaround, and the recent rebound in housing prices can only help.
However, the most recent earnings report from Furniture Brands was bad. There is no way to sugarcoat it. The company posted a loss, weak guidance, and bad cash flow. This came as a big surprise to many as the company had given no indication during the quarter that things were bad. The turnaround story came to a halt. But if we take the optimistic view and call the recent report a wake-up call to management that will hopefully be corrected in the coming months, it is hard not to see the potential here. There is risk, of course, but with that risk comes nice rewards.
Click to enlarge image.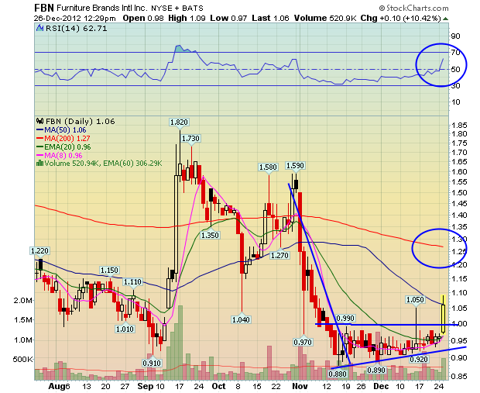 Just like last year, the Furniture Brands chart is set up again for another move higher. A look at the chart above shows the stock has consolidated nicely under the $1 level for the last month. RSI has been gaining strength, and as you can see the tax sellers in the stock appear to have exhausted themselves. For potential January Popper chart setups, we like to see a sharp drop in price from November into December. These tend to offer the best returns during the following January. The break over $1 has set the stage for a move back to the 200-day moving average at $1.27 and a potential gap fill to the $1.50 area.
Furniture Brands had an identical sell-off after its earnings report in November last year for the same reasons. That drop gave investors a large return in the following weeks. History may again repeat here with this very nice chart. We noted the January Popper trend in our recent article titled "Will Smith Micro Double Again In January?" and since that time, Smith Micro has increased from $1.24 to a high of $1.89 -- a 50% gain. Like Smith Micro, Furniture Brands posted a large January Pop last year and the chart this year suggests the potential for yet another move higher.
Disclosure: I am long FBN. I wrote this article myself, and it expresses my own opinions. I am not receiving compensation for it (other than from Seeking Alpha). I have no business relationship with any company whose stock is mentioned in this article.