Many names in the biotech sector have the potential to trade significantly higher or lower when it comes to such things as clinical trials and FDA decisions. In this article, I wanted to focus on two companies within the sector that have announced significant developments in the last 24 hours and meet the criteria of my recent screen. The following three criteria were met by both companies:
- Each stock must trade below $30/share
- Each stock must have a market cap under $700 million
- Each stock must have announced a significant development in the last 24-48 hours
Raptor Pharmaceuticals Corp. (NASDAQ:RPTP), which is based in Novato, California, is currently "dedicated to speeding up the delivery process of new treatment options through the application of highly specialized drug targeting platforms such as its drug candidate, Proscysbi." (Yahoo Finance)
From a fundamental perspective, shares of RPTP currently carry a market cap of $272 million, have traded down 17.81% since January 1, and are also trading at a 3.52% premium to their 50-DMA and at a 3.21% premium to their 200-DMA. Earnings trends for RPTP have been improving in the last six months as EPS estimates were surpassed in both the May 2012 and August 2012 quarters.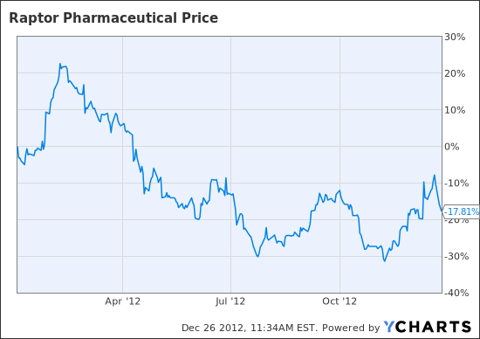 On December 24th shares of RPTP slipped after it was announced that the FDA will need an extra three months to review the Raptor's drug candidate Proscysbi, which is intended to treat nephropathic cystinosis, a genetic disease typically affecting young children and infants. In most cases when the FDA requests additional time to review drug candidates they'll add a number of limitations or additional stipulations to the drug's application in patients.
That being said, I think that a limited approval in scope (the way by which the drug is administered), rather than perceived target market (pediatricians), will be the case for Proscybi and sales may not be affected as much as initially thought by the FDA's request for more time.
Aegerion Pharmaceuticals, Inc. (AEGR), which is based in Cambridge, Massachusetts, is currently "a development stage biopharmaceutical company engaging in the development and commercialization of novel therapeutics." (Yahoo Finance)
Fundamentally speaking, shares of AEGR currently carry a market cap of $670 million, have traded up 62.41% since January 1, and are also trading at a 22.39% premium to their 50-DMA and at a 56.05% premium to their 200-DMA. Earnings trends for AEGR have demonstrated an average loss per share of $0.625/share or miss of 12.02% over the last four quarters.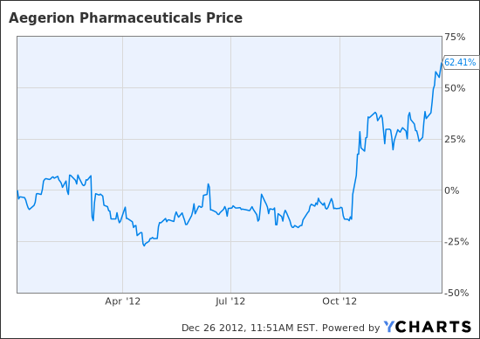 On December 24th it was announced that Aegerion received FDA approval for Juxtapid, a treatment for Hypercholesterolemia, which is an inherited disorder that can result in high cholesterol. However, this approval comes with a stipulation, the FDA is requiring a black box warning regarding the drug's liver toxicity, and the company also must certify doctors and receive pre-authorization from insurers before patients can receive the drug. In this instance, I'm not really concerned about the black box warning, because once Juxtapid hits shelves earnings could very well improve and buck recent EPS trends.
Final Analysis
Are there any negative catalysts potential investors should consider before establishing a position in either Raptor or Aegerion? As is the case with any biotech company, potential investors need to keep in mind some of the negative catalysts that go hand-in-hand with both companies. On one hand, any negative indication by the FDA with regard to Raptor's Proscysbi or Aegerion's Juxtapid could result in the sell-off of either stock. On the other hand, weaker than expected earnings at any point over the course of the next 12-18 months could also send shares of these companies down an unfavorable path.
For potential investors looking to establish a position in Raptor or Aegerion, I'd take a closer look at each company and keep in mind the primary positive and negative catalysts moving forward. Given the fact that both companies are making considerable strides, I'd look to establish a small to medium position at current levels and add to that position once future developments are announced.
Disclosure: I am long RPTP. I wrote this article myself, and it expresses my own opinions. I am not receiving compensation for it (other than from Seeking Alpha). I have no business relationship with any company whose stock is mentioned in this article.