Historically, Microsoft (NASDAQ:MSFT) has been an enterprise software company which also derives earnings from the consumer industry. However, serious threats to both sides of this business model have emerged, so from a risk/reward perspective, Microsoft is clearly a value trap.
I believe Microsoft will prove an overwhelmingly popular short among hedge funds in 2013. Rather than focusing on the accounting details, I will explain the big picture in technology competition and stock valuation, as this big picture will drive the share price movement.
Reason #1: Google (NASDAQ:GOOG) Enterprise
Google is going after the 90% of enterprise customers who don't need Microsoft's level of overbearing design. Google has a leaner business model than Microsoft and can produce cash flow from a much smaller profit margin. This means Google has the pricing power to kill Microsoft in this 90%.
As far as the 10% goes, dozens of small, medium, and large software players are competing for those lucrative niche relationships now. Microsoft already has a net market capitalization of $300B; there simply are not enough lucrative potential customers to justify anything near this on a risk/reward basis.
While Microsoft may appear cheap using the arbitrary valuation metric of P/E, the perpetual cheapness of Apple (NASDAQ:AAPL) shows that P/E is not that important for saturated markets.
Similar to Microsoft in this value trap essence is gaming software company Activision (NASDAQ:ATVI). Here is a look at their temporal valuation ranges using the PEG metric--share price itself has been relatively flat--we can see how share price could thus be headed for a strong downward correction as PEG heads towards Apple's.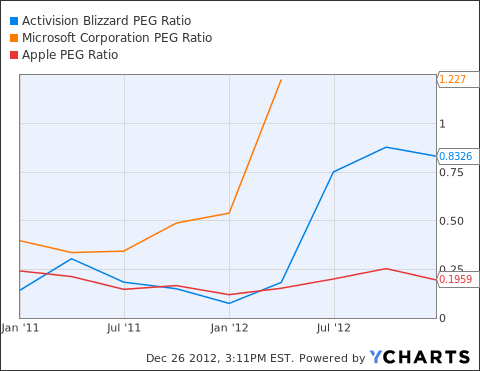 ATVI PEG Ratio data by YCharts
Google is to companies like Microsoft what Zynga (NASDAQ:ZNGA) is to companies like Activision. There is no guarantee Google and Zynga stock will go up, but it is extremely likely they will cause MSFT and ATVI to decline due to diluted pricing power.
I suggest you listen to Fred Wilson, who co-directs one of the biggest and most successful venture funds for young software startups. Paraphrasing what he says about big, old enterprise software companies like Microsoft: they are screwed and he wishes he could short them all.
Reason 2: Surface Loses To Mini And Yoga
Apple is first and foremost a fashion company. The iPad mini is a nice consumer device with its balanced size, but it is also a sexy fashion statement. This is due to its interpersonal communicative ability to signal success and confidence through something called a "countersignal". The term comes from game theory but is applicable in fashion.
Countersignals (visibly not doing something even though you could do it) are very important in communication. Mini is a fashionable countersignal, as it is smaller than a normal tablet. It countersignals confidence by saying "I don't need to show you that I have a big tablet" and "I don't need to conform to the accepted way of doing things" and "I don't need to buy the best Kindle deal from Amazon (NASDAQ:AMZN)".
Tweets with pictures from around the U.S.A. have been pouring in to Rocco Pendola, showing massive crowds in Apple stores and nobody coming in Microsoft stores. Rocco presents this as early evidence of mini and Apple's success.
One might say, "Rocco, you worthless idiot, online sales matter far more than brick-and-mortar". But this is less true for the mini, as consumers like to visit a showroom before they order a new concept (like Tesla (NASDAQ:TSLA)). Further, if recent data showing an increase in online shopping behavior are more correct than the contradictory data, this means Apple's online sales could be even more impressive than brick and mortar. This, as Apple's margins may contract, might not be great for AAPL longs, but beautiful for MSFT shorts.
For consumers less comfortable with iOS, Lenovo (OTCPK:LNVGY) has you covered. Lenovo's Yoga competes directly with Microsoft's Surface. Ashraf Eassa, who bases stock analysis on his insights as a consumer, is a Microsoft/Surface bull yet is excited about Yoga and is spending his own money on this Lenovo ThinkPad product line. By the way, you can click on the Lenovo tickers above to subscribe to SA email alerts, and to directly access market currents and articles regarding Lenovo's smartphone positioning in China.
Reason #3: Xbox Is A Value Trap
Xbox has been a bright spot for Microsoft bulls who point out that the company can still lead in one fairly recent category. But the iPhone was successful because it replaced the Gameboy. Hardware power has continued to follow Moore's Law and variants, meaning portable gaming has become more and more competitive with boxes that you plug into your television. You could say, well, the next generation of boxes will be more powerful--but this misses the point. There is only a marginal improvement on the joy of gaming past a certain point in computing power. I believe Xbox cannot compete with mobile and has nowhere to go but down. Meanwhile Microsoft will be reluctant to disrupt it and lead the next generation as Xbox is one of the few prides it has left.
Disclosure: I have no positions in any stocks mentioned, and no plans to initiate any positions within the next 72 hours. I wrote this article myself, and it expresses my own opinions. I am not receiving compensation for it (other than from Seeking Alpha). I have no business relationship with any company whose stock is mentioned in this article.