In 2006, NPS Pharmaceuticals (NASDAQ:NPSP) had found itself in big mess after its stock price dropped 37% on a single day after the FDA asked the company to run additional clinical trials on its upcoming drug for Osteoporosis. Cash reserves were about to dry up as more than $190 million of debt was coming due within the next two years. However, two years later when Dr. Francois Nader became the CEO, he began a transformation of a company that was solely focused on developing a super drug for a single condition to a late-stage development company that will now focus on rare or orphan diseases.
Today, NPS Pharmaceuticals is focused on research and development of drugs for rare endocrine and gastrointestinal disorders that have few therapeutic options. Headquartered in New Jersey, this company has two main proprietary drugs: Gattex and Natpara. Apart from these two drugs, NPS has agreements with other healthcare companies for a partnered portfolio of products that are marketed worldwide.
Analyzing a Pharmaceutical Company
Investment in pharmaceuticals is a risky business. The stocks involved are highly volatile.
Let us look at NPS Pharmaceuticals from some key aspects that must be applied while analyzing pharmaceutical stocks.
Market strategy
Industry Trends
R&D productivity and product pipeline
Alliances with other firms
International presence
Regulatory environment and news
Fundamentals and Sales trends
(1) NPS' Market Strategy: Niche Market of Rare Disorders
The headcount of patients with rare disorders is not high, and hence there is less incentive for big pharmaceutical companies to spend heavily on research to cure such diseases. Therefore, in such cases, there is always a high and immediate demand for the new medicine that targets these disorders, having a limited number of therapeutic options available. And as a result, companies like NPS that discover such medicines have to spend less on its salesforce because the distribution channel is limited to a smaller number of hospitals and physicians who are already waiting for an effective solution for their patients.
(2) Industry Trends - "Pharmerging" Markets Set To Grow
Pharmaceutical companies are increasing their focus on emerging markets for further growth. According to forecasts by the IMS Institute For Healthcare Informatics, sales in developing countries are expected to grow at a CAGR of 13 to 16% through 2015, and "pharmerging" markets could reach 28% of global spending in 2015. Most of NPS' products are marketed worldwide including many of these emerging countries, some with high population and population growth rates. For companies like NPS, there is a lot of money to be made in foreign lands.
(3) R&D Productivity, Current and Upcoming Product Pipelines
NPS' research and development has so far showed a pretty good success rate. Currently, NPS has two lead products in late-stage development, Gattex and Natpara, and a couple of other promising products in very early phases. Gattex has already received regulatory approval while Natpara has completed a Phase III study successfully. In a recent interview, CEO Francois Nader had acknowledged that the market is already realizing the potential of its Natpara and Gattex drugs.
The company's R&D is also working on two new compounds - NPSP790 and NPSP795 - that may have potential application in rare disorders that involve increased calcium receptor activity.
A comprehensive list of the company's product pipeline is listed below.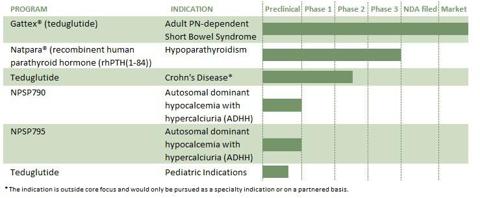 Gattex: A Giant Leap For SBS

Short Bowel Syndrome (also known as SBS) is a complicated disorder that affects the functioning of the intestines. Patients with SBS have a reduced capability to absorb nutrients, often resulting in symptoms such as malnutrition, unintended loss of weight, bowel dilation, diarrhea and even dehydration. SBS often occurs after surgeries on the small intestine that require removal of a portion of the organ. These surgeries are often required in treatment of other diseases or conditions such as the Crohn's disease or a small intestinal tumor.

There is no complete therapeutic cure for this disorder, and this disease is listed in the database of rare diseases that is maintained by the National Organization for Rare Disorders (or NORD) as well as Orphanet (orphan number ORPHA104008) which is a portal for rare diseases and orphan drugs.

NPS is closer to bringing Gattex to the U.S. market after getting FDA approval in December 2012. Once in the markets, the Gattex drug might be the first significant medical advancement for the long-term treatment of SBS in nearly 40 years, according to CEO Francois Nader. Gattex is a big leap in the biotech world considering that it is the first drug to be approved for the SBS disorder since 2004.

Natpara: Another Promising Orphan Drug

Natpara is a bio-engineered replica of Parathyroid Hormone (also known as PTH hormone), and it can be used in hormone replacement therapies for a rare hormone deficiency disorder called Hypoparathyroidism. Bodies of patients with this disorder are incapable of regulating calcium and phosphate levels in their blood, resulting in abnormal neuromuscular complications and brittleness in bones. This condition arises due to deficiency of the PTH hormone, and the Natpara drug serves as a recombinant PTH to replace this deficiency.

There is no FDA-approved drug for Hypoparathyroidism and therefore Natpara is considered as "orphan drug status" by the FDA. NPS recently reported positive data from a recent double-blind, placebo-controlled Phase III REPLACE study of Natpara. After this Phase III success, NPS has plans to file for its FDA approval in 2013 and its orphan drug status should help the regulatory process.
(4) NPS' Alliances: Royalties Providing A Stable Revenue Stream
NPS has agreements with Amgen (NASDAQ:AMGN), GlaxoSmithKline (NYSE:GSK), Kyowa Hakko Kirin, Nycomed and Ortho-McNeil Pharmaceuticals for its partnered product portfolio, which is bound to produce a steady revenue stream for the next few years, in the form of royalty payments. There are six such partnered products that are already in the market today, and two important products are in crucial phases of development. Sensipar and Regpara are drugs used for Secondary Hyperparathyroidism. Sensipar can also be used when Hypercalcemia develops in a patient with Parathyroid Cancer. The Preotact drug targets Osteoporosis, while Revestive is used for SBS treatment. The complete list of the company's royalty earnings broken down by products is listed in the image below. It also lists what products' royalty payments are targeted towards non-recourse debt.
Most of these partnered products are marketed worldwide. The company has monetized some of these product royalty streams as non-recourse debt.

(5) International Presence
As discussed earlier, pharmaceutical sales in developing countries are growing at much faster rate than those in the U.S. NPS has a strong international presence because many of its existing partnered as well as proprietary products are sold worldwide. The company even has alliances with other pharmaceutical companies, such as the Japan-based Kyowa Hakko Kirin. Presence in foreign markets is an important factor for a pharmaceutical company that is treating rare disorders, especially considering that these markets are poised to boost sales growth for the company.
(6) Regulatory Environment and News
Like with most other pharmaceuticals, NPS has had a love-hate relationship with the FDA. In 2006, the company was shocked and shattered by the FDA's decision around its Osteoporosis product, and six years later, the company's stock has gained more than 30% year-to-date because of the much anticipated FDA approval of Gattex.
The regulatory environment for NPS is favorable. NPS does have benefit though as far as dealing with the FDA is concerned: the company addresses a market for which even the FDA is looking for working products. In fact, there is an Orphan Drug Act of 1983, which was passed in the U.S. to encourage pharmaceutical companies to develop drugs for diseases that have a small market. The act allows such companies to sell without competition for seven years. Another act, the Rare Diseases Act, was signed into law in 2002 to provide increased funding to companies that are in this market.
In Europe, the European Medicines Agency (or EMA) has agreed to work with the U.S.'s FDA, so companies like NPS that address the rare disorders market can go through a common application process for both agencies when applying orphan drug status.
My point is, NPS' narrowed focus on orphan drugs should encourage investors to remain comparatively more positive when it comes to regulatory processes simply because its product is essentially catering to a social need.
(7) Fundamentals and Sales Trends
NPS ha

s a sign

ificant amount of cash in hand. Its operating cash flow increased during the last quarter to $8 million from -$26 million. As of September 2012 end, the company reported having cash and equivalents of $119 million, while its long-term debt was $16.5 million (convertible notes due in 2014 at 5.75%). This debt excludes any non-recourse debt which is secured by the royalty payments of Sensipar, Regpara and Preotact drugs.
Investors should note that royalties from Sensipar should eventually return to NPS by 2015 in the form of cash payments, significantly boosting the company's cash flow and reserves.
Gattex, Natpara and Sensipar (royalty stream) assets are worth $5 per share, according to a recent analysis. If Gattex and Natpara products get launched successfully by the end of 2013, NPS stock could rise to as high as $15 or even more.
Sales trends as well as operating income trends are positive for 2012. See image below.
Risks
All investments come with risks, and investment in pharmaceutical companies especially has more risk because these companies are highly susceptible to Wall Street's perception about FDA approvals and any warnings or even notes provided by the FDA about a particular drug is taken with the utmost seriousness. It is already known that as with all other drugs, Gattex also has side effects for which the company is directed by the FDA to provide a comprehensive communication plan and training for prescribing patients. Any negative news such as delays or denials regarding Gattex, Natpara or other drugs' FDA approvals could result in probably significant and even sudden downside for the stock.
Conclusion
Wall Street is already projecting annual sales of Gattex to reach more than $300 million, while NPS has forecasted about $350 million sales in Gattex alone. The Natpara drug could result in expected annual sales of $100 million.
Since 2006, NPS has considerably reduced its headcount, divested less critical assets and developed a narrowed focus on the niche market segment of rare diseases that is eagerly waiting for therapeutic solutions. NPS' clever decision to monetize its royalty stream benefits the company by providing immediate use of capital for its crucial projects as well as R&D with a significantly reduced risk. And to top these benefits, the royalty revenues are increasing year-over-year as the company sees increased sales of its products. For example, so far 2012 is the sixth consecutive quarter of double-digit Sensipar sales growth.
Thanks to its steady stream of royalty revenues, the FDA approval of Gattex and the upcoming application for approval of the Natpara drug, NPS Pharmaceuticals is poised to earn some serious money for its shareholders.
Disclosure: I am long NPSP. I wrote this article myself, and it expresses my own opinions. I am not receiving compensation for it (other than from Seeking Alpha). I have no business relationship with any company whose stock is mentioned in this article.