"Our biggest liability in the stock market has been the total destruction to confidence," James Paulsen, Chief Investment Strategist at Minneapolis-based Wells Capital Management, which oversees about $325 billion, said in a 12/24/2012 telephone interview with Bloomberg. "There's just so much evidence of this recovery broadening."
The quote above came from a Bloomberg article a friend sent me. The article pointed out two specific examples of stocks that experienced huge gains in 2012. Many investors missed out on a positive year for stocks, yet it's not too late to aim for potential winners for 2013.
Remembering that fear, like its cousin greed, are unhealthy reasons to sit on the sidelines like "deer paralyzed in the headlights," awakened investors are preparing to buy stocks before they move higher.
You don't have to have "confidence" in the stock market to make serious profits. You do need to have insight, understanding, conviction and money invested in specific companies whose shares have exceptional upside potential.
My followers and readers know that I'm a huge proponent of having a "safety net" underneath each individual stock position that we own. It just makes good sense, like buying life insurance or homeowners insurance.
Usually I avoid "penny stocks" like the plague, but I'll start this article with a speculative stock that happens to be up sharply today (December 26). Rite Aid Corp. (NYSE:RAD) is the nation's third largest drugstore chain behind CVS Caremark (NYSE:CVS) and Walgreen (WAG).
On December 20th, RAD reported that its out-of-store prescription sales empowered it to earn $60.5 million, or 7 cents per share, in the three months ending December 1. This was a big improvement to the same quarter last year when they reported a loss of $54.5 million, or 6 cents per share.
Rite Aid's business model has improved and investors are starting to notice, said Will Frohnhoefer, an analyst who covers the company for the brokerage BTIG, according to an AP article.
He noted that "The company, which has a lot of debt, has improved its balance sheet by refinancing and helped its stores with remodeling." The analyst, according to the article, also said Rite Aid has "benefited from growth in Medicare coverage and the gradual closing of a coverage gap called the doughnut hole in Medicare prescription drug coverage."
"I think it's all dovetailing together in a fairly attractive way for them," Frohnhoefer said. Rite Aid, which has seen its performance improve over the past several quarters, said its revenue slipped in the latest quarter by about 1% to $6.24 billion largely due to increases in generic drugs.
Speculative stocks like RAD could bring speculators a big payday if the company were to have another surprisingly good quarter ahead, or if it were acquired by a larger company or an activist investor group. My caveat is to only invest in RAD what you can afford to lose, and consider putting a stealth trailing stop loss in place once you invest.
A safer investment with less speculative risk is MGM Resorts (NYSE:MGM), a company that owns a list of resort properties that looks like a "who's who" in the gaming entertainment industry. Names including Bellagio, MGM Grand, Mandalay Bay and The Mirage adorn that list.
In addition to its 51% interest in MGM China Holdings Limited, which owns the MGM Macau resort and casino, the company has significant holdings in gaming, hospitality and entertainment; owns and operates 15 properties located in Nevada, Mississippi and Michigan, and has 50% investments in three other properties in Nevada and Illinois.
One of those investments is CityCenter, an unprecedented urban resort destination on the Las Vegas Strip featuring its centerpiece, ARIA Resort & Casino. Through its hospitality management subsidiary, the company holds a growing number of development and management agreements for casino and non-casino resort projects around the world. Now, let's take a look at the four-year history price chart and RSI.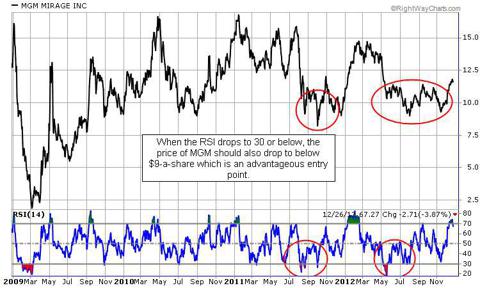 The very popular RSI or Relative Strength Indicator, is a momentum oscillator that compares the strength of gains against the strength of losses over a given period. RSI always ranges between 0 and 100. Values below 30 and above 70 are typically taken as oversold and overbought, respectively.
A strengthening RSI indicates that gains are tending to dominate losses. Once the RSI climbs above 70, however, the sustainability of the gains is called into question. That's why I would wait for the RSI to drop to an oversold level sometime in 2013 before investing.
If the price of the stock drops near the November 14th intraday low of $9.15, you may want to "pull the trigger." If MGM were to rally from there to $15-a-share, your profit would be 64%.
MGM's balance sheet shows a boat-load of total debt ($13.83 billion), but my sources indicate that MGM is renegotiating the terms of these loans, with more favorable interest rates and manageable payment schedules. As of the most recent quarter, it has $2.56 billion in total cash, which represents a mouth-watering $5.24 total cash per share.
Two more stocks that are poised for big gains in 2013 are Smith & Wesson Holding Company (SWHC) and Tibco Software (NASDAQ:TIBX). I recently wrote an extensive article about SWHC and Sturm Ruger (NYSE:RGR), which I encourage you to also consider.
The article referenced above stated, "With the recent tragedies each involving what appears to be one rogue gunman wreaking havoc, the idea of investing in firearm companies isn't a very popular one.
"Putting emotions aside, one can't help notice a monumental demand for firearms and ammo. One headline sums it all up: Guns Sold Out at Wal-Mart as Ammo-Magazine Sales Surge."
Some may prefer the larger, mainstream buying opportunities in companies like Wal-Mart (NYSE:WMT) and eBay (NASDAQ:EBAY), but from my perspective, the recent wave of fear opens the door for a more promising investment scenario.
Smith & Wesson's price as of Wednesday, December 26th is only $7.96, which represents a trailing P/E of less than 10 and a forward (one-year) P/E of only 8.65. Its price-to-earnings-to-growth (PEG) ratio has dropped to 0.36, an indicator that SWHC is quite oversold. Below is a 2-year chart that illustrates the opportunity, along with the RSI of SWHC.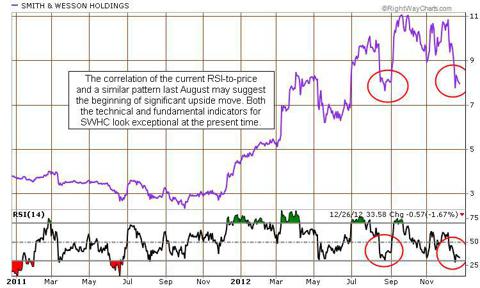 SWHC has seen quarterly revenue growth (as of October 31st, before the current "run" on guns and ammo) surge by 48% year-over-year. With a 19% operating margin (TTM) and a remarkable 46% trailing-twelve-month Return on Equity, SWHC looks like an upside surprise waiting to happen.
TIBX has also received a great deal of media publicity of late. The maker of middle-ware and infrastructure software also provides professional services. These include consulting services that comprise systems planning and design, installation, and systems integration; maintenance and support; training; and hosted services.
It's a company that generates ample cash flow. As of the quarter ending November 30th, its operating cash flow was over $237 million and its levered free cash flow was nearly $209 million. The stock's price, as shown in the chart below, trades at a modest 15 times forward (1-year) earnings, and its PEG ratio (5-year expected) is 1.14.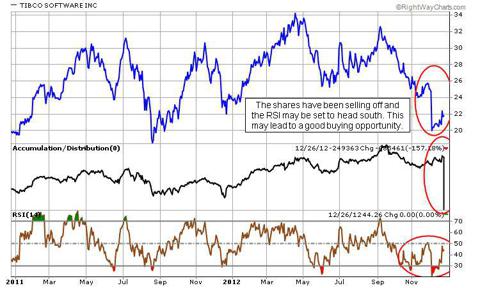 Expectations for Tibco from the analyst community are still on the low side, with a consensus 1-year estimated price target of $27.29. Yet the 52-week high price of the stock was $34.67.
Now hear this: If patient investors wait to see if the shares re-test the December 5, 2012 low of $18.95, and in 2013, TIBX surprises and guides to the upside, a 50% to 100% capital gain is a real possibility. Before investing, do your due diligence and see if the "fiscal cliff" drama and the precipitous drop in accumulation of TIBX shares brings an oversold situation and an outstanding buy-in point.
The fundamentals of the U.S. economy and the monetary policies of the Federal Reserve point towards a promising outcome for many companies in 2013. Speculators and investors who want sufficient upside reward and acceptable risks will do their homework and hold fast to their disciplines.
Companies like the ones presented in this article give a range of risk-reward scenarios that should offer something for everybody. Risk-averse investors should focus on companies with a healthy business model, strong balance sheet with exceptional cash flow and a forward P/E of 15 or below. Screening with this criteria will lead to more names.
Disclosure: I am long SWHC, RGR. I wrote this article myself, and it expresses my own opinions. I am not receiving compensation for it (other than from Seeking Alpha). I have no business relationship with any company whose stock is mentioned in this article.