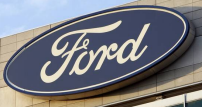 The Gist
Bank of America Merrill Lynch (NYSE:BAC) has a $20 twelve month price target on Ford Motor Co. (NYSE:F). That is a nearly 100% gain. According to a recent article penned by Bank of America Merrill Lynch,
"Ford was selected as one of the 10 best stocks for 2013 due to high foreign sales and a large amount of pent-up demand."
Ford Motor Co. has been on a roller coaster ride over the last year.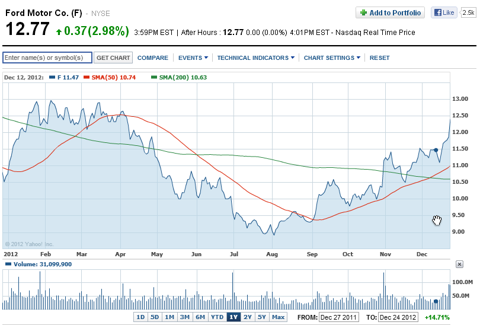 Even so, I feel Ford is a solid buy right now. It is well-positioned for 2013 growth. The stock is in good shape both fundamentally and technically and has significant catalysts for growth going forward. Nevertheless, let's not get carried away just yet. We need to perform some due diligence to make sure this dog can hunt. Please review the following analysis of Ford for an in-depth examination of the stock's upside potential.
In the following sections, we will perform a review of the fundamental and technical state of Ford followed by an analysis of the underlying catalysts for the stock to determine what upside exists. The following charts are provided by Finviz.com, Ycharts.com and Yahoo Finance.
Fundamental Review
Fundamental Ratios Look Solid
Fundamentally, Ford has several positives. The company has a forward P/E of 8.49. Ford is trading for 11.88 times free cash flow and 2.53 times book value. EPS next year is expected to rise by approximately 10%. The company pays a dividend with a yield of 1.61% and has a PEG ratio of 0.53, a net profit margin of 13.36% and an ROE of 142%.
Balance Sheet Much Improved
Ford's balance sheet is much improved with $35 billion in cash and short term investments. The company has reduced long-term debt significantly over the past three years.
Price To Book Ratio Analysis
The stock is currently trading two and a half times book value.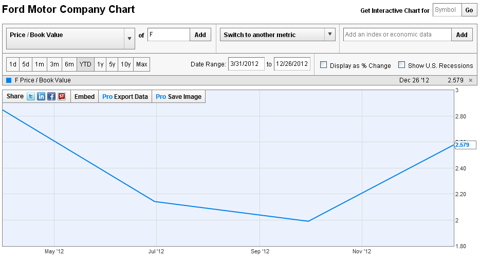 Currently, Ford trades for a higher book value ratio than its peers. One factor influencing this is Ford did not declare bankruptcy and discharge its long-term debts. This move by Ford seemed to create a substantial amount of goodwill with the American people. Ford's sales have steadily increased since.
Price To Earnings Ratio Analysis
Ford is trading at a TTM price to earnings ratio of 3 while the industry average is 13.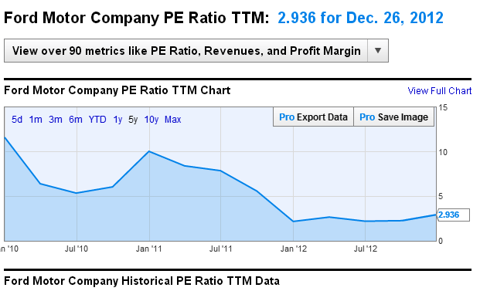 At the same time earnings per share are up by 127% in 2012. This is one of the largest gaps between the industry average and Ford's price to earnings ratios. Ford is trading at a significant discount currently.
Technical Review
The company currently is trading 2% below its 52 week high and has 15% potential upside based on the consensus mean target price of $14.67 for the company. Ford was trading Wednesday at $12.62, up almost 2% for the day.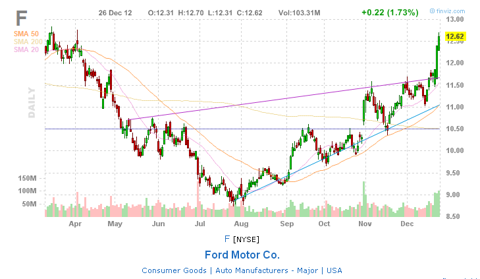 The stock is up 40% from the August low of $9. Ford just broke out above the major long-term resistance line.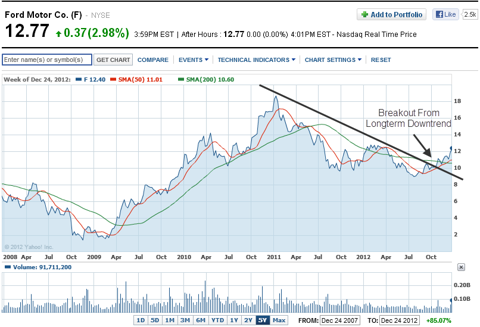 Technically, Ford is currently in a well-defined uptrend. The stock has been in a solid uptrend since the last quarter. Look at the chart. The stock has just achieved the coveted golden cross where the 50-day sma crosses above the 200-day sma.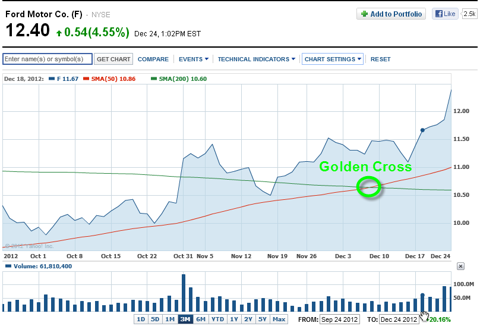 This is a significant event and should drive the stock higher as many technical traders use this as a bullish signal to buy.
2013 Growth Catalysts
Chinese Market Penetration
Ford China broke sales records for a third consecutive month in November. The Ford Focus, the best-selling passenger car in China from August through October, led strong sales of Ford cars in China. Ford sold 67,505 wholesale vehicles last month, a 56 percent increase compared to November 2011. With a record November, Ford China's year-to-date sales are now up 18 percent. Ford China is the most promising catalyst for the stock going forward.
Europe Being Right Sized
Furthermore, Ford will be rightsizing European operations saving up to $500 million over the next few years. This will be a primary catalyst for improving the bottom line. Europe has been Ford's Achilles heel for the past few years draining profits like a sieve. If Ford is able to flip European operations to profitability, this will be a huge help to the bottom line.
U.S. Car Replacement Cycle Looks Strong
November brought growth throughout Ford's product portfolio in the U.S., with car sales up 15 percent, utilities up 2 percent and trucks up 4 percent.
Ken Czubay, Ford vice president, U.S. Marketing, Sales and Service said,
"November represented a strong month for the industry, and Ford sales performed well across the board. We saw sharp increases in demand for Ford's fuel-efficient small cars, our best-ever month for electrified vehicles and growing demand for our fuel-efficient and capable F-Series pickups."
With U.S. and Chinese sales on the rise and European operations returning to profitability, Ford has several catalysts for growth in 2013.
Sector Comparisons
Ford vs. Industry Price to Book Ratios
Ford trades for one of the highest price to book ratios out of the competition at 2.5.

Ford vs. Industry Price To Earnings Ratios

Ford seems significantly undervalued when comparing price to earnings trailing two month ratios against other industry leaders. General Motors Company (NYSE:GM) is trading for 10.51, Honda Motor Co., Ltd. (NYSE:HMC) is at 10.17 while Toyota Motor Corporation (NYSE:TM) has the highest at 15.18.
Analyst Recommendations
The stock is currently trading 15% below the consensus mean price target of $14.67, by 15 analysts.

Downside Risk
The Eurozone sovereign debt debacle could finally implode causing another credit crunch large enough to disrupt the global economy.
Execution risk: Ford does not meet earnings expectations due to lagging sales or inability to get European operations under control.
Ford's stock runs out of steam as investors take profits and move on after such a recent large percentage move in the stock.
U.S. government does not solve the fiscal cliff debate and the U.S. falls into another recession.
My Take
With Mulally sticking around, sales and profits growing in the U.S. and China and Europe being right sized, the stock remains a buy long-term buy in my book.
Ford is trading at an extremely discounted price to earnings multiple even when taking in to account lower earnings expectations.
Ford is in the process of reinventing its products to be more energy efficient, yet still attractive. With the average age of cars currently on the road at 11 years, Ford stands to sell quite a few new cars as people replace the older models.
Finally, the Fed is currently employing quantitative easing which should underpin the markets providing the so called "Bernanke Put." Based on these assumptions I believe the risk reward for starting a position in Ford is favorable.
I see opportunity ahead for Ford. If you are considering buying in to Ford, I would wait a couple days for the stock to cool off some prior to starting a position. Even so, I don't see Ford falling below $11 anytime soon. For this reason I feel the risk/reward equation favors long trades at this point. Nonetheless, do your own due diligence and layer in to any position to reduce risk.
The Bottom Line
The stock is a solid buy at this level if the U.S., Chinese and European markets continue to improve. Ford seems poised for solid growth. My target price is $18 within the next twelve months. I posit Europe will snap back quicker than expected. If you choose to start a position in any stock, I suggest layering in a quarter at a time at a minimum to reduce risk.
Disclosure: I am long F. I wrote this article myself, and it expresses my own opinions. I am not receiving compensation for it (other than from Seeking Alpha). I have no business relationship with any company whose stock is mentioned in this article.
Additional disclosure: This is not an endorsement to buy or sell securities. Investing in securities carries with it very high risks. The information contained within this article is for informational purposes only and is subject to change at any time. Do your own due diligence and consult with a licensed professional before making any investment.