Seasonality is one of my favorite ways to find new stocks. Paying attention to each seasons' ebb and flow has been widely used in commodity investing for generations. Increasingly, investors are considering seasonal tendencies for stocks too.
One stock with strong Q1 tailwinds is Corning (NYSE:GLW), the well worn maker of glass for televisions, computer monitors, smart phones and tablets.
Back in November, the company upped guidance citing stronger than hoped LCD glass volumes, pushing shares up 8%. Since, shares have stalled at their 200 day moving average.
According to Corning, Q4 demand has been better than hoped, supporting guidance for low single digit glass market volume in the quarter, ahead of prior expectations of a year-over-year drop.
Importantly, the company announced it expected sales of its Gorilla glass to approach $1 billion in FY12, likely a reflection of ongoing demand for Apple's (NASDAQ:AAPL) iconic iPads. Sales of Gorilla Glass are included in its specialty materials segment, where sales are expected to increase 5% sequentially this quarter.
Heading into 2013, the company may see LCD pricing finally firm following steep declines due to over-capacity. The industry has been hard at work closing plants to better balance demand. If so, the company's display segment, responsible for roughly half the company's sales, may improve.
Even if display remains sluggish on weaker EU demand and slow job growth here in the U.S., sales in the company's specialty materials segment should remain a bright spot next year. Tablets continue to embrace the durable material - good news for accident prone consumers.
Corning is also working on its next generation glass for consumer devices. Its Willow Glass is ultra thin and flexible, which would lend to innovation in OEM product designs and better production rates.
As for seasonal tailwinds, investors tend to embrace shares in the first quarter, suggesting Corning's late January earnings conference call will kick off another round of buying. According to data from the Seasonal Investor, shares have moved higher in 9 of the past 10 Q1s, returning a median 8.19%.
Given shares are facing some headwinds at their 200 day moving average, investors need to watch closely to see if investors can push prices higher, or if shares will need to head lower to fill the gap created back in November when the company upped its guidance. If shares move above $13, position traders may want to buy with a trailing stop loss. And, if it rolls instead, they should look to enter in the $11s.
Source: Seasonal Investor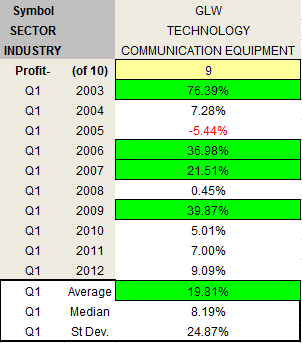 Disclosure: I am long AAPL. I wrote this article myself, and it expresses my own opinions. I am not receiving compensation for it (other than from Seeking Alpha). I have no business relationship with any company whose stock is mentioned in this article.