Yesterday Kraken wrote a Seeking Alpha article called Rite Aid: Stock Could Rise 40% Due To a Turnaround. In that article, the author suggested that Rite Aid (NYSE:RAD) shares could finally be turning the corner as the #3 drug store chain recently news it had earned $60.5 million (7 cents a share) while analysts had expected a loss of 3 cents per share.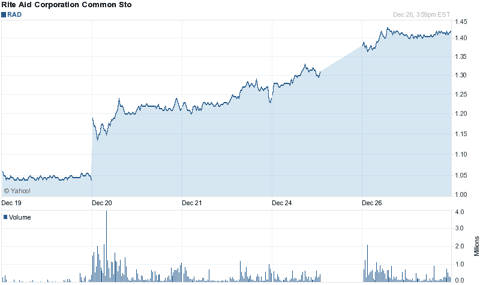 On the news of the unexpected results, Rite Aid shares climbed over 25% suggesting that the company is finally moving the needle in the right direction. Still with over five years of "red ink" under-performance, Rite Aid still has considerable ground to cover before it makes a dent in the company's $5.93 billion debt load. However, as Kraken pointed out, the recent results are meaningful and investors should consider the opportunity unfolding:
Rite Aid is in the midst of a strong turnaround. The company has finally reported a profit after five years. As consumers spend more money on generic drugs, Rite Aid will benefit from higher margins. While the stock is up 26% after reporting earnings, there is still plenty of upside.
Is the Thrill of Victory Worth the Agony of Defeat?
Last year I wrote a Seeking Alpha article, Rite Aid: Is the Thrill of Victory Worth the Agony of Defeat, in which I explained the details of Rite Aid's ill-conceived acquisition of Jean Coutu Group.
As CVS and Walgreen spent the last few years building dominating nationwide scale, Rite Aid was drowning in a sea of debt. The initial and catastrophic wave was around August 23, 2006. That is when The Wall Street Journal reported that Rite Aid would acquire 1,858 Eckerd Drug and Brooks Pharmacy stores in 18 states from Jean Coutu Group for $3.4 billion. Prior to that announced merger, Rite Aid operated around 3,333 stores and at that time the drug chain had around $3.1 billion in debt.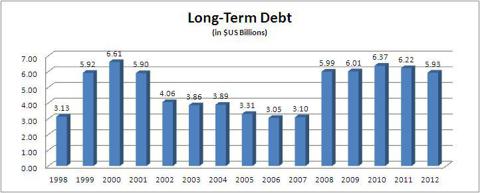 Similar to the "bubble-era" commercial real estate acquisitions - fueled by free flowing debt at high loan-to-values - retailers (like Rite Aid) were also empowered to make acquisitions that resulted in companies ill prepared for the latest economic downturn. Choked by massive interest payments, many retailers like Borders, Circuit City, and Blockbuster Video were victims of extraordinary debt, eventually drowning the retailers in a wave of brick and mortar destruction.
Although Rite Aid has made some good progress towards regaining profitability, the sustainability of the continued success is very much dependent on the company's ability to reduce its still massive debt load, including the billions in interest paid over the years.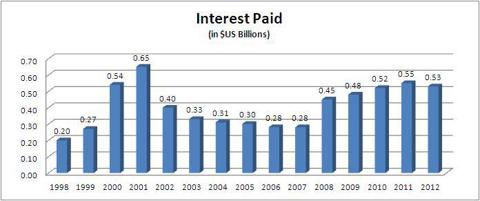 As I explained in the article referenced above:
Like many under-performing retailers, Rite Aid has been living off of borrowed funds. Over the past quarters (and years), Rite Aid has been limping along by extending debt maturities and closing unprofitable stores. The closures and debt refinancing has slowed the losses while the company has developed a series of new in-store revenue initiatives.
The Key for Rite Aid is Unlocking the Value of its Real Estate Portfolio
As of the latest quarter, Rite Aid owned 4,643 stores with assets totaling $6.95 billion and long-term debt of $5.93 billion. With around $1.2 billion in liquidity ($1.075 billion under the credit facility and $167 million in cash), Rite Aid is not a current candidate for bankruptcy. The company has a stockholders' deficit of $2.6 billion and the company has revolver borrowings under its $1.175 billion senior secured credit facility with $118 million of outstanding letters of credit.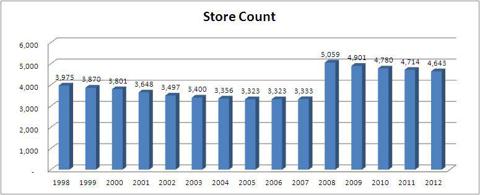 Keep in mind that one of the biggest assets on Rite Aid's balance sheet (and off balance sheet) is the leased and owned properties. More specifically, around 60% of Rite Aid's stores are stand-alone "free-standing" properties (around 2,800 sites) and the company also owns or leases around 4.5 billion square feet of distribution space. In addition, Rite Aid owns its 205,000 square feet corporate headquarters in Camp Hill, PA.
As I wrote in a previous article (A Real Estate Strategy for Rite Aid):
Since the company (Rite Aid) is paying its creditors around 8% in interest, it appears that a significant amount off long term debt could be further reduced by selling the assets and leasing them back to third party sponsors (i.e. sale leaseback facility).
Upon review of Rite Aid's latest 10-K, the company owns nine distribution facilities totaling over 2.7 billion square feet. In addition, Rite Aid owns 259 free-standing stores with the balance of the stores leased.
One easy and simple way to monetize Rite Aid's non-core property holdings is to sell off the distribution centers and the 259 free-standing stores. As I have illustrated below, this sale/leaseback strategy could bring around $700 million to Rite Aid and its significant long-term debt holders.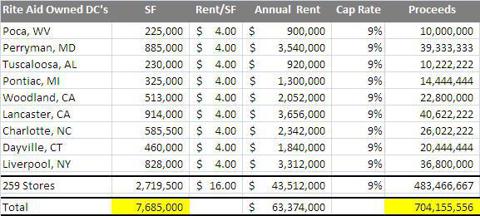 Another strategy - that I also previously wrote about - is for Rite Aid to sell of its leasehold stores on the west coast. Now that Rite Aid has "finally" produced some sound earnings results (i.e. "turning the corner"), this spin-off strategy could become a valuable card for the chain's future performance. Many of the company's premium sites (owned and leased) are located on the west coast where higher barriers-to-entry drive property-level valuations the highest. Here is how I wrote this "monopoly-like" liquidation strategy:
Currently Rite Aid management claims to have ample liquidity; however, my take is that the company is "borrowing from Peter to pay Paul" while convincing its bankers to float notes at sub-prime interest rates. The obvious above-mentioned real estate strategy allows Rite Aid to trade the west coast assets consisting of Boardwalk (WA with 139 stores), Park Place (CA with 600 stores), and Pennsylvania Avenue (OR with 71 stores) in return for beefing up on the core assets like Vermont Avenue (northeast US) and St. James Place (southeast US) - all on the east coast.
Find the REIT Way to Own Rite Aid
Clearly, there is a way for Rite Aid to deleverage its balance sheet by utilizing its many (above-referenced) real estate options. Unlike many chain retailers that locate in shopping centers, Rite Aid's real estate portfolio has a premium value because many of its locations are along highly traveled corridors and in free-standing facilities.
Prior to 2008, Rite Aid (and Eckerd Drug) was considered a credit tenant, and investors were actively acquiring sites leased to the better positioned brand. However, since that time, the company's credit rating has declined to junk status (B- S&P and Caa1 Moody's) and the fear of insolvency has slowed the investment sales market (for Rite Aid) considerably.
In the "good ole days," institutions were gobbling up drug stores faster than a "kid in the candy store." Most of that buying was driven by institutions in the form of publicly-traded and non-listed REITs. Cap rates valuations for Rite Aid stores were as low as 7% to 7.5% (I developed and sold several Eckerd Drug and CVS stores in 2002 and 2003 and did very well then).
Although buying a junk-rated stock like Rite Aid is considered highly speculative, I often advocate that owning real estate leased to Rite Aid - even junk credit - can be opportunistic. Why?
Certainly investing in junk stocks, when everyone else is doing so, is a recipe for disaster; however, investing in real estate offers a much better value proposition. Remember that a lease agreement is generally guaranteed by the same corporate entity as the stock certificate. That means that the rent check has the same value (from a guarantor perspective) as a dividend payment. However, there is one primary difference.
When (or if) a company files for bankruptcy, the security of the stock certificate generally becomes worthless; however, the real estate doesn't. In fact, oftentimes free-standing properties are worth more to the next tenant than the current tenant. In other words, the laws of "principal preservation" prevail in a deed (real estate) format, whereas a stock certificate is simply paper that has a high likelihood of loss (i.e. with a B- rated company such as Rite Aid) when things go wrong.
In REIT-dom there are several REITs with varied exposure to the #3 drug store brand. The list of REITs (researched by the author) include Realty Income (NYSE:O), Retail Opportunity Investments Corp. (NASDAQ:ROIC), Retail Properties of America (NYSE:RPAI), DDR Corp. (NYSE:DDR), Regency Centers (NYSE:REG) and Cole Credit Property Trust (non-listed).

Without a doubt, there is more risk in owning real estate leased to non-rated or non-investment grade rated tenants; however, being a landlord to Rite Aid can provide investors with an opportunistic value proposition that includes risk-adjusted returns - ranging from 9% (unleveraged) and higher. In addition, the risk for owning Rite Aid leased property seems to be further diminished by the $1 billion plus of liquidity - not including the potential for another $700 million of sale/leaseback options (referenced in this article).
Also, remember that as Rite Aid continues to "turn the corner" of profitability, there is a better chance that the big boys - Walgreen (WAG) and CVS (NYSE:CVS) - step up to the plate and bite off some premium west coast Rite Aid stores. Such a transaction would benefit Rite Aid's west coast landlords by replacing a junk bond rated tenant with an investment grade one. Conversely, Rite Aid would return to a more healthy debt level and considerably improve its financial performance.
In summary, I consider Rite Aid's shares to be high-risk; however, there is a REIT-way to invest in the #3 chain and by unlocking the value of the company's stand-alone real estate assets, Rite Aid could restore its record of profitability and become a consistent performer for shareholders again.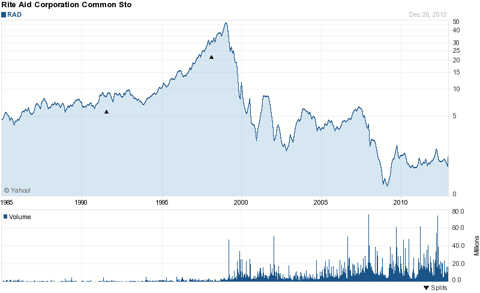 Source: SNL Financial and Yahoo Finance
Disclosure: I have no positions in any stocks mentioned, and no plans to initiate any positions within the next 72 hours. I wrote this article myself, and it expresses my own opinions. I am not receiving compensation for it (other than from Seeking Alpha). I have no business relationship with any company whose stock is mentioned in this article.