On Wednesday, it was announced that Toyota Motor Corp. (NYSE:TM) is now projecting global sales to rise 2% over the course of the next year. That increase would demonstrate that not only has the Japanese Automaker recovered quite nicely from last year's devastating earthquake, but it continues to grow despite an unfavorable consumer sentiment from its Asian counterpart, China.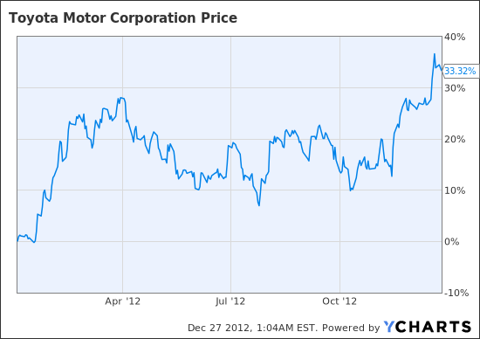 From a fundamental perspective, shares of Toyota Motor currently carry a market cap of $142 billion, have traded up 33.32% since January 1, and are also trading at a 6.40% premium to their 50-DMA and at a 12.66% premium to their 200-DMA. Earnings trends for TM have been improving in the last six months as EPS estimates were surpassed by an average of 18.20% in both the June 2012 and September 2012 quarters.
According to an article featured on the Wall Street Journal's website, "The Japanese car maker has estimated it will sell a record 9.7 million vehicles this year and an additional 9.91 million vehicles next year, likely bringing it back to the top spot in global sales, passing the likes of both General Motors Co. (NYSE:GM) and Volkswagen AG (OTCPK:VLKAF). Toyota's sales would be a 22% jump from last year, when the earthquake in Japan and floods in Thailand disrupted the parts supply chain and dented the auto maker's sales. U.S.-based GM, which took the No. 1 spot from Toyota last year, sold 6.95 million vehicles world-wide in the first nine months of 2012. Germany's Volkswagen, the second-largest auto maker last year, sold 8.29 million vehicles in the first 11 months of the year."
One of the biggest negative catalysts for Toyota Motor is clearly the near-term negative performance of the Japanese Yen when compared to the U.S. Dollar. On Wednesday, the Yen hit a 27-month low against the dollar, and if such behavior continues, Toyota's revenues have the potential to take a significant hit. From a year-to-date perspective, the Japanese Yen has fallen 10.42%, which is pretty dismal considering the fact many of the major currencies have all risen against the U.S. Dollar.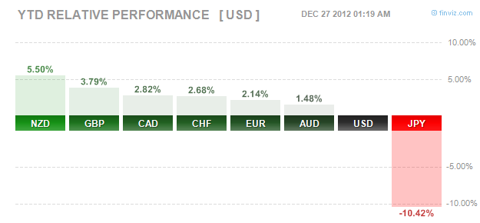 Final Analysis
Are there any negative catalysts potential investors should consider before establishing a position in Toyota? As is the case with any automaker, potential investors need to keep an eye on production; if Toyota meets or exceeds both 2012 and 2013 sales numbers, then a long position at these levels would make sense. If, on the other hand, estimates miss the mark and revenues falter, I'd look to establish a short position and hold that position over the next six to twelve months.
Should potential investors be concerned with such macroeconomic factors as the Japanese Yen? Of course they should. The behavior of the Japanese Yen needs to be taken seriously in both the short term and long term. That weakness, coupled with a very tight cost structure currently in place at Toyota to maximize profitability, positions the Japanese car maker to make a lot more profit when and if the yen finally takes a turn for the better.
For potential investors looking to establish a position in Toyota Motor Corp., I'd take a closer look at the company and keep in mind the primary positive and negative catalysts moving forward. Given the fact Toyota intends on making considerable strides over the next two years, I'd look to establish a small-to-moderate position at current levels, and add to that position if and when positive news is announced with regard to both sales and earnings.
Disclosure: I have no positions in any stocks mentioned, and no plans to initiate any positions within the next 72 hours. I wrote this article myself, and it expresses my own opinions. I am not receiving compensation for it (other than from Seeking Alpha). I have no business relationship with any company whose stock is mentioned in this article.