A couple of weeks ago, I wrote about cigarette giant Philip Morris (NYSE:PM), explaining how the stock was getting expensive again. Philip Morris was rallying again, and getting expensive compared to those in its space. Well, the stock has come down a bit since then, and the stock is approaching the sweet spot again. It is these kinds of pullbacks that have been perfect for long-term investors looking to accumulate shares while they are cheap. Today, I'll look at how things have changed since my last update, and show how Philip Morris is back at the low end of the range again.
Current Expectations:
When comparing Philip Morris, I've looked at four other names, which I'll stick with, for consistency. They are Lorillard (NYSE:LO), Altria (NYSE:MO), Reynolds American (NYSE:RAI), and British American Tobacco (NYSEMKT:BTI). The following table is one I've used in several articles for this industry. It shows the currently expected growth, in terms of both earnings per share and revenues, for 2012 and 2013, along with a two-year total. The yellow highlight shows the highest number amongst those names for the period and figure shown, and red text shows negative numbers.

Those are where expectations stand as of Wednesday. But a current number is meaningless unless you know where the number was previous. So below I will describe the changes in each name's forecast since my last article a few weeks ago. With the holiday season and quarter coming to a close, there hasn't been a ton of news regarding these names. That means that there haven't been as many analyst changes as one of my normal updates might have. Lorillard, Altria, and Reynolds have not experienced any changes to their growth forecasts.
The first update is for Philip Morris. The 2013 revenue growth forecast has been reduced from 6.3% to 6.1%. The two-year revenue growth total was reduced from 7.6% to 7.4%. The 2012 earnings per share growth forecast has also been reduced from 7.0% to 6.8%, but the 2013 growth forecast has increased from 11.3% to 11.5%. Philip Morris remains the leader in three of the six categories.
When it comes to British American, there have been major changes to this company's forecasts, but I have to explain why. Only two analysts currently provide estimates for the stock, so when one analyst changes their forecast, estimates change dramatically. That has happened here, with one analyst drastically cutting the earnings forecast. You can see above that earnings are now expected to plunge this year with a partial rebound in 2013. I haven't found any news as to why the huge cut took place. The huge cut has thrown off a ton of industry valuation numbers that I provide, so I'll be giving some adjusted numbers going forward.
Current valuations:
I always say that growth is important, but the more important part is how much are you paying for that growth. Well, the following table shows valuation metrics for each, as of my last update and now.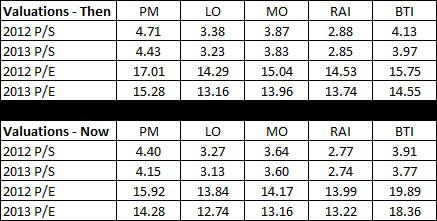 Philip Morris still trades at a sizable premium to the rest of the space, but you can notice that the premium is coming down a bit. Here's where the analysis gets a bit tricky, thanks to that huge change in earnings expectations for British American Tobacco. You can see how that stock's P/E numbers have shot up.
So I have to show you two tables here. The premium in the table below is Philip Morris' valuation in that category compared to the average of the other four, at the last update and now.

As you can see, the earnings per share numbers have changed dramatically. To account for that, I went back and changed the table. The table below shows the premium Philip Morris trades at against the three other names - Lorillard, Altria, and Reynolds.

The premium is coming down, which makes Philip Morris a more attractive investment. Now that you are only paying about a 9.5% premium based on next year's earnings, Philip Morris is rather reasonable. The dividend might not be as high, but remember, they are buying back $6 billion of stock per year. Add in the growth numbers from above, where Philip Morris leads in half the categories, and the premium is well worth it.
The analyst take:
Don't just take my word for it when it comes to Philip Morris. It's always good to see what the analysts say. The following table shows the average rating, where a 1.0 is a strong buy and a 3.0 is a hold. The table also shows the average, or mean, price target currently, and the upside to that target from Wednesday's close.

The rating on all five of these names has improved since my last update, probably because of their price declines. With analysts now seeing more upside to their price targets, they rate the names as stronger buys. At this point, Philip Morris has the most upside according to analysts (to the average price target).
Another pullback from $90 plus:
I've noted in past articles that Philip Morris tends to rise above $90, then have a pullback of at least $4.00. Well, we are in the midst of another one of those pullbacks now. The following table shows this phenomenon. Since Philip Morris hit $90 for the first time in April, there have been 8 pullbacks of at least $4, and these only are ones that started above $90. There are also some that started in the high $80s.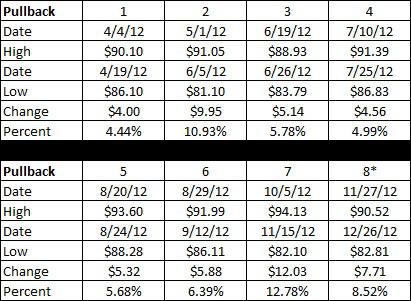 *Pullback 8 currently in progress. Low price represents Wednesday's low price, the current low on this pullback.
Right now, pullback 8 has taken us down more than 8% in the past month. Philip Morris looks like it is ready to rebound, but if fiscal cliff issues continue to knock down the market, I could see Philip Morris trending towards $80. Should we continue even lower, I might look to add some to my own account.
Conclusion - back in the saddle again:
Philip Morris shares have dropped more than 8% in the past month, which puts the stock back near the bottom of its last 6 month trading range. The last time we were here, investors got a great chance to load up on the name, and we saw a rally of more than 10% in just a few weeks. That looks like it could happen soon again, assuming markets don't completely collapse thanks to fiscal cliff issues.
For investors looking to enter this name or accumulate more, they might want to use this decline to do so. Philip Morris still boasts a great growth story, is buying back $6 billion of stock per year, and now boasts a current dividend yield of 4.10%. The premium at which this stock trades to other industry comparables has come down significantly. We've seen Philip Morris pull back like this several times before, but these pullbacks end quickly as investors start accumulating again. I think Philip Morris will rebound nicely when it does, and I might even add some for myself at these levels.
Disclosure: I have no positions in any stocks mentioned, but may initiate a long position in PM over the next 72 hours. I wrote this article myself, and it expresses my own opinions. I am not receiving compensation for it (other than from Seeking Alpha). I have no business relationship with any company whose stock is mentioned in this article.
Additional disclosure: Investors are always reminded that before making any investment, you should do your own proper due diligence on any name directly or indirectly mentioned in this article. Investors should also consider seeking advice from a broker or financial adviser before making any investment decisions. Any material in this article should be considered general information, and not relied on as a formal investment recommendation.