Shares of Under Armour (NYSE:UA) have dropped by 21.8% from their 52-week high of $60.96 attained in September. Is now the good time to acquire the shares or will the pullback continue? In this article, I will elaborate on my valuation analysis that may assist you in formulating the investment decisions.
From a relative valuation perspective, UA continues to be overpriced based on the firm's financial performance relative to its peers' (see comparable analysis chart below). Sell-side analysts on average predict the company's revenue, EBITDA, and EPS to rise by 3-year CAGRs of 21.8%, 24.8%, and 26.6%, respectively, over the current and next 2 fiscal years. The consensus growth estimates are significantly higher than the averages of 7.6%, 16.9%, and 14.2% respectively, for a peer group consisting of UA's primary competitors in the sports apparel sector. However, the firm's EBITDA margin is forecasted to expand by just 1.0% over the same period, compared to the peer average of 1.6%. On the profit side, UA's margin and capital return metrics are mostly in line with the peer averages. The company carries a relatively low level of debt as reflected by its below-average debt-to-capitalization and debt-to-EBITDA ratios. In terms of liquidity, UA's trailing free cash flow margin is higher than the peer average, but the difference is not substantial. Due to the low leverage, the company was able to maintain a healthy interest coverage ratio. Both UA's current and quick ratios are above the par, reflecting a healthy corporate balance sheet.

To summarize the financial comparisons, UA's superior growth prospects should justify a premium stock valuation relative to the peer-average level. However, the firm's mediocre margin performance may likely limit the valuation gap and thus I would not expect UA's valuation premium to be significant. Nevertheless, the stock's forward P/E multiple (next 12 months) of 35.1x is 95.0% above the peer average at 18.0x and its 1.6x PEG ratio is also at a 23.0% premium over the group average PEG of 1.3x (see chart above), suggesting that the current valuation remains stretched despite the recent pullback.
If only compared to lululemon athletica (NASDAQ:LULU) (see chart below), which represents the closest comparable company to UA due to their similar growth stage, LULU's financial performance outperforms that of UA in almost every aspect. However, UA's forward P/E multiple is almost in line with LULU's and its PEG ratio is even 17.3% higher.

From a historical valuation standpoint, one would draw a similar overvaluation conclusion. UA's trailing P/E multiple of 40.3x is currently trading at a 12.2% premium to its 5-year historical average at 40.1x (see chart below). However, I believe a discounted P/E multiple should be warranted provided that 1) UA's capital return measures including ROA, ROIC, and ROE have all been riding on a downward trend over the past 5 years; 2) the firm's profitability margins have also slightly dropped over the same period; and 3) the revenue, EBITDA, and EPS growth rates have slowed down markedly compared to their level in 2007 (see charts below).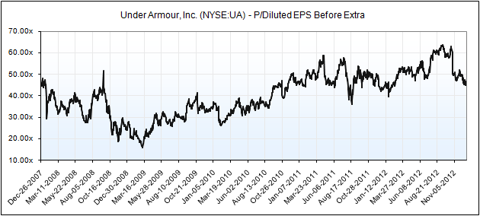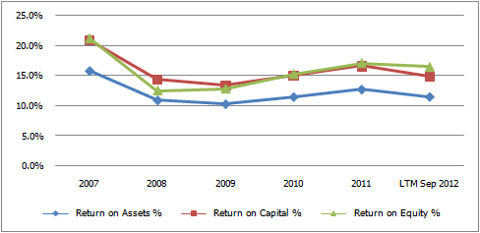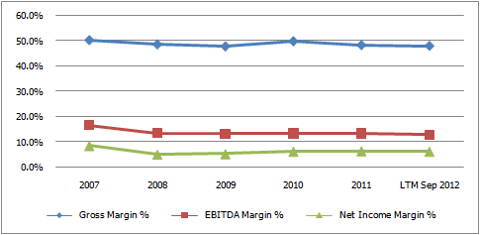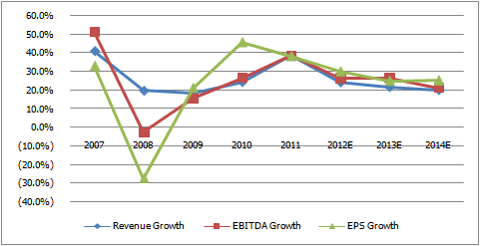 To further support my view and gauge the growth assumptions that are baked into the current stock price, I also performed a DCF analysis that incorporates the market's consensus revenue and EBITDA estimates from fiscal 2012 to fiscal 2016 (see DCF chart below). Other free cash flow related items including depreciation, tax expense, capital expenditure, and net working capital investment are projected based on their historical level relative to the revenue as the ratios have been trending quite steadily over time. In order to get to the current share price of $47.66, the terminal growth rate and WACC need to be adjusted to 7.0% and 9.7%, respectively, which are believed to be somewhat aggressive valuation assumptions.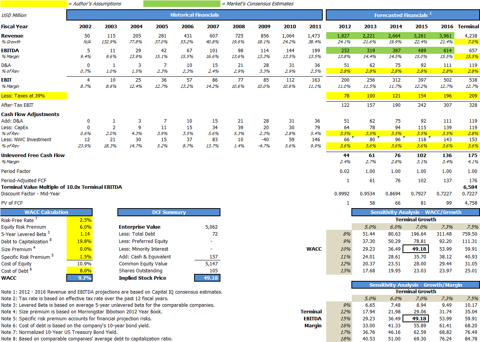 Bottom line, despite the recent pullback, the stock remains expensive on both the relative and absolute valuation basis, and some aggressive growth estimates continue to be priced in. As such, I would not recommend buying the shares now due to UA's unfavorable risk/reward profile.
The comparable analysis and DCF charts are created by the author, other charts are sourced from Capital IQ, and all historical and consensus estimated financial data is sourced from Capital IQ unless specified.
Disclosure: I am long NKE. I wrote this article myself, and it expresses my own opinions. I am not receiving compensation for it (other than from Seeking Alpha). I have no business relationship with any company whose stock is mentioned in this article.