Christmas 2012 is now a memory and presumably Congress and the president will be knuckling down to deal with the Cliff deadline, although the winter-weather flight cancellations may slow the process. Meanwhile, the market is biding its time. The S&P 500 opened fractionally higher and hit its intraday high, up 0.19%, in the first fifteen minutes of trading. The index then rolled over to its intraday low, off 0.72%, around 11:30 AM. The index then struggled at its low but buckled in the last hour of trading to a closing loss of 0.48%, the third consecutive finish in the red.
There was a bit of confusion about the holiday spending that doubtless influenced some of today's trades. MasterCard Advisors SpendingPulse said that seasonal spending was the weakest since 2008. But later in the day Gallup claims consumer spending surged during the pre-Christmas weekend. We really won't have anything remotely solid until the December retail sales are released in a few weeks.
Here is a 5-minute chart of Wednesday's action: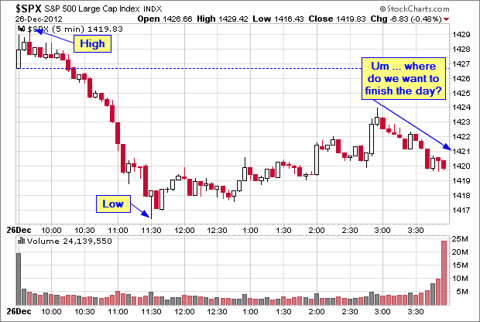 The S&P 500 is now up 12.90% for 2012 but 3.13% below the interim closing high of September 14th.
From a longer-term perspective, the index is 109.9% above the March 2009 closing low and 9.3% below the nominal all-time high of October 2007.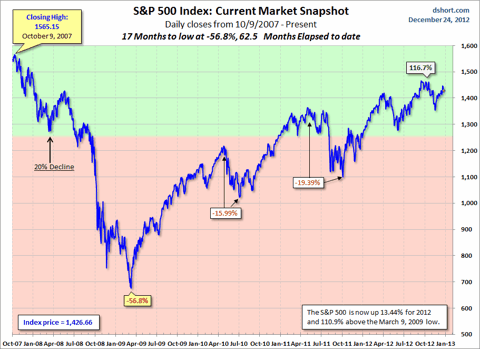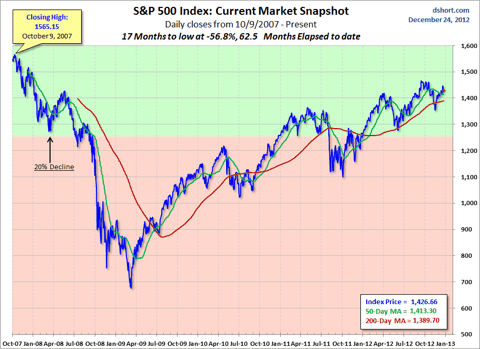 For a better sense of how these declines figure into a larger historical context, here's a long-term view of secular bull and bear markets in the S&P Composite since 1871.