About a year ago, I wrote an article entitled: Microsoft: A Most Secure Investment, where I outlined the security of Microsoft's (NASDAQ:MSFT) dividend and three reasons that support its worth to investors:
Cash reserves
Strong & Consistent Margin
Low Volatility in the Market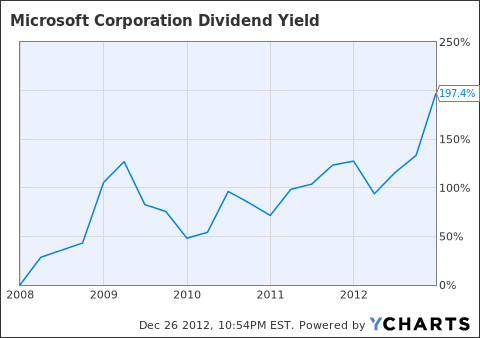 MSFT Dividend Yield data by YCharts
Today, a year later, the case for Microsoft as an income play still remains, and its attributes stay intact. From a cash perspective, Microsoft is sitting on over $65 billion; from a performance perspective, the company is continuing to earn strong profits and keep margin high, even though Q1 of FY13 was weaker than expected; and from a volatility standpoint, the stock has remained nearly unchanged from a year ago. Over the past six months, Microsoft has been defined by the release of its new tablet "Surface," which competes directly with the Apple (NASDAQ:AAPL) iPad, and the release of its new operating system Windows 8, which was promised by Microsoft CEO Steve Ballmer to be:
The launch of Windows 8 is the beginning of a new era at Microsoft. Investments we've made over a number of years are now coming together to create a future of exceptional devices and services, with tremendous opportunity for our customers, developers, and partners.
Though both of these products have not turned out to be major successes, they do represent a step in the proper direction for Microsoft. In regards to the Surface, sales have been relatively weak, but since the company introduced the product to Best Buy (NYSE:BBY), Staples (NASDAQ:SPLS), and other retailers, sales have been moderate. In addition, to push the release of new products (mainly Windows 8 and the Surface), Microsoft has opened 51 retail stores that try to emulate the magic that Apple has been able to create through its more than 400 retail stores.
Microsoft has seen strong sales through these retail outlets, and is planning another 6 stores in early 2013. On the front of Windows 8, sales have been disappointing, but this is just as much a result of expectations being too high as it is a result of a "dud." Windows is the operating system that is used by corporations around the world and is filling this market segment, which is more restricted by contracts and corporate spending. Companies are not going to go out and buy a new operating system because it is a "hot product," but rather, will do so because they are in need of it. This results in slower sales initially than those of rival Apple due to a different demographic in terms of customers. In addition to these new offerings from Microsoft's core business, the company has also continued to show strength in its gaming system Xbox. As fellow Seeking Alpha author Cris Frangold states:
The demand for an upgraded Xbox is very high and even existing users of Xbox 360 will buy the Xbox 720. The sales will definitely be higher than Xbox 720's competitors as it becomes easier to market Xbox 720 to users of Windows 8 mobile phones, Xbox Live users and Surface RT customers... The profits and revenue arising from Xbox 720 will increase Microsoft's prices and help investors to reap the benefits over the next few years.
The strength in Microsoft's gaming business illustrates the strength of the sector, but more importantly, the integration Microsoft is seeking across all its product lines. Integration, like the type aforementioned, takes time.
For investors, Microsoft has continued to represent a company that has 1. strong cash reserves, has continued to deliver 2. high profit margins (see below), and has seen 3. low volatility in an industry that rises and falls quickly. The company is priced well and represents a relatively low valuation for investors and a strong dividend/source of income.
Forward Price/Earnings: 8.37
PEG Ratio: 1.07
EV/EBIDA: 6.04
Profit Margin: 21.71%
Return on Equity: 24.50%
Cash-Debt: $52.7 Billion
Yield: 3.40%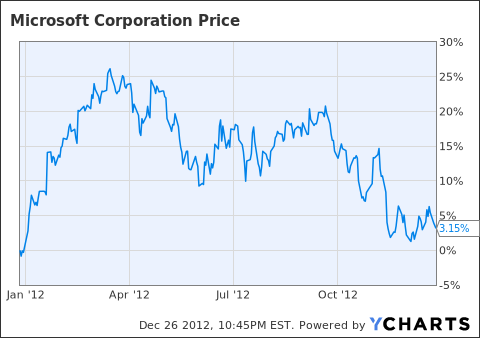 Conclusion:
These financial metrics, along with the relative stability in the stock price, illustrate that though Microsoft is not the hottest company in tech, it fits the purpose as a strong income generator for investors. Even though the company's earnings were not exceptional this past quarter (ending in October), the company has been moving in the direction of changing with the times and continuing to do what it does best: to return stable profits and ultimately reward shareholders through a consistent dividend that has increased over time.
All financial metrics referenced above were obtained from Yahoo Finance, CNBC Analytics, S&P Capital IQ, and Thomas Reuters.
Disclosure: I have no positions in any stocks mentioned, and no plans to initiate any positions within the next 72 hours. I wrote this article myself, and it expresses my own opinions. I am not receiving compensation for it (other than from Seeking Alpha). I have no business relationship with any company whose stock is mentioned in this article.