On December 24, I issued a buy signal article regarding Mongolian stocks, including Turquoise Hill Resources (NYSE:TRQ) and SouthGobi Resources (OTC:SGQRF). An article in Xinhua on December 26, 2012, doubles down on this buy signal with some strong words from President Elbegdorj, who is also a member of the ruling Democratic Party in Mongolia. It should be noted that China's Xinhua has a reporter based in Mongolia to cover Mongolian markets.
Mongolian President Tsakhia Elbegdorj says his country should respect the Oyu Tolgoi copper-gold deposit agreement reached between the government and foreign investors and create a better investment environment.

...

The Oyu Tolgoi agreement is a legal document signed by the government and foreign investors after years of negotiations and Mongolia should respect the agreement, he added.

...

Elbegdorj expressed strong disapproval of a law on strategic investment adopted by the parliament in May, saying the measure has worsened Mongolia's financial climate by imposing strict review conditions on foreign investments.
This is definitively a buy signal for Turquoise Hill Resources, the company most obviously impacted by the attempts of government officials to suggest the Oyu Tolgoi Investment Agreement be renegotiated periodically for the past 16 months.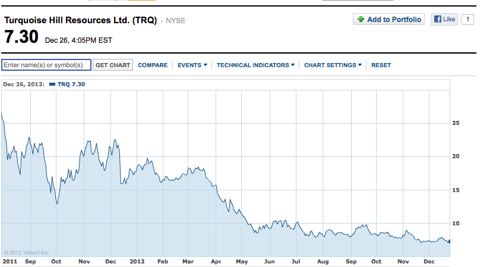 Custom chart of TRQ from August 1, 2011, to December 26, 2012. Source: Yahoo Finance.
Additionally, Oyu Tolgoi, 66% owned by Turquoise Hill and 34% owned by the Government of Mongolia, commissioned Rio Tinto's (NYSE:RIO) "largest copper concentrator to the gold-copper deposit Oyu Tolgoi in the southern Gobi region in Mongolia on Thursday," according to Xinhua. (Turquoise Hill is 51% owned by Rio Tinto, and the CEO of Oyu Tolgoi LLC is Rio Tinto's Cameron McRae.)
Mongolia's Mining Minister who has been a leading proponent of renegotiating the Oyu Tolgoi Investment Agreement was present at the commissioning of the concentrator per Oyu Tolgoi's press release:
In his opening remarks, Mining Minister D.Gankhuyag said "I am pleased to be participating in the ceremony to commission the concentrator at Oyu Tolgoi's world-class mine. On behalf of the Mongolian Government, I congratulate all who contributed to the project, which is being constructed on schedule. Oyu Tolgoi's progress as the guarantee of our mineral wealth left for us by our ancestors is the result of Rio Tinto's effective project management and financial capabilities."
I remain cautious in the run-up to June 2013's presidential elections in Mongolia. There still needs to be some statement from the government about the proposed mining law I discussed previously in my No Bottom Calling Zone article. As noted in that article, President Elbegdorj requested comments on the new mining law to his office which may be playing a role in the above statements.
As noted earlier in my mid-November article on Mongolia's investment climate, the public policy statements from this summer's parliamentary elections through December 23, 2012, were negative for the investment climate and financial plumbing of Mongolia. It has been clear that the financial plumbing problems would eventually cause changes in public statements of policy. Now there needs to be legislation to cement policies that are mutually beneficial for Mongolians and foreign investors. The current shift in public statements should not be confused with the passing of such legislation.
That said, reaffirmation of the Oyu Tolgoi Investment Agreement by the President of Mongolia and public statements about revising the foreign investment law [SEFIL] are bullish for all Mongolian stocks.
Disclosure: I have no positions in any stocks mentioned, and no plans to initiate any positions within the next 72 hours. I wrote this article myself, and it expresses my own opinions. I am not receiving compensation for it (other than from Seeking Alpha). I have no business relationship with any company whose stock is mentioned in this article.