With slower-trending indicators from Australia, including sluggish retail sales, falling company profits, continued manufacturing contraction and diminishing job demand, the Reserve Bank of Australia, RBA, responded to calls from industry, finance and some media to lower interest rates. Lackluster data and frustration with zero-interest rate policy (ZIRP) of the worlds' largest central banks, led to a recent modest quarter-point cash rate cut to 3.0%. While recognizing that Australia is at or near the peak of its mining boom, "the highest such peak in at least a century", RBA Governor Glenn Stevens has taken great pains recently to explain why the RBA is not about to join its larger counterparts in devaluing its currency, the Australian dollar (AUD).
In recent speeches and a rare interview, Stevens maintained that it would be costly to attempt active measures to drive down the exchange rate, as negative carry would be incurred by buying lower-yielding currencies. He did leave open the option, though, noting that the bank was not opposed to active intervention on principle and might be compelled to act depending on circumstances.
Although traditionally a commodity currency, the AUD has diverged positively from commodities over the past two years. Priced in copper, perhaps the best commodity indicator of global industrial demand, the AUD is still high given decreased raw-material demand from China. The AUD's current strength derives from its relatively high yield compared to the ZIRP-currencies, not commodity prices.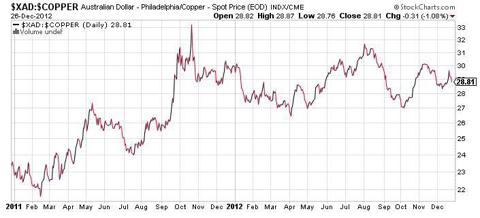 With industrial commodity demand admittedly peaking and manufacturers suffering on account of the strong AUD, it might seem predictable that the RBA would be more amenable to lower rates. But the clue Governor Stevens gave was in relation to Australia's rich real estate market. A more rapid decrease in the interest rate would be "flirting with danger were we to see a very big run-up from these present [house price] levels," he said. While softening of late, the Australian real estate has seen no shortage of publicity and gimmickry similar to that seen prior to the crash in the U.S. Stevens doesn't want to throw fuel on the fire of a housing market with longer-term demographic shortcomings.
TREADING WATER (Established House Prices)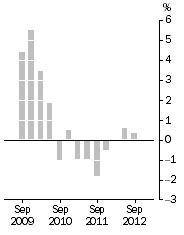 If the general economic pessimism continues in Australia and housing prices decrease, we can expect to see further rate cuts by the RBA. Pessimism is expressed more among businesses than Australian consumers, who can still point to the benefits of cheaper imports. Increases in negative consumer sentiment would, given lower interest rates, anticipate a degree of consumer deleveraging, where mortgage holders refinance to pay off debt. It is very telling of current macro conditions that the AUD is bid on account of its 3.0% yield. Going into the new year "in the doldrums", close attention should be paid to developments in the Australian housing market. Any significant downturn is likely to be remedied with a rate cut and corresponding AUD decline.
Governor Stevens' present term is set to end September 17, 2013, and it isn't clear if he will step down. Between now and then, housing prices will be released three times by the Australian Bureau of Statistics: February 5 (December data), May 7 (March data) and August 6 (June data).
CurrencyShares Australian Dollar Trust (NYSEARCA:FXA) can be used for long and short positions, although options' spreads are not so appealing. Reactions by Australian equity markets can be gauged by iShares MSCI Australia Index (NYSEARCA:EWA), which trends Australia's All Ordinaries Index, but, like FXA, its options' spreads are not so competitive. Finally, for those who see weakness in commodity prices, there's mining giant BHP Billiton (NYSE:BHP). This could be the vehicle for options traders as spreads are comparatively tight.
While Australia's resources and relative proximity to China have fueled its boom, negative indicators suggest a time of adjustment is nearing. Fortunately for the RBA, it has room to work with, 3.0%, to be precise.
Disclosure: I have no positions in any stocks mentioned, and no plans to initiate any positions within the next 72 hours. I wrote this article myself, and it expresses my own opinions. I am not receiving compensation for it (other than from Seeking Alpha). I have no business relationship with any company whose stock is mentioned in this article.