Business Description
Corning Incorporated (NYSE:GLW) creates leading-edge technologies for the fastest-growing markets of the world's economy. Corning manufactures optical fiber, cable and photonic products for the telecommunications industry, and high-performance displays and components for television and other communications-related industries. The company also uses advanced materials to manufacture products for scientific, semiconductor and environmental markets.
Operating Segments
Corning has 6 major segments that operate as follows:
Display Technologies Segment
Corning's Display Technologies segment manufactures glass substrates for active matrix liquid crystal displays (LCD), that are used primarily in notebook computers, flat panel desktop monitors, and LCD televisions. Corning is a technology leader in this market.
The Display Technologies segment represented 40% of Corning's sales for 2011.
Telecommunications Segment
The Telecommunications segment produces optical fiber and cable, and hardware and equipment products for the worldwide telecommunications industry.
The Telecommunications segment represented 26% of Corning's sales for 2011.
Environmental Technologies Segment
Corning's Environmental Technologies segment manufactures ceramic substrates and filter products for emissions control in mobile and stationary applications around the world. Although most sales are made to the emission control systems' manufacturers, the use of Corning substrates and filters is generally required by the specifications of the automotive and diesel vehicle or engine manufacturers. This places Corning in a very sustainable growth position.
The Environmental Technologies segment represented 13% of Corning's sales for 2011.
Specialty Materials Segment
The Specialty Materials segment manufactures products that provide more than 150 material formulations for glass, glass ceramics and fluoride crystals to meet demand for unique customer needs. Corning's protective cover glass, known as Corning® Gorilla® Glass, is an environmentally friendly thin sheet glass designed specifically to function as a protective cover glass for display devices such as tablets, notebook PCs, televisions and mobile phones. Elegant and lightweight, Corning Gorilla Glass is durable enough to resist many real-world events that commonly cause glass failure, enabling exciting new applications in technology and design. Early in 2012, Corning introduced Corning® Gorilla® Glass 2, the next generation in the Corning Gorilla Glass suite of products. Corning Gorilla Glass 2 enables up to a 20% reduction in glass thickness, while maintaining the industry-leading damage resistance and toughness.
The Specialty Materials segment represented approximately 13% of Corning's sales for 2011.
Life Sciences Segment
As a leading developer, manufacturer and global supplier of scientific laboratory products for more than 90 years, Corning's Life Sciences segment collaborates with researchers seeking new approaches to increase efficiencies, reduce costs and compress the timeline in the drug discovery process.
The Life Sciences segment represented roughly 7% of Corning's sales for 2011.
Key Statistics
| | | | |
| --- | --- | --- | --- |
| Price: | 13.16 | P/B: | 12.1 |
| Trailing P/E: | 6.2 | P/C: | 2.5 |
| Div Yield | 2.3% (.30) | ROE: | 5 |
| Payout Ratio | 9% | Total Debt/Eq: | 9.9 |
| 52 Week Range | 11.51-23.43 | Profit Margin: | 43.23% |
The Future of Corning
Corning generates most of its revenues through patents and the trend in such acquisitions has no end in sight. Let's take a look at the numbers. The Display Technologies segment has over 500 patents in various countries, of which over 190 are U.S. patents. With the unprecedented boom of the tablet market, Corning's Display Technologies segment is bound to grow at an exponential rate in the next 3-5 years.
Looking at the Telecommunications segment, we see that Corning has over 1,900 patents in various countries, of which over 900 are U.S. patents. As a major player in this sector, Corning can only benefit from the forecasted growth of the industry, unless humanity suddenly decides to say no to modern telecommunication methods.
The Environmental Technologies segment has over 400 patents in various countries of which over 200 are U.S. patents. With a major push toward automobiles with cleaner emission, and a growing concern over the warming of our planet, it's reasonable to be very optimistic about the segment.
Also, the Specialty Materials segment has about 500 patents in various countries of which over 275 are in the U.S., while the Life Sciences segment has over 220 patents in various countries, of which over 100 are U.S. patents.
In addition, there is a strong demand for notebook computers and LCD monitors. Some people may argue that the LCD televisions market is saturated. The problem with this argument is that they fail to account for the growth in emerging markets in other geographic regions such as Brazil, Russia, India and China.
The following is a performance graph of the cumulative total shareholders returns on Corning's common stock over the last 5 years, the S&P 500, and the S&P Communications Equipment Companies.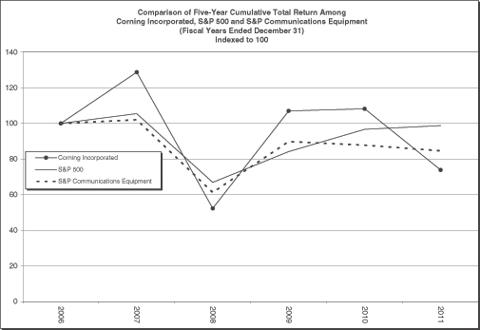 Click to enlarge
Valuation
A look at Corning's previous fiscal year reveals that it has generated roughly 32 billion in cash from operating activities, while spent about 24 billion in capital expenditures. This results in an operating free cash flow of 8 billion dollars.
Note that I don't account for the cash generated through investing activities simply because Corning is not in the investment business; therefore, accounting for that kind of profit wouldn't be a "fair" representation of the company's performance.
Corning has experienced significant growth in their sales over the past 5 years. The most appealing trend in growth of sales was noticed in 2009, due to the increase in retail demand for portable display devices, and, as mentioned earlier, this is just the beginning.
Looking at the balance sheet, we notice that Corning ended the 2011 fiscal year with 5.8 billion in cash & cash equivalents. This compares to a total of 2.3 billion in long-term debt, leaving Corning with a cash power of 3.5 billion.
With a weighted average cost of capital of 9.6% (based on an equity weight of 85.1% with a cost of 10.9%, and a debt weight of 14.9% with a cost of 2.3% -- no preferred stocks), and let's be funny by assuming that Corning's cash power will only grow at the current inflation rate of 3% over the next 7 years, we get an intrinsic firm value of 54.6 billion.
Viewed on a per share basis, this works out to $36.09 (based on 1.515 billion outstanding shares). This company is clearly undervalued.
Conclusion
The largest driver of Corning's sales increase over the previous year was the robust retail demand for portable display devices that utilize their Corning Gorilla Glass. This segment has an optimistic future with the increase in demand for smart tablets and cellphones. With strong fundamentals and a dedication to technological innovations, Corning is one of the strongest companies in the Telecommunication and Equipment sector. The market is making a mistake by pricing it at such a low price, but for savvy investors like you and me, this is golden opportunity to acquire a great company at a cheap price.
Disclosure: I have no positions in any stocks mentioned, and no plans to initiate any positions within the next 72 hours. I wrote this article myself, and it expresses my own opinions. I am not receiving compensation for it (other than from Seeking Alpha). I have no business relationship with any company whose stock is mentioned in this article.