Like I said a short while ago, all roads lead to a lower yen. Indeed, the yen has taken about a 10% beating over the past month against the U.S. dollar:
Click to enlarge images.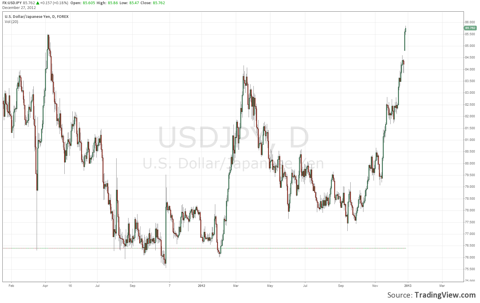 Usually, lower currency valuations lead to higher stock prices. In theory, a lower currency will make the products of that country more competitive and that will lead to higher exports. As such, whenever we see a currency taking a dive, usually (not always) stocks get a boost in the respective country.
On a purely technical note, please focus your attention on the chart of the Nikkei 225 below. The time scale is weekly and, as you can see, the index has broken above its 50- and 200-weekly moving averages. I repeat: weekly, not daily. As far as technicals are concerned, it really doesn't get any more bullish than this.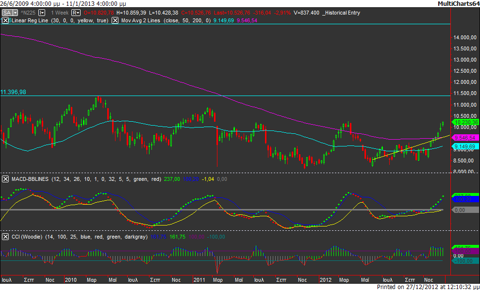 However, since there is no such thing as a free lunch (according to Milton Friedman), a gain in equities is offset by a loss on the currency side.
So If you wanted to play Japan and decided to put money in the iShares MSCI Japan Index (NYSEARCA:EWJ), you would not have made any money, as the weekly chart of the index testifies below.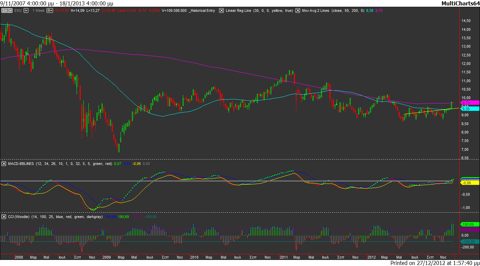 Bottom Line
Unless you know your stuff and unless you can find a very selective niche ETF investing in Japan (or stock) that will outperform the index (probably by a lot) and make up for the depreciation of the currency at the same time, you're probably better off sticking to U.S. equities.
So the answer is no, it's not a good time to invest in Japan at the moment. It could be in the future if we see the macro picture of Japan changing. But at the same time, we also need to get technical confirmation that the yen has stopped falling.
Disclosure: I have no positions in any stocks mentioned, and no plans to initiate any positions within the next 72 hours. I wrote this article myself, and it expresses my own opinions. I am not receiving compensation for it (other than from Seeking Alpha). I have no business relationship with any company whose stock is mentioned in this article.