About a week ago, the Canadian government unveiled its new investment policy that made it more difficult for foreign companies and state-owned-enterprises to acquire Canadian oil and gas firms while encouraging investments for smaller stakes. This comes just weeks after the country's government gave a historic approval to China's leading offshore firm CNOOC (NYSE:CEO) and Malaysia's Petronas to acquire Nexen Inc and Progress Energy Resources.
This week, the Chinese oil and gas behemoth and Asia's biggest oil producer PetroChina (NYSE:PTR) has unveiled a $2.18 billion plan to form a joint venture with Canada's Encana Corp, immediately after the release of the new rules. Since PetroChina is purchasing 49.9% non-controlling stake in Encana's Duvernay operations in Alberta to develop natural gas and condensates assets, therefore it is expected to fly right under the government radar.
In the meantime, PetroChina has also agreed to purchase BHP Billiton's (NYSE:BHP) 8.3% and 20% stakes in two Western Australian LNG projects for $1.63 billion. This would mark PetroChina's entry into the Australian LNG sector which is now aiming to rival that of Qatar, although the project delays and cost blowouts, on the back of the strong Australian dollar, rising labor costs and competition from the cheaper shale based LNG, have hit all of Australia's LNG investors. This has raised question marks over the attractiveness of Australia's LNG. At a time when other investors such as ConocoPhillips and BG Group are trimming down their LNG stakes in the country, PetroChina's investment with a premium is perhaps not a wise decision (BHP Billiton is leaving because it wants to focus on its core mining operations).
The three oil giants from China, CNOOC, PetroChina and Sinopec (NYSE:SNP), have been focused on increasing their foothold in oil and gas assets around the world to fuel the Chinese economy. Sinopec's prominent acquisitions this year were the $2.2 billion investment in Devon Energy for which it got a one-third stake in the firm and the $2.5 billion purchase of Total's 20% stake in Nigerian assets. Unlike its other two peers, Sinopec has significant refining operations. The Chinese government's policy to curb inflation by controlling the price of oil has hurt its profit margins. As soon as the government increased the retail fuel price, Sinopec posted better than expected quarterly results. It recorded a net income of $2.93 billion for the quarter ending 30th Sep against analysts' estimate of $2.28 billion. With a more flexible pricing policy from the government in place, the business will post even better results in Q4.
| | | | |
| --- | --- | --- | --- |
|   | PetroChina | Sinopec | CNOOC |
| Stock YTD | +14.25% | +7.16% | +23.69% |
| P/E | 13.78 | 11.52 | 9.68 |
| EPS | 10.3 | 9.8 | 22.3 |
| Yield | 3.10% | 2.50% | 1.60% |
| ROA | 5.57% | 5.10% | 13.33% |
| ROE | 11.89% | 11.00% | 23.71% |
PetroChina offers better yield as compared to its Chinese rivals or Exxon Mobil which offers 2.63%. Its most recent quarterly profits fell by 33% to $3.99 billion but it has the backing of the Chinese government with their seemingly unlimited cash reserves. I believe this company is for the long term investors and will maintain its current performance in the coming quarters. Although I do feel like the company has taken some expansion decisions for the sake of expansion. CNOOC has also been impressive this year, offers higher ROE and has pulled off the biggest energy takeover in China's history, whose impact is also evident in its 24% increase in share prices this year, that will increase CNOOC's output by 20%.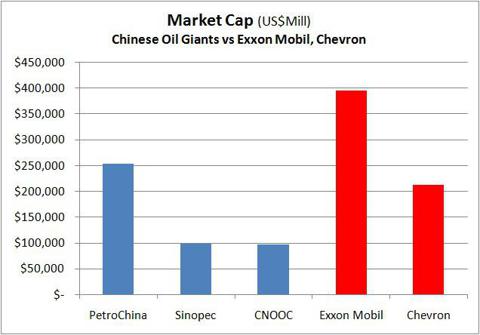 Meanwhile, Reuters has recently reported that PetroChina, is eyeing Exxon Mobil's (NYSE:XOM) 60% stake in Iraq's West Qurna-1 oilfield project. China is already one of Iraq's biggest oil customers. Fewer regularly requirements over acquisitions and investments in the emerging markets, particularly in the Middle East and Africa region, have made them more attractive to China's oil firms. If PetroChina were to succeed, then China would own about a third of all the service contracts of Iraqi oil fields awarded to foreign firms. With the Russian oil company Lukoil's refusal to bid for Exxon's stake - as Lukoil is already engaged in West Qurna-2 - it looks like PetroChina is going to add another acquisition to its total.
Disclosure: I have no positions in any stocks mentioned, and no plans to initiate any positions within the next 72 hours. I wrote this article myself, and it expresses my own opinions. I am not receiving compensation for it (other than from Seeking Alpha). I have no business relationship with any company whose stock is mentioned in this article.