It is no secret that Warren Buffett believes that farmland will outperform gold and other asset classes over the next few years.
The famous investor sides with agriculture because he sees an increasing world population, coupled with strong demand for food, driving prices higher. He is also a great believer in productive assets, assets that bear yield or pay dividends. Gold, and other metals, simply do not do that. Buyers of gold buy it with the sole hope and expectation of a price increase sometime down the road.
But there are so many ways to play agriculture. I chose what I consider the safest, most profitable way to invest in it.
I chose CF Industries Holdings, Inc. (NYSE:CF)
The best sector in farming
CF industries operates in the highly profitable sector of nitrogen fertilizer products. Through a very successful distribution channel, the company is able to deliver its products to all of its end-users, the farmers.
Unlike farming or farmland, which are greatly dependent on weather conditions, business cycles and other conditions, selling fertilizers is not a highly cyclical business. It tends to maintain its overall business in good times and bad times alike.
Unlike farming or farmland, fertilizers are not about heavy machinery, and the end products are easily transferable through any distribution channel, right to the shelf at the closest farming store.
In addition, competition is not easy to come by. High and costly barriers to entry always ensure that new rivals are scarce to non-existent. The players in this industry are few and enjoy economics of scale. This is not an internet business.
Great financials
CF has absolutely fantastic financials. Let's review them briefly:
It is cheap: The company has a P/E of only 7.2x. That is extremely cheap considering the company's size and market dominance. The S&P 500, for example, is currently trading at a P/E twice as high. Even the company's closest competitor, Agrium (NYSE:AGU) is currently trading at a P/E of 11x. This discount will close at some point.
It is highly profitable: The company is able to maintain extremely high returns on its deployed capital. It has an operating margin of 50% (!) and a return on assets and return on equity of 20% and 38%, respectively. This basically means that the company is able not only to draw 50 cents of profit out of every $1 of sales, but to also utilize its equity and assets very efficiently.
A 'Fortress-like' balance sheet: As of September 2012, the company is sitting on cash and cash equivalents in the total of $2.2BL. With a long-term debt of only $1.6BL and a market cap of $12BL, the company is running an ultra- conservative balance sheet. In a sense, it is the Microsoft (NASDAQ:MSFT) of the fertilizer industry.
The catalysts
Every cheap investment needs a catalyst for a share price increase. Once this catalysts kicks in, the share price is more likely to reflect the true value of the company. There are 3 main catalysts for CF:
Catalyst #1: Share buyback program
The company is an aggressive buyer of its shares. It has already implemented a $1.5BL share repurchase program, and it is authorized to buy back an additional $3BL worth of its shares over the next few years.
Let's crunch some numbers. Since the company currently has a share float of 62 million shares outstanding, buying $3BL worth of shares at an average price of $200 per share (current market price) - means to reduce the share count by 15 million shares. That is a whopping 24% increase in EPS from share buybacks alone.
It is imperative to understand that the market usually does not price share buybacks properly. It tends to give it much less attention than what it really deserves. Eventually, though, economics kicks in. Future income is distributed over fewer shares, EPS rises, and the share price corresponds with a similar rise.
Catalyst #2: Cheap natural gas
Natural gas comprises the most dominant raw material used in the manufacturing process at CF. If prices of NG plummet, the bottom line for the company will improve, it is that simple. Since the trend in the price of NG is down, it is CF that will reap the rewards.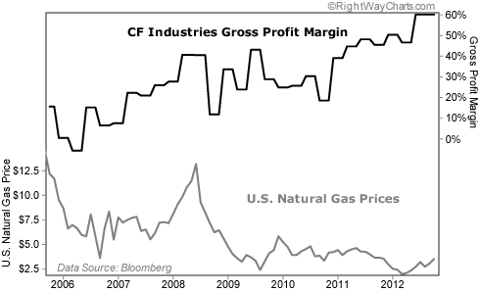 But there is much more to it than just the company's bottom line. High prices for natural gas in the U.S. led to the closure of many ammonia plants in the early 2000s. Almost 50% of the capacity in the U.S vanished during the period, according to the Fertilizer Institute. Because of this, most of the world's ammonia is produced outside the U.S. Now, with NG prices falling, it has finally become profitable to produce ammonia in the U.S. A whole new operating sector is now open for CF to take advantage of.
Catalyst #3: Business expansion
On November 1st, 2012, the company announced an intensive business expansion. According to the company, it will construct new ammonia and uria/UAN production units.
Today, the company is entirely U.S only. Its distribution channels and marketing take place almost only within the borders of the U.S. Boosted by cheap NG and this business expansion, the company is finally ready to increase its share in the global fertilizer market where it has almost zero presence and where the big players are either Chinese or Russians. The business potential is nothing short of enormous.
Potential hazards to the business
In business, anything can happen. Global demand for the company's products can suddenly come to a halt. A strong decline in the price of agricultural commodities could potentially force the company to cut prices of its products. Alternatively, the company might get itself into trouble with the building of its new plants - unexpected overhead expenses. But the chances for all that are really not very high.
My investment conclusion
I believe that strong commodity prices and the growing farming trend are likely to support CF. Once the market attributes a more decent multiple to its shares and once the repurchase program is finalized, I believe that we could see shares of CF at $400 within the next two to three years.
Disclosure: I have no positions in any stocks mentioned, but may initiate a long position in CF over the next 72 hours. I wrote this article myself, and it expresses my own opinions. I am not receiving compensation for it (other than from Seeking Alpha). I have no business relationship with any company whose stock is mentioned in this article.