Duke Energy (NYSE:DUK) offers investors a good investment opportunity as it has a low forward P/E of 13.8x and low debt (LT debt to equity of 88%) compared to its peers. Also, the company has a large and diverse generational capacity. Moreover, it offers a high dividend yield of 4.7% (highest among peers). Due to these reasons I am bullish on the stock.
Duke Energy is a diversified energy company with operations in the U.S. and Latin America and provides utility services to almost 7 million customers. DUK operates under three business segments: Duke Energy International, U.S. franchised electric and gas.
In 2013, the company is expected to resolve two rate cases in the Carolinas which will have a positive impact on EPS. An overhang on the stock is likely to be removed once the company decides the fate of Crystal River 3 nuclear plant whether to repair or retire it. DUK is expected to deliver strong financial results in the coming years as the aforementioned uncertainties will be removed. Furthermore, the company is expected to enjoy synergies from its recent merger with Progress Energy.
For 3Q'12, the company reported operating EPS of $1.47, beating the consensus of $1.45. Favorable impact on quarter earnings from utility rate relief was more than offset by unfavorable foreign exchange rates and weaker wholesale and retail margins from commercial power. The company was also able to beat revenue consensus by 6%, and registered total revenue of $6.72 billion. Earnings guidance in the range of $4.2 - $4.35 per share was also provided. Guidance for FY'13 is expected in late February at analyst day. Analysts are expecting EPS of $4.27 and $4.39 for 2012 and 2013 respectively.
In the most recent quarter earnings presentation DUK highlighted 4 financial objectives which are as follows:
- Long term adjusted EPS growth of 4% - 6%
- 2012 earnings guidance range of $4.2 - $4.35
- Growing dividend and target payout ratio of 65% - 70%
- Maintain investment grade credit rating
Debt and Dividend
DUK currently has a long term debt to equity ratio of 88%, a solid interest coverage ratio of 5x and holds strong credit ratings. Following are the credit ratings for DUK by three different credit rating agencies.



Source: Investors Presentation
DUK offers an attractive dividend yield of 4.7%. The company has increased its dividends over the years at a decent pace and is expected to grow its dividends in the future as well. It has an 86 year history of consecutive quarterly cash dividend. Also, if we compare operating cash flows with dividend payments it displays a satisfactory picture i.e. DUK is generating enough cash flows to cover its dividend payments.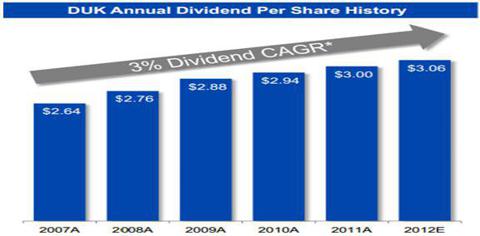 Source: Investors Presentation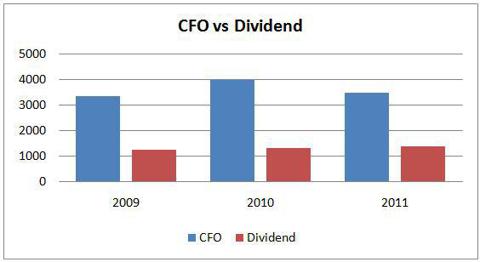 Source: Annual Reports
Due to DUK's strong dividend history and healthy operating cash flow, I believe dividends offered by the company are sustainable. Dividend sustainability is a very important catalyst for any utility stock's price. Recently, concerns regarding Exelon Corp's (NYSE:EXC) dividend sustainability surfaced which had negative impact on EXC stock price. My analysis on EXC dividend sustainability can be viewed in my previous article here.
Recent Developments
DUK agreed to acquire the Chilean assets of CGE Group for $415 million in order to expand its hydroelectric business in South America. DUK has been operating in Chile since it acquired a power plant there in July earlier this year. The company has plans to grow its projects in Latin America as the region has a solid regulatory system and strong growth opportunities.
DUK secured a $220 million loan from the North America Development Bank (NADB) for 402 MW wind projects in Texas.
Conclusion
DUK has a cheaper forward P/E, highest dividend yield of 4.7% and low debt compared to its peers. Therefore, I am bullish on the stock.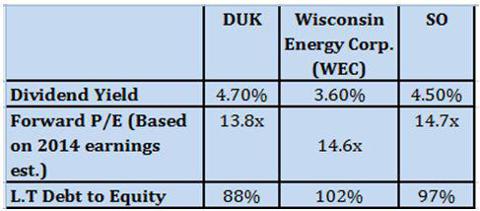 Source: Nasdaq.com
Risks
The company operates as a regulated utility which exposes it to changes in regulations by the regulatory authority. Regulations can have a significant impact on the company's financial performance. Also, economic slowdown (which reduces electricity demand) and unfavorable weather conditions have negative impact on the financial performance.
Disclosure: I have no positions in any stocks mentioned, and no plans to initiate any positions within the next 72 hours. I wrote this article myself, and it expresses my own opinions. I am not receiving compensation for it (other than from Seeking Alpha). I have no business relationship with any company whose stock is mentioned in this article.