On November 25th, the U.S. government unveiled a series of programs to buy mortgages, agency debt and asset-backed securities (ABS). In addition to the $700 billion of the TARP funds, the Federal Reserve and Treasury will spend $800 billion more in non-TARP funds. The government also propped the falling Citigroup (NYSE:C) by guaranteeing $306 billion in toxic assets on the bank's balance sheet.
The stated goal of these various initiatives of the U.S. Treasury and the Fed is to unlock the credit markets, stabilize the global financial system and to induce banks to start lending money again to other banks and the Main Street businesses.
While the broad stock market, including its ETF proxies, such as SPY, responded positively last week to the announcements by the US Treasury and the Fed, the most watched indicators of the credit markets' activity meanwhile not only did not show signs of improvement, but actually deteriorated: LIBOR, TED and the 2 year swap spread showed no improvement in the banks' lending activities around the globe and flash signs of increased unwillingness of the banks to lend money.
During this last week of November, between November 21 and Novemnber 28, the one month's LIBOR increased (worsened) by 36%, three-months' LIBOR by 2.75%, and one-year LIBOR by 1.1%.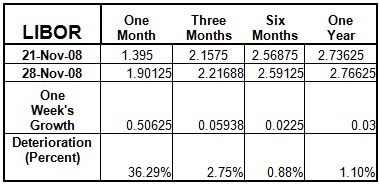 The TED spread, which measures the difference between the three-month T-bill interest rate and the three-month LIBOR showed no sign of improvement on the week. And finally, the 2-year swap spread did not improve: on November 21 it set a 19-year record reaching 101.25 intraday. But a week later it grew to an even higher reading of 108.25 bps. This measure of cost of hedging against the interest rate risk has spiked to levels consistent with a deep recession. T-bill interest rate is considered "risk-free" rate, while LIBOR reflects the credit risk of lending to commercial banks. TED, being the difference between the two, is used as an indicator of the perceived credit risk in the economy. As of Nov-28, 2008 TED stood at 108.25, above its level as of a week ago, hovering more than 60 bps above its 2006-2007 levels. (Source: Bloomberg.)
The last week's optimism of the stock market based in part on the government's rescue of the Citigroup and a likely rescue of the U.S. automakers in the week ahead may become short-lived. What is not good for the equities market is the fact that the banks continue to hoard the money, which they need to de-lever their own balance sheets loaded with toxic assets and deteriorating loans, and the continued general downward spiral linked to falling real-estate prices and rising unemployment at the root of it all.

In the interest of disclosure, the author currently holds no positions in common equities, but holds a few preferred stocks, bonds and cash.