The market has a lot to digest from recent events and between the disappointing holiday sales numbers (versus where expectations were) and the fiscal cliff story we see no other way for the market to go other than lower. The trajectory of much of the economic data is on the right path, simply see the charts included in this article, but Washington is once again getting in the way. The good news is that the Democrats are heading back to the capital and it appears that they are prepared to pass a bill in the Senate which will require six Republicans to cross the line. There are fewer Republicans facing re-election with the losses from the past election, but sadly those on the way out are in many cases moderates and could find themselves in races soon which could keep them from crossing party lines as they will have to face a primary (think Scott Brown). We can think of three Republicans that would cross the line, but after those three it seems the math gets pretty difficult.
One thing is clear however, it will take a resolution to the fiscal cliff to push the economy to the next level, and create the environment for employers to start hiring again. Our bet is serious resolution takes unemployment below the 350k figure on the weekly figures within 3 months if it does happen.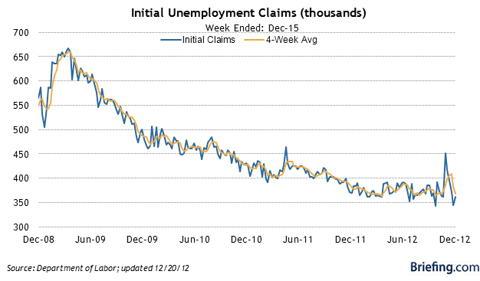 Chart courtesy of Briefing.com
We have economic news due out today, and it is as follows (these are the consensus estimates):
Initial Claims (8:30 AM EST): 375k
Continuing Claims (8:30 AM EST): 3200k
New Home Sales (10:00 AM EST): 379k
Consumer Confidence (10:00 AM EST): 68.0
Natural Gas Inventories (10:30 AM EST): N/A
Asian markets finished higher today:
All Ordinaries - up 0.34%
Shanghai Composite - down 0.60%
Nikkei 225 - up 0.91%
NZSE 50 - CLOSED
Seoul Composite - up 0.26%
In Europe markets are mixed this morning:
CAC 40 - up 0.26%
DAX - down 0.21%
FTSE 100 - up 0.22%
OSE - down 0.04%
Technology
One can say what they want about the retail sector after this holiday shopping season (more to follow on that in the retail section, by the way), but one thing is for certain - Apple (NASDAQ:AAPL) was selling the heck out of their gadgets. There was high demand for the company's products and we heard through numerous friends and associates that the iPad Minis were sold out and not possible to obtain at many retailers. Also of interest were all of the pictures of the Apple stores on Twitter, Facebook (NASDAQ:FB), etc. showing long lines of actual shoppers (versus gawkers) at the stores up to the final days of the shopping season. We think that this is going to be a record holiday season for the company, even though as a whole it appears that it will be a disappointment for many retailers and other consumer companies.
The news broke yesterday, and it is still trending on numerous websites, regarding Marvell (NASDAQ:MRVL) losing its patent case to Carnegie Mellon. The news hit late in the trading session, but investors acted swiftly to take shares lower by $0.85 (10.30%) to finish at $7.40/share on volume of 30.4 million shares. The move was swift and harsh, as it should have been, but the shares were able to stay on the right side of their 52-week low.
A jury declared that the company willingly violated two Carnegie Mellon patents and ordered the company to pay $1.17 billion in damages. That is just a starting point as the judge has the power, should they choose to go that route, to raise that amount by up to three times since the jury found the company to have willingly engaged in the act. Obviously the company will appeal this, but the damage is done now as the company has to prove their innocence now that a jury has found them to be guilty - the road just got harder from here, not easier. You can read a Reuters article discussing the case in more depth here.
Financial
Even though the situation surrounding the fiscal cliff story seems to be getting worse, day after day we continue to see Bank of America (NYSE:BAC) rally to new 52-week highs. Yes the big banks are healthier today than at any time before since the 'Great Recession' but with the fiscal cliff looming and this type of price action taking place it seems to us that there is a fiscal cliff trade taking place here on some level. Anyone can feel free to take up the other side of the argument, but when we think of safe havens Bank of America does not pop to the top of the list nor does the financial sector. However if we were to be forced to pick a bank for shelter it would be either Wells Fargo (NYSE:WFC), BB&T (NYSE:BBT) or US Bancorp (NYSE:USB). Those are the names we feel are "safest" in the sector although arguments can be made for drawbacks on each (i.e., Wells having such high exposure to the mortgage market and the other two confined to being regional banks and lacking diversification).
Retail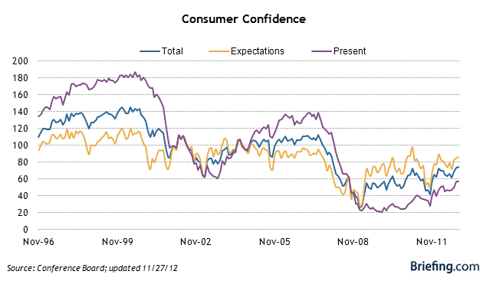 Chart courtesy of Briefing.com
The holiday season started off strong and had everyone hopeful. As it turns out the fiscal cliff may very well have spoiled the whole thing as it forced the American consumer to be a bit more frugal than they initially intended to. After the news broke about the final sales weekend many names retreated yesterday, including Michael Kors (NYSE:KORS) which investors pushed down by $3.54 (6.61%) to close at $50.03/share on volume of 5.5 million shares. Individual numbers seem to be higher than the mean when it comes to consumer confidence, and although many consumers were feeling quite happy to spend larger amounts on family what was lacking this year were those impulse gifts bought for oneself and their loved ones which tend to push the needle on retail sales.
While on retail we want to discuss Rite-Aid (NYSE:RAD) which has continued to rally, the stock finished at $1.41/share yesterday after rising another $0.10 (7.63%), on the heels of their solid quarterly results and then the quarterly results released by Walgreen (WAG). Yes the company's quarter was good, and yes Walgreen's was bad but at the end of the day the market still has to give Walgreen the benefit of the doubt and Rite-Aid still has to prove themselves so at these prices one has to seriously believe that the shares are fairly valued (if not already overvalued by a tad). With that said, we would encourage readers involved here to take profits and rotate back in at lower prices because the stock is up by nearly 40% in the last few sessions.
Disclosure: I have no positions in any stocks mentioned, and no plans to initiate any positions within the next 72 hours. I wrote this article myself, and it expresses my own opinions. I am not receiving compensation for it (other than from Seeking Alpha). I have no business relationship with any company whose stock is mentioned in this article.