Often I see it stated that some of the smartest money out there is on the short side. The typical sentiment behind this statement is that short sellers may be able to more easily remove emotion from the equation, and simply place their positions relative to the "colder" metrics that numbers provide. Because of this, many individuals look to the short data released by NASDAQ roughly every two weeks, to check the most recent sentiment on the short side of their investments.
Before continuing, understand that the short data released to the public is typically two weeks old by the time it is released. For instance you will notice that the most recent data point from the link above, is released on December 26, but has a settlement date of December 14. Because the settlement date is three days after the trade date, the current short data point on the 26th is actually the short position from December 11. Thus, the short data is released, in this case, 15 days later.
That's a long time in the world of trading and investing. Even so, investors looking at these data may have a few questions if the outstanding interest is either increasing or decreasing. When considering the current short interest in Sirius XM (NASDAQ:SIRI) the outstanding short position certainly begs questions, and in my opinion it's questions about the short's sanity that should be asked.
Consider the most recent short data for Sirius XM.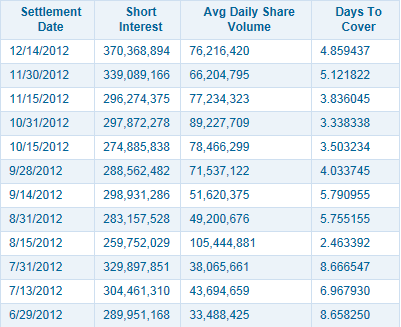 Yes you read that correctly. 370,368,894 in short interest as of the close of December 11. This is an over 31 million increase in the short position as of November 27. Is it safe for investors to assume that these shorts know something that the average investor does not?
No. History proves that shorts have historically been wrong, over and over again, in recent history for Sirius XM. Refer to the table above and reference the chart below. I've marked the data points with yellow X's for quick reference.

It doesn't take more than a minute or two of comparing short positions and share prices to come to a simple conclusion. Shorts have been burned repeatedly since Sirius XM began its uphill climb at the beginning of July. The "wrong" bet has been on the short side again and again. Consider that the position which settled on July 31, was a high point of 329 million, yet these shorts were forced to cover to the tune of 70 million shares as the share price took off wildly over the next few days to fresh 52-week highs.
As I wrote in an article previously, after this the shorts were selling right into the hands of Liberty Media (NASDAQ:LMCA) on its buying spree, and in turn contributed to the rise to near $3 per share as they covered at higher prices in mid October. And again, since mid October shorts have continuously increased their positions. It's fairly easy to see that most of these positions have been taken as the share price dragged the $2.70s for the better part of November and December. This large 370 million share short position was also subject to paying out a dividend in conjunction as Sirius XM paid a special dividend of $0.05 per share. Cost to shorts? Over $18.5 million.
And now these 370 million shorts, which is a record high number for the last 12 months for Sirius XM, are facing share prices that seem to be holding quite steady in the $2.90s. In two days, Sirius XM's dividend will hit long's accounts to the tune of hundreds of millions of dollars, and those with similar sentiment to my own will likely use the pay out to buy more shares of Sirius XM. On top of this, 2013 guidance is just around the corner, Sirius XM has secured a new (even if temporary) CEO, auto sales continue to show strength, and a full-year subscriber total for 2012 will be known. That subscriber total I believe will top 2 million net additions for 2012 and shows the strength of demand for the company's product, especially in the same year the company instituted a price increase.
Oh and let's not forget $2 billion in buying pressure coming through the pipes shortly on Sirius XM's buyback plan.
So, when I look at the current short positions, I absolutely have to question the sanity of these shorts. It seems to me that this is virtual suicide, and with current share prices pushing on the $3 per share mark, nearly every single one of these shorts is likely under water. To put it simply, "bad idea."
The right side of Sirius XM is the long side, and this has been the case since the company made its turn around in 2009 on a bail out from Liberty Media, and I think that will be the right side to be on for the foreseeable future. Although I feel my advice to shorts will fall on deaf ears, I'll repeat what I have said continuously at lower prices.
Disclosure: I am long SIRI. I wrote this article myself, and it expresses my own opinions. I am not receiving compensation for it (other than from Seeking Alpha). I have no business relationship with any company whose stock is mentioned in this article.