In this article, I will be discussing the key stock price upside triggers and investment positives for Gaslog Ltd (NYSE:GLOG). Given the growth prospects in 2013 and beyond (discussed below); investors can expect meaningful returns from the stock in 2013 and 2014. It might not be appropriate to talk about specific stock targets. However, it would not be surprising to witness a 50% stock upside in 2013 if the broader markets hold up pretty well (very likely). Therefore, investors can consider exposure to the stock with a one- to two-year timeframe.
Company Overview
Gaslog is the owner, operator and manager of liquefied natural gas carriers providing support to international energy companies such as British Gas and Shell. Gaslog's owned fleet consists of 10 wholly owned LNG carriers, including two ships delivered in 2010 and eight LNG carriers to be constructed by Samsung Heavy Industries. The eight carriers are scheduled for delivery between 2013 and 2015. All of the 10 owned ships are equipped with the latest tri-fuel diesel electric (TFDE) propulsion technology, which would lower operating cost for the company. Gaslog currently manages and operates 14 LNG carriers, which includes owned ships, as well as 12 ships owned or leased by BG Group.
Stock Upside Triggers and Key Investment Positives
Strong Revenue Visibility With 100% Utilization Until 2014 - Robust contracted charter revenue growth to propel stock upside; Expected EPS growth of 222.9% in 2013
Firm contracts with well known counterparty give Gaslog strong revenue visibility over the next few years. The contracted time charter revenue is expected to be USD133 million, USD215 million and USD211 million for 2013, 2014 and 2015 respectively. This reflects time charter revenue and contracted days for the two LNG carriers delivered in 2010 and the six LNG carriers on order. Further, Gaslog also has two newbuilds for which no charter has been signed. With discussions on for the charter, the revenue visibility and vessel utilization is expected to improve further.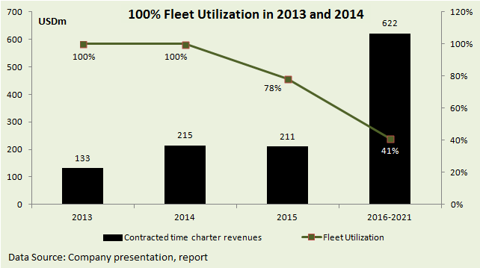 In line with the expected revenue growth in 2013, the EPS growth is projected to be 222.9%. Should this growth be achieved (very likely with firm charter contracts), the stock will witness meaningful upside in 2013 and beyond. It is also important to note that earnings have beaten estimates in the last three quarters. If this trend continues, Gaslog stock prices will trend higher.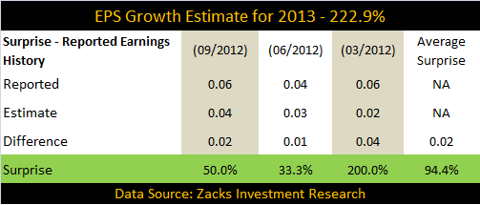 Healthy Financial and Credit Metrics - EBITDA to surge in 2013 and 2014; Debt to capitalization of 30% allows room for leveraging to fund the capital expenditure program
Gaslog has experienced robust revenue growth in the last three years along with healthy EBITDA margin. Revenue growth has been muted in the current financial year with no newbuilds coming into operation. The existing fleet has however operated at 100% utilization. Going forward, revenue will experience meaningful growth in 2013 and beyond as newbuilds come into operation. As mentioned above, the contracted time charter revenue is expected to be USD133 million in 2013. Revenue inflow will also come from the vessel management segment leading to a healthy top-line growth in 2013 as compared with 2012. The bottom-line for 2012 has been negatively impacted by an increase in financial cost and loss on interest rate swaps. Going forward, the financial cost is expected to increase further with increase in debt on delivery of newbuilds. However, bottom-line growth will be robust as newbuilds will spur the top-line. Even on a conservative basis, if revenue for 2013 stands at USD150 million (charter + vessel management), EBITDA will be in the region of USD80 million. For 2014, a conservative revenue estimate of USD230 million will result in an EBITDA of approximately USD115 million.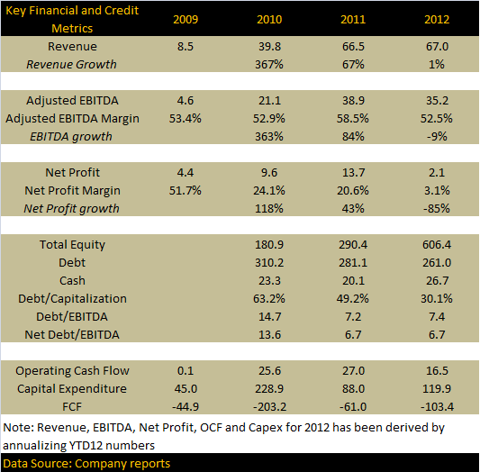 Gaslog has a low debt-to-capitalization of 30.1% as of 3Q12. This gives the company ample room to leverage further to fund the capital expenditure. With the newbuilds program fully financed, leverage will increase until 2015. Increasing leverage would not be a cause of concern as Gaslog will generate sufficient operating cash flows to service debt. With an extended debt maturity, Gaslog will face no immediate debt repayment pressure. It is also encouraging to see the debt to EBITDA and net debt to EBITDA credit metric improving meaningfully in the last three years. With robust EBITDA growth in the next two years, the debt service metrics will remain healthy even with increased leverage. With high level of capital expenditure, the free cash flow is expected to remain negative until 2015. This is not a major cause for concern for a growing entity like Gaslog.
Modern Fleet With Latest Technology Gives Edge Over Peers - Should serve as catalyst to further boost the order book
Gaslog has a current fleet age of 1.5 years compared with an industry average of 10.4. After the delivery of all newbuilds by 2015, the average age for the Gaslog fleet is expected to be 1.9 years. The age factor coupled with the use of latest technology gives Gaslog an edge over its peers.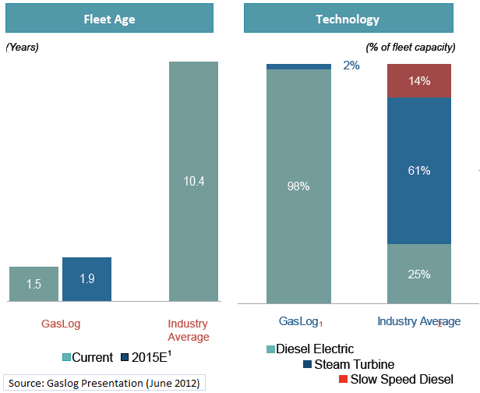 Currently 71% of the global LNG carrier fleet is equipped with steam turbine propulsion, while 98% of the fleet capacity for Gaslog would be using the diesel electric instead of steam turbine or slow-speed diesel. On the basis of average prices for heavy fuel oil in Singapore during 2011, tri-fuel diesel electric propulsion offers estimated savings of over 30%, or approximately $33,040 to $41,300 per day. This will result in additional cost saving for Gaslog leading to relatively better margins compared with peers.
Low Counterparty Risk - Minimizes contract cancellation risk and ensures timely cash inflow
The existing counterparty for Gaslog includes credit-worthy clients such as British Gas and Shell. Strong counterparties minimize the risk of contract cancellation and also adds to Gaslog's credibility. Further, cash inflows are secured with strong counterparties in a relatively uncertain economic environment. Besides the firm contracts, if charterer optional period is exercised, revenue stability will get a further boost.
Fully Funded Newbuild Program - Debt maturity beyond 2019 ensures no near-term repayment pressure
Financing a large newbuild program in current market conditions can be considered to be a significant challenge. Gaslog has a fully funded newbuild program, which has a gross aggregate contract price of approximately USD1.55 billion. As of September 30, 2012, the total remaining balance of the contract prices of the eight newbuilds on order was USD1.36 billion, for which there are $1.13 billion of undrawn credit facilities and USD238.5 million in cash, cash equivalents and short-term investments.

More importantly, the debt for financing the newbuilds has maturity in 2019 and beyond. This eases the debt repayment profile and ensures that there is no significant pressure on cash flows in the near term. As newbuilds generate revenue and cash inflows, debt repayment will be relatively easy. Also, with 62% of floating interest rate exposure hedged at a weighted average interest of 4.3% (including margin), debt servicing will be planned and moderate. I do expect interest rates to trend higher in the long term.
Dividend Policy to Consistently Reward Shareholders - Quarterly dividend of USD0.11 per share commencing from 4Q12
In line with the policy of paying a quarterly dividend of USD0.11 per share, Gaslog declared the dividend to be payable on December 17, 2012. With a strong contract coverage and robust fleet expansion plan, Gaslog should be able to deliver on its dividend commitment resulting in frequent shareholder reward and an attractive dividend yield. I would like to emphasize here that the company intends to retain sufficient cash to meet its operating and business expansion plans going forward. Therefore, the dividend policy should not serve as a hindrance to any growth plan. Gaslog offers an attractive dividend yield of 3.7% considering the current stock price of USD11.98. Considering the contract charter revenue estimates, I do believe that dividends might witness an increase in 2014 and beyond. In other words, dividend yield might remain above 3.5% even on a meaningful stock price appreciation in the foreseeable future.
Strong Fundamentals for the LNG Industry - Growing world LNG production will result in demand for LNG ships outpacing supply
Natural gas is one of the fastest growing primary energy sources globally. Within the natural gas industry, the volume of LNG traded has increased at a rate 30% higher than pipeline trade and has grown over three times the rate of overall natural gas consumption during the past 20 years.
The global demand for LNG is on a rise with the number of exporting countries expected to increase to 21 in 2015, from 12 in 2000. Similarly, LNG importing nations is expected to increase to 38 in 2015, compared with 11 in 2000. The number of LNG trade routes between countries has increased from 41 in 2001, to 157 in 2010, leading to an increase in the average distance of LNG trade routes from 2,338 nautical miles to 3,325 nautical miles. These factors have increased the requirement for sophisticated LNG shipping capacity. Growth in Asia, and Africa, is a primary growth driver for increased LNG trade. Also, with natural gas being viewed as more environmentally friendly than other fossil fuels, demand is expected to rise on global environmental concerns. The same is reflected in the chart below, which shows robust expected growth in LNG production going forward.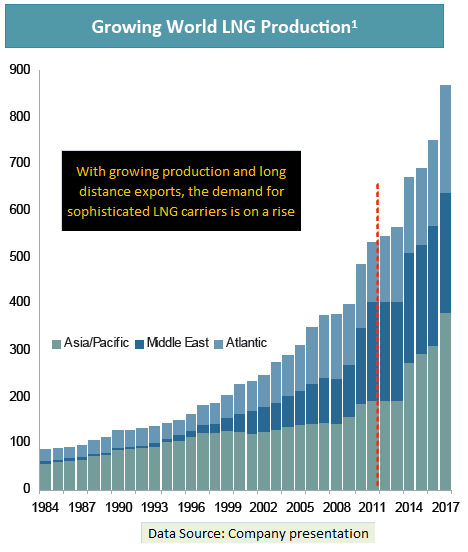 The significant increase in LNG production and exports will result in increased demand for LNG ships. As per the planned LNG projects, the demand for vessels stands at 96, while the current orderbook is only at 72 leading to a demand-supply mismatch of 24 vessels. Very clearly, vessel operating prices are expected to remain firm with 100% utilization. As the global economy stabilizes and grows relatively faster, spot rates will trend higher along with long-term charter rates.
Conclusion
Considering the factors discussed, Gaslog looks good for exposure at current levels with a medium-term outlook. Firm charter contracts with strong counterparties serves as the biggest positive and makes revenue and cash flow stream relatively certain. At current levels, the stock looks pretty attractive and has the potential to outshine in 2013.
Disclosure: I have no positions in any stocks mentioned, and no plans to initiate any positions within the next 72 hours. I wrote this article myself, and it expresses my own opinions. I am not receiving compensation for it (other than from Seeking Alpha). I have no business relationship with any company whose stock is mentioned in this article.