One of the fascinating things about spending so much time on Seeking Alpha and RealMoney is to see the variety of methods different investors and analysts use to value equities. Some prefer P/E ratios as their primary valuation metric, others prefer book value, and still others focus on operating cash flow. Personally, my favorite valuation method looks at the five year PEG ratio, which is a good way to see how the market is currently valuing a company's long term growth prospects. I find it is a great filter for finding potentially undervalued equities to research further for possible investment opportunities. I recently ran a filter using this metric on the large cap tech stocks.
I used parameters specifying the company had to have at least a $10B market capitalization and a PEG ratio of under 1. Surprisingly six of the nine tech companies that met this screen were foreign companies like Baidu (NASDAQ:BIDU) and Infosys (NASDAQ:INFY) available through ADRs. Below in ascending order are the three American tech companies that met these criteria. All appear cheap and should be considered by long term growth at a reasonable price (GARP) and value investors.
Seagate Technology (NASDAQ:STX) designs, develops and manufactures hard disk drives for enterprise storage, client compute, and client non-compute market applications worldwide.
Five year projected PEG (.39)
4 reasons STX is cheap at $30 a share:
The stock yields 5% and the company has almost quadrupled its dividend payout over the past five years.
The company trades at just 4 times trailing earnings and around 5.5x forward earnings, a discount to its five year average (8.6)
It is one of the few equities in the investment universe that can say it is selling for less than 3 times annual operating cash flow.
It is selling at the bottom of its five year valuation ranged based on P/E and P/CF.
Apple (NASDAQ:AAPL) is the world's most valuable company by market capitalization. The company has had a very tough three months since its stock hit a peak of north of $700 a share in mid-September on a myriad of well-known concerns. However, in the long run the stock looks like it is selling at a substantial discount to its growth prospects.
Five year projected PEG (.52)
4 reasons AAPL is bargain at around $510 a share:
The stock is selling at less than 9x forward earnings, a significant discount to its five year average (18.8).
The company has over $120B in net cash and short marketable securities on its balance sheet. This amounts to approximately 25% of its market capitalization. To put this in perspective, this cash hoard is more than 2 times Costa Rica's GDP.
AAPL is selling at the bottom of its five year valuation range based on P/E, P/B and P/CF. It also pays a dividend yield of 2%.
The 48 analysts that cover the stock have a median price target of $750 a share, almost 50% above the current stock price.
Intel (NASDAQ:INTC) is the world's largest semiconductor manufacturer.
Five year projected PEG (.83)
Valuation highlights: INTC provides a 4.4% yield, sells at under 11x forward earnings and an A+ rated balance sheet. INTC is also selling at the very bottom of its five-year valuation range based on P/E, P/S, P/CF and P/B. The stock also has solid long term technical support at this price level (See Chart).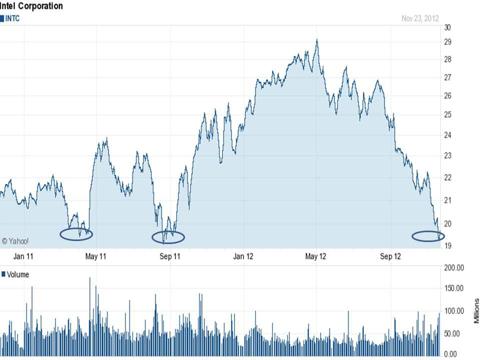 Disclosure: I am long AAPL, INTC. I wrote this article myself, and it expresses my own opinions. I am not receiving compensation for it (other than from Seeking Alpha). I have no business relationship with any company whose stock is mentioned in this article.