As we near the end of trading year, it is time to review one's portfolio. It is this time of the year where I take a hard look at my laggards for the year and determine if the value proposition still makes sense as we head into 2013. Two laggards that I am keeping in my portfolio as they are cheap and have received some positive comments from analysts this week are below:
Denbury Resources (NYSE:DNR) engages in the acquisition, development and exploration of oil and natural gas properties in the Gulf Coast region located in Mississippi, Texas, Louisiana, and Alabama.
4 reasons DNR is cheap at $16 a share:
Stern Agee reiterated its "Buy" rating and its $20 price target this week on Denbury. The analyst firm stated the Bakken sale/swap that closed Monday was a significant positive for the company. The median price target held by the 16 analysts that follow the stock is $22 a share.
DNR is selling at less than 5x operating cash flow and just 19% above book value.
The stock is selling near the bottom of its five year valuation range based on P/E, P/S, P/B and P/CF.
With the exception of debt limit selloff in the summer of 2011, the stock has solid long term technical support at $14 a share (See Chart).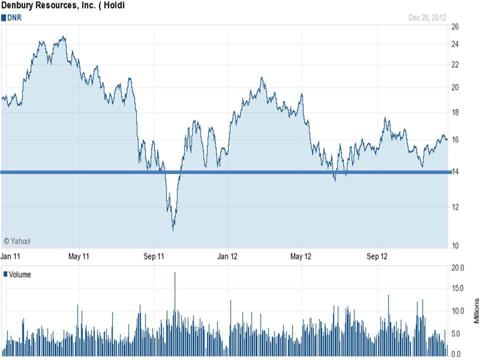 KBR, Inc. (NYSE:KBR) operates as an engineering, construction, and services company worldwide.
4 reasons KBR is a bargain at under $30 a share:
Tudor Pickering released a research note Wednesday morning suggesting Chevron's (NYSE:CVX) partaking in the Kitimat LNG project should be a "substantial positive" for KBR. The 13 analysts that cover the stock have a median price target of $39 a share on the shares.
The stock sells for less than 10x forward earnings, a discount to its five year average (13.2).
The company has a robust balance sheet with over $700mm in net cash on its books, more than 15% of its market capitalization at current prices.
The company has an almost $15B backlog and the stock is selling near the bottom of its five year valuation range based on P/E and P/CF.
Disclosure: I am long DNR, KBR. I wrote this article myself, and it expresses my own opinions. I am not receiving compensation for it (other than from Seeking Alpha). I have no business relationship with any company whose stock is mentioned in this article.