By Steven Orlowski
For the past few Thursdays we've focused on individual BRIC ETFs. This week we examine the performance of the most traded and widely held BRIC ETF: the iShares MSCI Emerging Markets Index ETF (NYSEARCA:EEM).
For the bulk of the last month EEM has been on the rise. As of the close of trading Dec. 26, 2012, EEM has risen by approximately 5% for that period. Given that we are in the last week of 2012 a little year-end selling is to be expected. But in light of the many pessimistic observations regarding the BRIC countries (as well as of the U.S.) it is bullish to see this ETF performing as it has.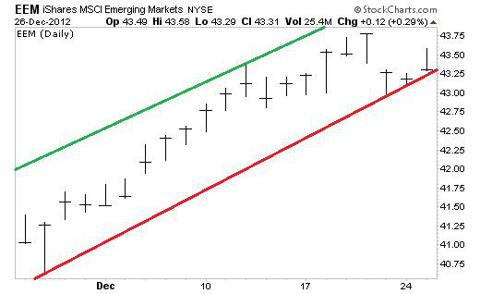 The ETF is also up on a year-to-date basis, approximately 16%. It has yet to match its highs for the year, but seems intent on doing so. In the chart below the resistance point is at about $44.00 per share. If EEM manages to trade through I would anticipate a bullish leg higher.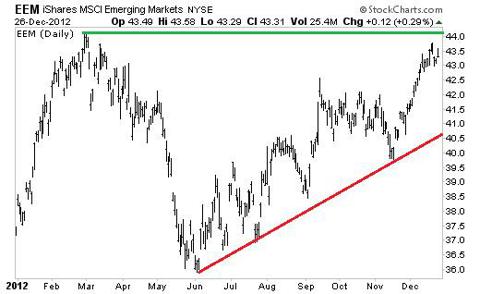 Downside on the chart looks to be between $40.00 and $42.00 per share.
Longer term, as seen in the five-year chart below, EEM is also displaying signs of bullishness.
Since the lows of late 2008 and early 2009 EEM has established a higher level of support. Upside potential could bring the ETF to the $50.00 per share neighborhood. This chart confirms the short-term downside of $40.00 or so.
Further analysis of the five-year chart supports a bullish outlook. What might have been a head-and-shoulders formation, a bearish indicator, was abandoned and the ETF moved higher.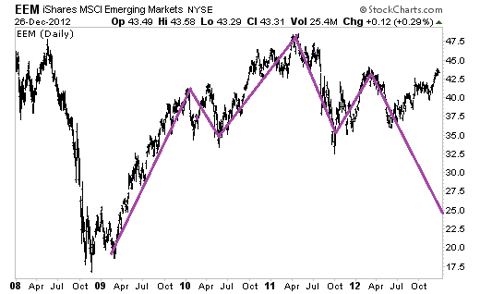 Had the selling continued, the ETF could be at $25.00 per share today.
Looking again at the five-year chart while applying a more conservative perspective, the longer-term downside could be as low as $35.00 per share.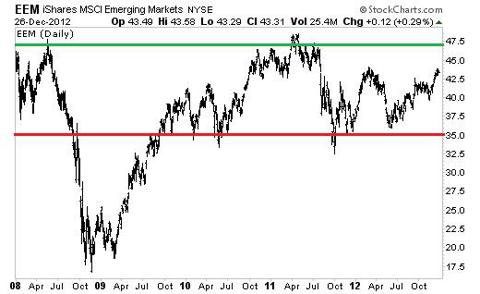 Each BRIC nation has its own challenges as well as some shared ones. Shorter-term uncertainty will prevail, but opportunities remain. By and large, EEM is looking pretty good.