Utilities are often considered a defensive, non-cyclical sector, but due to some structural challenges, the European utilities sector has been out of favor with investors. The sector's structural issues, Europe's debt crisis, utilities' correlation with the economy and the risk of interference by governments have justified investors' skepticism. On the other hand, this sector offers one of the highest-dividend yields, so it may provide a few overlooked opportunities. In this article, I review the main headwinds facing the European utilities sector and briefly analyze some of the companies that offer the highest dividend yields to see if there is any value in this sector for income-oriented investors.
The European utilities sector has been pressured during the past few years as a result of several headwinds that represent a threat to the sector's top-line growth and profitability:
1) One of the sector's major concerns is its large level of debt, which is among the highest in Europe, and how these companies will be able to deleverage their balance sheets. To maintain their credit ratings, the utilities have shifted focus since the global financial crisis of 2008-09 to preserve cash and repair their balance sheets through initiatives like asset disposals, reducing capital expenditures, and lower cash dividends.
2) Related to the previous issue of large levels of debt, higher funding costs and a lack of credit supply for some industry players has also hurt negatively the companies' cash flow generation and profitability. This issue was primarily related to utilities based in peripheral European countries (Portugal, Spain and Italy are the most relevant). However, utilities based in Europe's core countries have experienced the opposite effect -- funding costs that were reduced to record-low levels;
3) The European electricity market has been characterized by low power prices, reflecting a power market oversupply due to low demand and increasing generation capacity, especially from renewable plants. For instance, renewable energy represented 20% of the power produced in Germany in 2011, a level much higher than a few years ago;
4) Given Europe's debt crisis and high fiscal deficits across the continent, utilities have been targeted by governments as a source of revenue, with new taxes introduced in several countries. If balanced budgets aren't achieved in the next few years across Europe, increased taxation may remain an issue in the sector for some years;
5) Also, there were country- or company-specific issues, such as the nuclear shutdown last year in Germany, which negatively impacted domestic companies.
Given these issues, it isn't surprising that the utilities sector has heavily underperformed the European equity market since 2008, and has continued to underperform by 23% over the past year. Given this recent performance and relatively weak outlook, the sector's high-dividend yield average of almost 7.5% is currently the most compelling investment argument. However, not all companies offer sustainable dividends given the relatively high level of dividend payout in the sector, which on average is above 70%, so it is important to analyze each company's fundamentals and dividend sustainability.
Source: Bloomberg
GDF Suez is a French power and gas utility company, developing its three businesses (electricity, natural gas, and energy and environmental services) to provide essential services to its customers. Its subsidiaries design solutions for individuals, communities and businesses to respond to their energy, water and waste management needs. The French state owns a 34.7% stake in GDF Suez and is obliged to hold at least 33%.
GDF Suez has been penalized by increased political and regulatory risk following the election of the Hollande government this year. The French government has been reluctant to allow natural gas prices to rise in line with their cost, affecting GDF Suez's profitability. The company's net debt/EBITDA ratio was 2.7x at the end of 1H 2012, while management has guided to a target of about 2.5x for 2012 and below 2.5x for 2013-15.
GDF's dividend payment frequency is semi-annual. Over the past five years, the dividend compound growth rate was 4.45%. However, over the past three years, the dividend has barely risen, but the payout ratio has increased due to lower earnings. This means lower dividend quality, and is a reason to be cautious. For fiscal year 2012, management will propose a stable dividend of €1.50 per share. Although the company has an asset disposal program of €3.5 billion ($4.6 billion), its high payout ratio achieved in 2011 leaves the company with little room of maneuver to grow its dividend over the next few years.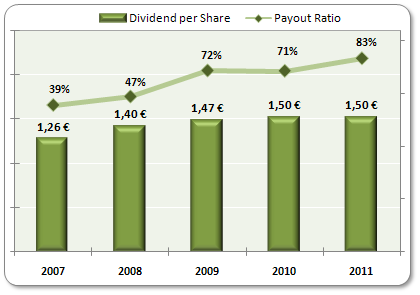 Source: Bloomberg and Company Data
Enel is Italy's incumbent electricity utility and second natural gas supplier, and the Italian state is its major shareholder. Abroad, Enel has substantial interests in Spain and Latin America following the purchase of Endesa (OTC:ELEZF) a few years ago, as well in Russia and central Europe. Enel is heavily exposed to Italy and Spain, which means is highly exposed to the European sovereign credit crisis and is therefore penalized by higher funding costs, as the annual volume of debt to be rolled over is relatively high.
Enel's dividend frequency is annual, following a change in its dividend policy early this year. Enel suspended the payment of its interim dividend and cut its payout ratio to 40% from 60%. Endesa, its Spanish subsidiary, did the same. Over the last few years, it has had a declining annual dividend per share, and currently pays nearly half the dividend it did a few years ago. In 2011, the payout ratio was above 60%, which for next year should be lower, implying also a lower dividend given that earnings aren't expected to rise compared to the previous year. Most probably, Enel will pay a €0.20 dividend per share or lower for fiscal year 2012, which implies a forward yield slightly above 6%.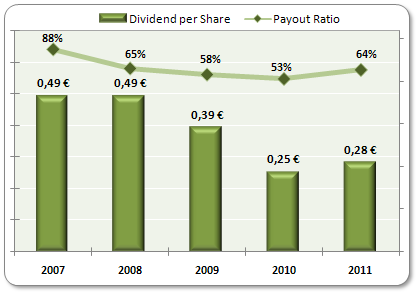 Source: Bloomberg and Company Data
EDF is France's incumbent electricity utility, active in power generation, transmission and distribution. The French state has an 84% stake in the company. EDF has several nuclear power plants, making its low carbon intensity a competitive advantage in Europe.
It is less impacted by low power prices than its peers, given that prices are still largely regulated in France through administered tariffs. However, similar to GDF Suez, it is also hurt by increasing political risk given the French government's unwillingness to increase power prices in line with their cost. Additionally, the French government is proposing a tax surcharge for large companies, and a limit on tax deductibility of interest costs. The combination of higher taxes and lower profits could mean weaker dividend sustainability for EDF, as well for GDF Suez.
EDF's economic net debt is relatively high at 4.1x EBITDA, and way above management's target of 2.5x EBITDA. This balance sheet deleveraging goal may put some pressure on dividends over the next few years. EDF cut its dividend by 10% in 2009 to €1.15 per share, and the dividend has remained stable in the last two years. The payout ratio is around 70%, which is close to the sector's average and should support at least a stable dividend going forward.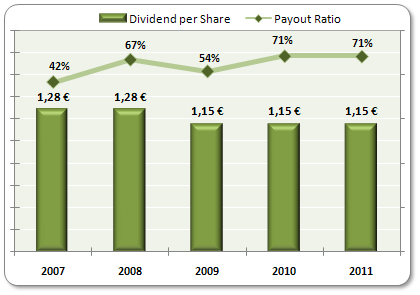 Source: Bloomberg and Company Data
EDP is a Portuguese company that generates, supplies, and distributes electricity and gas in Portugal and Spain. Through subsidiaries, the company is involved with electricity distribution, generation and supply in Brazil, and wind power promotion, construction and operation in 11 countries. The Portuguese state recently sold its remaining 21% stake in EDP to a Chinese state-owned company under its privatization program following its bailout in 2011 from the European Union and the International Monetary Fund (IMF). EDP has invested heavily in wind power over the past few years through its subsidiary, EDP Renovais (OTCPK:EDRVF), making it a worldwide player in this business.
EDP's dividend frequency is annual. The annual dividend per share rose consecutively over the past five years, with a compound growth rate of 10.3%. The payout ratio was always between 50-60%, a good level for a utility company with a stable business. For 2012, EDP's guidance is for a payout between 55%-65% of recurrent net income, with its 2011 dividend per share as a floor (€0.185/share).
Although EDP's business has a low risk profile, given that around 90% of its EBITDA is derived from long-term contracts and regulated activities, Portugal's austerity measures do expose it to some country-related risk. The increases in taxes to balance the fiscal budget have led to a fall in energy consumption and the government is reluctant to allow price increases to cover costs, which has resulted in a rising tariff deficit and lower cash flow generation for EDP. However, the liquidity support from its Chinese shareholder is supportive of the company's dividend.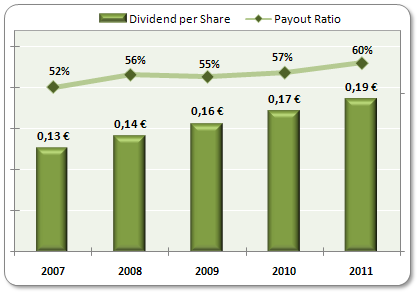 Source: Bloomberg and Company Data
E.On is based in Germany and is Europe's third-largest utility. The company operates in the power generation and gas production businesses. The company's operations include electric generation at conventional, nuclear, and renewable-source facilities, electric transmission via high-voltage wires network, regional distribution of electricity, gas, and heat, power trading and electricity, gas, and heat sales.
In 2011, the company faced some issues that led to a dividend cut to 1€ per share, namely losses in the long-term gas contracts, the nuclear fuel tax, the cost of the early shutdowns of nuclear units and lower achieved power prices. Some of these problems will lead to a lower level of profits over the next few years compared to its recent history, however, the recent renegotiation of its long-term gas purchase contracts with Gazprom (OTCPK:OGZPY) gives E.On some ability to recover and achieve higher growth than its peers.
To protect its credit profile, the company has implemented an asset disposal program that expects to raise €17 billion ($22 billion) in cash. Moreover, to achieve its leverage target (net debt to EBITDA ratio) of 3x, it can cut capital expenditures over the next two to three years, reducing pressure of further dividend cuts. In 2011, E.On had negative earnings, making the payout ratio irrelevant. For fiscal year 2012, the company has guided for a €1.10 dividend per share, which is around 50% of expected earnings.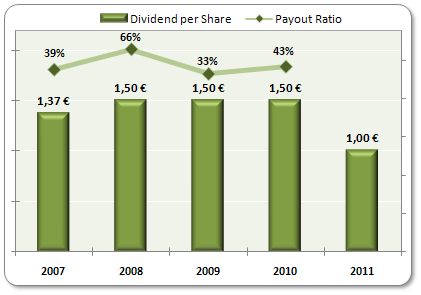 Source: Bloomberg and Company Data
Snam is based in Italy and is one of Europe's leading operators in the construction and management of gas infrastructures. It is also one of the major players in terms of invested capital for regulatory purposes (regulated asset base, or RAB). Snam is active in transport, regasification, storage and distribution of natural gas through four operating companies: Snam Rete Gas (transmission and dispatching), Gnl Italia (regasification), Stogit (storage) and Italgas (distribution). Eni (NYSE:E) is one of Snam's largest shareholders. The company is pursuing international growth within Europe, where it could develop green projects or acquire assets coming up for sale from other industry players.
Snam's dividend payment frequency is semi-annual. In the 10 years since its IPO, Snam Rete Gas has always distributed dividends to its shareholders. Over the past five years, the dividend compound growth rate was 9%, with five consecutive annual increases. However, the payout ratio increased last year to over 100%, which could put the dividend growth in jeopardy going forward. Nevertheless, Snam offers one of the highest yields within the sector, and is safer than most of its high-yield peers due to its heavily regulated business.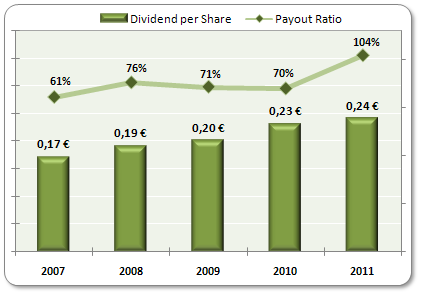 Source: Bloomberg and Company Data
RWE is a German utility that generates, distributes, and trades electricity to municipal, industrial, commercial, and residential customers. It also produces natural gas and oil, mines coal and supplies drinking water. RWE AG operates mainly in Europe. Compared to its peers, is one of Europe's utilities with higher carbon intensity, which could be a negative risk for its earnings over the next few years.
Like its German peer E.On, the company also has an ambitious asset disposal program, which has a target of €7 billion ($9.2 billion) in disposals for 2012-13. So far, it has only been able to achieve €1.6 billion ($2.1 billion). Given this slow start, this asset disposal plan may not be enough to return leverage below the targeted upper limit of 3x. As deleveraging seems to be the company's focus, it may review its capex plan going forward, given that management has already indicated that reducing the current 50-60% payout ratio target wasn't an option.
Since 2008, RWE has cut its dividend twice, adjusting it to the company's level of annual earnings. The company's dividend policy targets a regular payout ratio of 50% to 60% of recurrent net income, which explains last year's dividend cut. For fiscal year 2012, earnings per share are expected to be higher than €4, which should lead to at least the same dividend paid in 2011.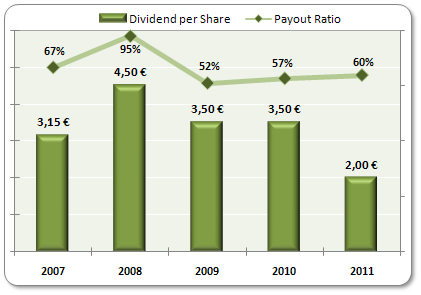 Source: Bloomberg and Company Data
Conclusion
Despite the high-dividend yields offered among the largest players in the European utilities sector, not all seem sustainable and the threat of further dividend cuts is significant. EDP stands as the most compelling income investment among these European utilities based on its good track record, as it has shown both dividend growth and relatively moderate payout ratios. Snam may also be a good investment due to its regulated and expected stable business. After the dividend cuts in 2011, the German utilities have adjusted to lower earnings power and moderate growth may lie ahead, meaning current dividends may be a floor.
Disclosure: I have no positions in any stocks mentioned, and no plans to initiate any positions within the next 72 hours. I wrote this article myself, and it expresses my own opinions. I am not receiving compensation for it (other than from Seeking Alpha). I have no business relationship with any company whose stock is mentioned in this article.