BHP Billiton (NYSE:BHP) is classified as a 'dividend contender stock' with a track record of 10 years of straight dividend increases. This article will examine BHP Billiton's suitability as a core holding within a dividend growth portfolio and its standing as a robust company that pays an annual dividend increasing on a year-on-year basis. It will review the company's current financial performance and discuss the current issues that have impacted upon its share price. This article will present the case as to why BHP Billiton is a BUY, while fellow Seeking Alpha Contributor Caiman Valores in his article presents the case as to why Vale (VALE) is more of a risk.
I have written previously on Australian mining stocks, with five articles dedicated to BHP Billiton, the most recent in September 2012. As I am in the process of constructing a diversified dividend growth portfolio and reviewing current investments, I wanted to go back and revisit the stock by conducting a more detailed analysis of its historical performance, its potential for future growth, and to confirm that it remains a suitable holding for my portfolio.
Company Overview
The BHP Billiton portfolio of businesses is diversified in both its composition and its geographic location. Based out of Melbourne Australia, the company's purpose is to create long-term shareholder value through the discovery, acquisition, development and marketing of natural resources. It sells into globally integrated markets and wherever possible operates at full capacity, as it states:
"Our strategy is to own and operate large, long-life, low-cost, expandable, upstream assets diversified by commodity, geography and market, and to pursue growth opportunities consistent with our core skills by:
discovering resources through our exploration activities;
developing and converting them in our Customer Sector Groups;
developing customer and market-focused solutions through our Marketing teams;
adding shareholder value beyond the capacity of these groups through the activities of the Group Functions."
Dividend Growth Portfolio Structure
The foundations or core of a dividend growth portfolio should be based upon reputable companies with a proven track record of performance over 25-plus years; companies like Coca-Cola (NYSE:KO), Wal-Mart Stores (NYSE:WMT) and Exxon Mobil (NYSE:XOM). These are suitable as a core holding as they are highly liquid companies that generate substantial revenue, deliver healthy annual profits, and provide a good return on equity for investors. These companies also deliver sustained increases on dividends paid, delivering additional returns for investors via a dedicated dividend income stream.
BHP Billiton is the type of stock individual investors should look for to complement core holdings within a dividend-growth portfolio. It demonstrates the attributes required to evolve into a Dividend Contender, and eventually into a Dividend Champion, both in terms of capital and dividend growth.
The company's history was forged in the late 1800s. BHP (which stands for Broken Hill Proprietary) began as an incorporated company mining silver, zinc and lead in Australia at Broken Hill. Billiton was founded in 1860 and had its start as a tin mine in Indonesia on Belitung Island. It goes without saying that the companies grew and diversified substantially over the ensuing 140 years, and the two entities merged in June 2001 becoming one of the world's largest diversified mining companies.
Having celebrated its 150th anniversary in 2010, BHP Billiton has proven it can continue to develop and evolve in a market that is constantly changing, and more importantly management has shown that it has the capacity to endure hard markets (cyclical conditions and commodities pricing) as well as significant financial impacts (global financial crisis). Even as it faces the current challenges of tight commodities pricing feeding into a slowing Chinese economy, BHP has demonstrated the age-old adage that there's money to be made in mining; just that sometimes the deep intrinsic value below is obscured by the dirt, dust and rock on top.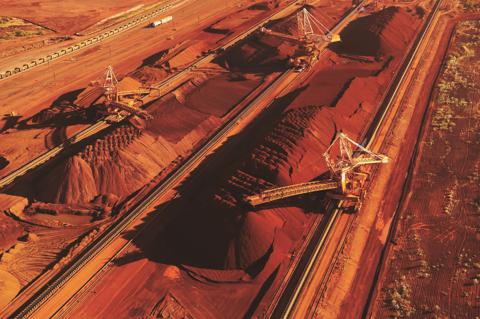 Recent Financial Performance
In its announcement on financial results for the year ended 30 June 2012, BHP Billiton's management highlighted the following key performance points:
Total Recordable Injury Frequency improved by 6%
Underlying EBITDA of $33.7 billion, down 9%
Underlying EBIT of $27.2 billion, down 15%
Attributable profit (excluding exceptional items) of $17.1 billion, down 21%
Attributable profit of $15.4 billion included net exceptional charges of $1.7 billion
Net operating cash flow of $24.4 billion, down 19%
Gearing of 26% following the acquisition of Petrohawk Energy Corporation
Full-year dividend of 112 cents per share, up 11%.
Looking to its current performance, BHP Billiton is trading with a PE ratio of 13.34 and has a five-year forward looking PEG ratio of 1.75. The company's current share price on December 23, 2012, of $76.97 per share represents a $52.22 premium over its current book value per share. The stock is approximately 6.4% below its 52-week high of $82.23 per share and 28.6% above its 52-week low of $59.87. Its current profit margin is 21.34% [ttm], against a return on equity of 24.88% and it pays an annual dividend of $1.12 (2012).
A snapshot of BHP Billiton's key financial statistics at December 23, 2012, is shown below: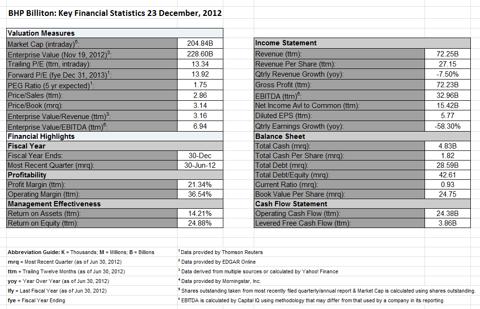 Dividend Performance
Besides being a profitable diversified resources company, BHP Billiton has the added attraction for investors seeking to generate additional returns on their capital invested. The company pays an increasing annual dividend of $1.12 (2012) at a yield of 2.96%. The table below shows the annual dividend paid each year for the last 10 years, which has grown year-on-year by a factor of approximately 24.48%. This is impressive given the pressure the share price and the company was under during the global financial crisis, and shows the resilience of BHP's management at all levels.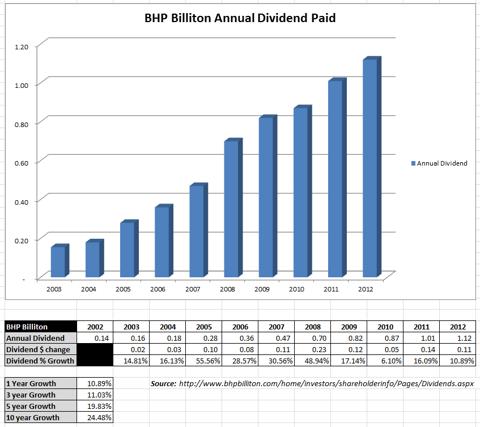 The dividend revenue appears stable, incremental, and reflects a pattern of established and sustained growth. Investing in a reputable natural resources company paying a strong sustained dividend that meets the qualifying requirements of being a dividend challenger cum contender makes BHP Billiton seem like a suitable investment to hold within a diversified stock portfolio.
BHP Billiton management has clearly articulated its intention for use of capital, which includes investing in high-return growth opportunities, and sustaining progressive dividend growth for investors, as per its preliminary results presentation in August 2012: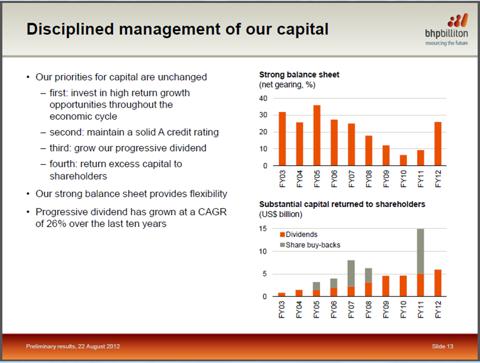 Operational Risks On Performance
Operating in a cyclical industry, resource companies like BHP Billiton, Rio Tinto (RIO), Vale and Fortescue Metals Group (FSUMF.PK) are directly affected by fluctuations in commodities pricing and global supply and demand. It is therefore critical that company leadership has a tight rein on management of cash flow and the ability to service long-term and short-term debt, while continuing to sustain output for ongoing operations. Three of the biggest threats to performance are a collapse in commodities pricing (such as Iron Ore and Potash), significant currency fluctuations (for BHP a strong Australian Dollar), and political risk undermining certainty of future regulation and taxation (and subsequently revenue and profit).
Iron Ore Pricing
Iron ore pricing came under significant pressure in mid-2012 as Chinese growth eased marginally, Chinese steel mills over produced, which led to a destocking of raw materials. This forced a price squeeze on Iron Ore spot pricing, leading to a number of forward contracts being rolled over, or delivery of resources being postponed or cancelled. This subsequently pressured the spot price per metric ton down from $148 per ton in April 2012 to approximately $90 per ton by September. The impact of Chinese demand is important on Iron Ore returns when you consider it accounts for approximately half of global demand: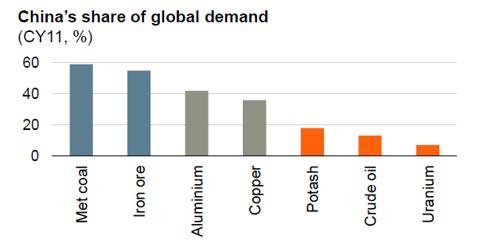 Source: BHP Billiton
At the pricing levels discussed above large diversified miners like RIO Tinto and BHP Billiton are better able to produce and generate revenue by controlling costs tightly, with losses offset by income from other business groups within the company. However the impact is far greater on mining companies like Fortescue Metals Group, which generate the bulk of revenue and profit through supply of iron ore only. Sustained pricing below $90 per ton directly affects their viability and ability to service long-term debt.
A simplistic viewpoint is that the price of the commodity largely drives the price of the company's stock, i.e. iron ore price falls and share price falls (and vice versa). However if we align the historical pricing of iron ore against the historical share price of BHP, then we can see this is only true to an extent. In the diagram below we can see that BHP Billiton's share price initially tracked the iron ore price trend, however it bottomed in June while iron ore didn't bottom until September. Likewise, BHP Billiton has been climbing (in a volatile manner) since June, gaining approximately 28%.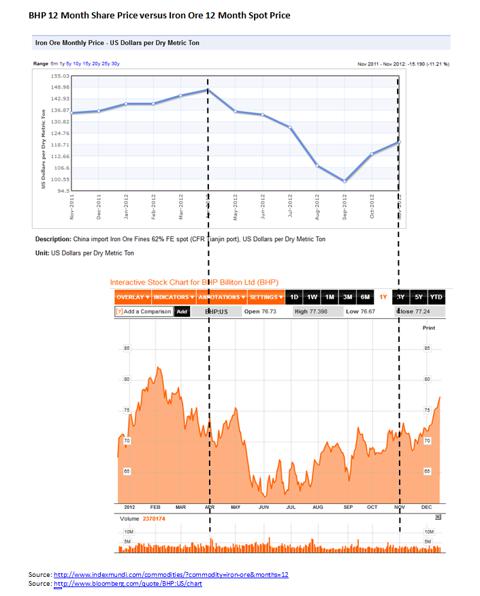 A lot of bearish analysts stated that Iron Ore pricing would stabilize around a band of $90 - $100 per ton, if not lower, however this has not yet eventuated. To look at the impact of Iron Ore pricing on BHP's revenue, I have compiled the following table, which outlines revenue for 2013 based on different levels of pricing, against forecast production for WAIO. It shows that pricing below $120 per ton will lead to a decrease in revenue against 2012 financial results.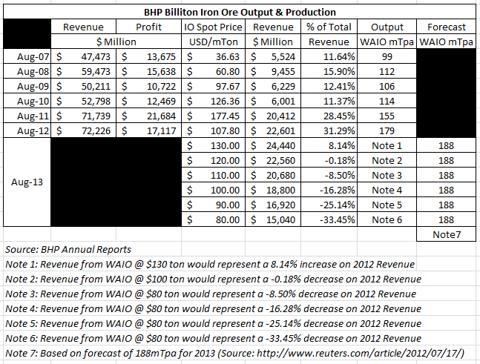 Phosphate Demand
BHP Billiton is pursuing additional diversification through supply of potash, establishing a presence in the Saskatchewan Basin. This strategy though has drawn criticism from investors who believe that management overpaid in the first instance for this investment, and many critics feel that BHP Billiton has entered into potash at the top of (an already oversupplied) market. BHP Billiton's management has taken a longer-term stance on Potash, and in its most recent presentation (pdf) to investors on December 11, 2012, it made the following points:
Detailed front-end mine planning and engineering for Jansen is well advanced
The focus is on reducing project risk and maximizing investment returns
It is expected to operate at the bottom of the global cost curve in its expanded state
Two shafts supporting at least 8 mtpa of saleable production will be fully excavated by end FY14.
The major suppliers of potash are located in Canada (which has nearly half of the world potash reserves), Russia, Belarus, Brazil, and Israel. The six largest producers of potash are as follows:
Uralkali (London: URKA) with 10.8 million tons;
PotashCorp of Saskatchewan (NYSE:POT) with 9.3 million tons ;
Mosaic (NYSE:MOS) with 9.2 million tons;
Belaruskali (joint stock company) with 8.8 million tons;
K+S Group (Frankfurt: DWS) with about 7 million tons; and
ICL Group (Tel Aviv: ICL) with 4.3 million tons.
Again using a simple model we can see the potential revenue generated for BHP from Potash once its operation achieves full production in FY14 of 8 mtpa (example is based on price forecasts for 2013 potash supply).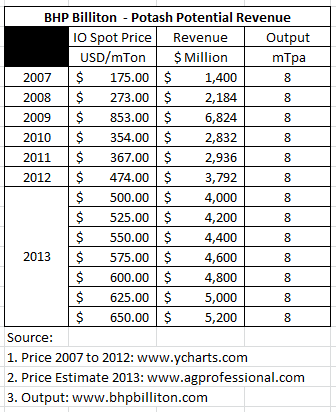 Political Risk
When investing in companies there are a number of factors to consider; the company's historical performance, likely future returns, financial health of the company, stability in share price movements, and dividends paid to name but a few. Another area I like to consider is the political and security factors, which may significantly affect any company I am investing in.
Political risk can include new legislation or future industry regulation and taxation that undermines a company's current business model (and subsequently adversely affects revenue and profit). An example of this is the introduction of the Minerals Resources Rent Tax (MRRT) and the Carbon Tax in Australia. Political risk can also occur where governments take (what could be considered) illegal or questionable action such as nationalization of a company, or seizure of a company's assets and finances. Examples of this include Argentina's nationalization of YPF (YPF), as well as Argentina's seizure of Chevron's assets with respect to a legal judgment in Ecuador.
When selecting companies to invest in political and security risk must be considered. First and foremost is that adverse actions such as those above threaten the security of a company's capital. Secondly, it has the potential to scare off foreign investment, which closes off resource fields for future exploitation, and limits the ability of a company to grow its operation and generate (and sustain) revenue. For this reason I would be more comfortable placing my core investments in countries like Australia, the United States, Canada, and the United Kingdom, while placing smaller more speculative investments in emerging markets.
Why Do I Prefer BHP Billiton
Looking beyond the current short-term performance it is important to review the longer-term trends within key financial ratios. The following table summarizes BHP Billiton's performance from the consolidated data covering the last five years (2008 - 2012). I have also included Vale's performance figures for the same five-year period.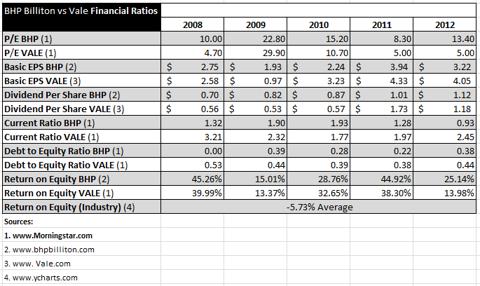 BHP Billiton management has sustained healthy earnings per share year-on-year despite the flow on economic effects of the global financial crisis. It has done this in a consistent manner against the broader fluctuations in Vale's earnings per share. Importantly, BHP has continued to deliver an increasing dividend (as discussed earlier) year on year, whereas Vale's dividend has decreased on two occasions over the same period. Both companies have a reasonably healthy debt-to-equity ratio.
Return on equity "measures a corporation's profitability by revealing how much profit a company generates with the money shareholders have invested." BHP Billiton continues to deliver a strong ROE and has consistently outperformed the industry average (-5.73%) by a significant factor, and has outperformed Vale each year with the exception of 2010. The five-year average return on equity for BHP Billiton is 31.8% versus 27.7% for Vale.
BHP Billiton's strong track record is warranted; but it has been impacted over the longer term by the cyclical markets it operates in and the global financial crisis, but on the whole its performance is strong. Importantly for dividend growth investors the company continued to perform profitably and sustain its dividend increases during the global financial crisis.
Recent Events
BHP Billiton management has been making a number of key changes since the price of iron ore dropped earlier this year. As I indicated earlier, the share price has been trending upward since it bottomed in June, and a number of company changes in recent months are interesting to note when mapped against the share price, as is shown below: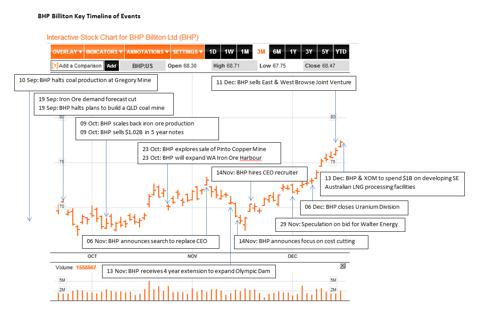 Fair Value & Entry Opportunities
The company's current share price on December 23, 2012, of $76.97 per share represents a $52.22 premium over its current book value per share. The stock has historically traded down when iron ore spot pricing drops, and likewise up as spot prices increase and company revenue is boosted. From my observations over the last 12 months, BHP Billiton's fair value is in the band of $75 to $80 per share, and when spot pricing dips the stock will drop and trade in a band of approximately $65 to $70 per share. My opinion is that the stock is currently trading within its fair value band and has approximately 5% upside. My suggestion for long-term investors is to buy the stock on dips when pricing is affected short term by current market events. Investors with a larger appetite for risk may see more opportunity in Vale, and the analysis of how this company compares with BHP can be found in Caiman Valores' article.
Case Study
I find it useful to look at the impact of share price movement and dividend payments on investments. To do so I have used the following portfolio example, being a holding of BHP Billiton shares ($10,000). The share price has continued to grow and has recovered lost ground quickly following key global events. The share price mapped as at June 30, for each of the 10 years prior is as follows: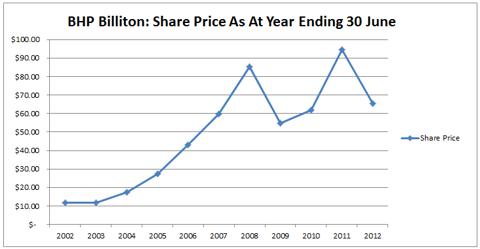 The BHP Billiton portfolio shows that an initial investment of $10,000 would have grown to approximately $55,000 by June 30, 2012, paying an annual dividend income stream of $949 per annum, and delivered cumulative dividend income of $5,167 over the 10-year period.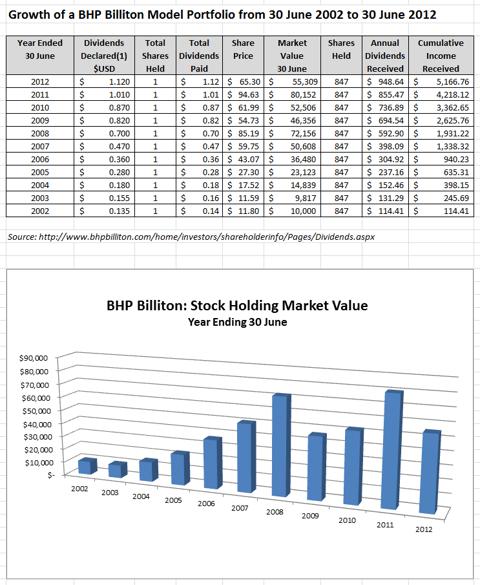 Future Dividend Contender and Possible Dividend Champion
The historical performance of BHP Billiton combined with its strong growth in share price and annual dividend payments make it a suitable stock to consider holding within a diversified investment portfolio. Investors should remain aware of the risks on performance for a company affected by cyclical markets, especially given current market conditions and uncertainty about the longer-term direction for Iron Ore pricing, however investors should also note the axe management is taking to current operations and future projects, in an effort to streamline costs and maximize revenue and profit. Investors should also be cognizant of the risks associated with investments in companies that operate in emerging markets.
BHP Billiton remains one of the world's most diversified miners, and management has shown it has the capacity and capability to trim the fat and focus on core revenue lines. While many investors may shun the miner due to a perception that there are cheaper options out there via emerging markets, BHP Billiton is a better low-risk option for long-term investors looking for sustained returns. It's easy to consider that all miners in the same industry are the same, yet sometimes you need to dig a little deeper in the dirt to uncover hidden value… In this case my money is in BHP.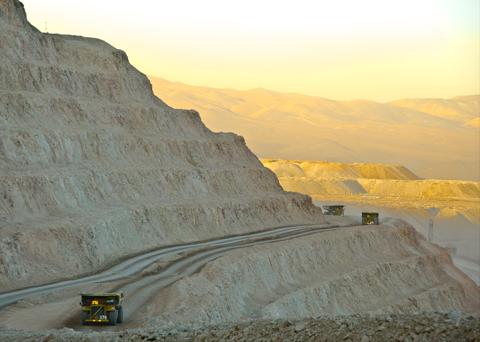 Disclosure: I am long BHP. I wrote this article myself, and it expresses my own opinions. I am not receiving compensation for it (other than from Seeking Alpha). I have no business relationship with any company whose stock is mentioned in this article.
Additional disclosure: I am long BHP Billiton shares traded on the Australian Stock Exchange.