Summary: Closed-end funds (CEFs), as an investment sector, have taken it "on the chin" in 2008. CEFs are on average down 42.6% as of November 24th in terms of price appreciation. The average current yield is an "eye popping" 14.7%; the average share price discount to NAV is 19.0%. (Current high yields reflect the likelihood of future distribution reductions.) While the decline in the CEFs is memorable, the real show is the real estate sector: down a "mind numbing" 75.8%. The average yield on the real estate sector is 53.9%; the share price discount to NAV is 31%.
click to enlarge images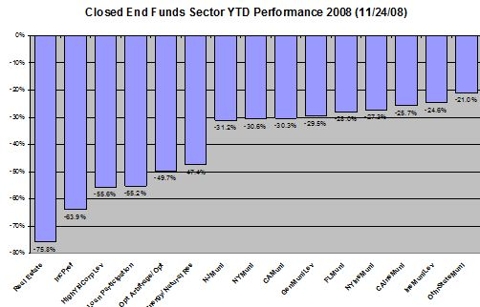 Pony? Within the real estate CEF carnage there may be opportunities for risk tolerant investors. I'd recommend buying low-leveraged real estate CEFs for a 3 to 6 month holding period: AWP, SLS, DRP, DVM and RFI.
The Case for Real Estate CEFs
The crisis in the housing market is making its way into commercial real estate values. The 29 real estate CEFs which predominantly focus on commercial real estate stocks have experienced epic declines in terms of year-to-date (YTD) price performance. Yet, there are several reasons why investors should consider this CEF sector.
Sheer Magnitude of the Decline: Real Estate CEFs are on average down 75.8% with 4 down over 90% YTD. This has the feeling of panic selling. While any stock can surely go to zero, the unprecedented decline is worthy of rummaging through the debris. The old investment saw that you should buy when other people are selling may be applicable here.
Unprecedented Distribution Yields: While clearly unsustainable, the average distribution yield for real estate CEFs is 53.9%. While this level would indicate the likelihood of a severe reduction in future distributions, even if you cut the distribution in half and then cut them in half again, you'd still be in the low teens. Having said that, those CEFs that are leveraged may be subject to suspension of distributions if their leverage exceeds the regulatory ratio. (More on this later.)
Year-End Tax Loss Selling: Stocks that decline this much in a year are likely candidates for year-end tax loss selling placing additional pressure that may be absent early next year.
Discounts on Discounts: Most real estate CEFs own real estate securities—particularly real estate investment trusts (REITs), which in turn own the real estate properties. Many of the REITs stock prices are selling at a discount to their underlying real estate values.
Hard Assets: Commercial real estate represents hard assets versus financial assets. As we have recently witnessed, financial asset values can evaporate with a lack of confidence. It's highly unlikely that an unleveraged shopping mall will fall 75.8% in value over a short period of time. The key is how the property is financed. If aggressively financed, then its equity value can fall to zero if the lender forecloses on the property. Most publicly-traded real estate companies, owned by CEFs, have less debt than private real estate entities as a result of their public reporting requirements. So, a package of real estate CEFs would mitigate the risk of excessive debt.
Elephant in the Room: One of the key considerations of investing in leveraged CEFs (of which many real estate CEFs employ) is the fact that under section 18 of the Investment Company Act of 1940, there is a prohibition of distributions to common shares if the assets coverage with respect to Preferred Shares and any borrowing would be at least 200% and 300%, i.e., debt not to exceed 50% and 33.3% of assets, respectively. (Please confirm this with your financial advisor—as I'm not an expert in this area.) Since the asset values of real estate CEFs have dropped significantly without a corresponding drop in value of the debt, many of the CEFs may be in violation of regulatory ratio requirement; thereby, preventing them from making future distributions. (There appears to have been some recent moderate relief on this issue from the SEC.)
Two Real Estate CEF Investment Strategies
The first strategy for investing in real estate CEFs is a conservative one: buy those that have little or no debt include: AWP, SLS, DRP, DVM and RFI (highlighted in yellow in table below). The average quoted yield for this group is 29.6% with an average discount of 22.0%. Many of the CEFs noted above are those that invest globally in real estate securities.
The other strategy would be to buy some larger sub-group of the real estate CEFs with the knowledge that some distributions could be temporarily suspended, but the price to NAV discount is large enough to compensate for that fact. The suspensions of distributions may only be temporary. Once the CEF comes into compliance with debt ratios, distributions should be reinstated and it's likely to include those that were previously suspended.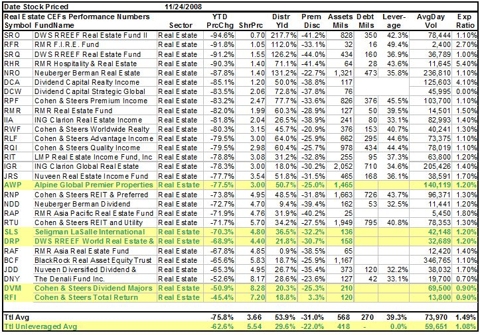 Disclosure: Author holds a long position in AWP