Although we don't have a position Alcatel-Lucent (ALU), we know people who do and because Alcatel-Lucent is so cheap, we have kept a loose tab on it over the last couple of years. Alcatel-Lucent was formed in 2006 by the merger of the French telecom equipment firm Alcatel with the U.S. based telecom equipment maker Lucent Technologies. The company's share price has gone down by over 90% since its 2006 merger due to consolidation in the telecom sector causing headwinds to demand for its products and this has been combined with economic weakness in the US and European markets. We can see that Alcatel-Lucent is not the only telecom facing a challenging environment as Nokia Siemens Networks (NYSE:NOK) and Ericsson (NASDAQ:ERIC) have been generating soft performance over the last 6 years as well. Alcatel-Lucent's shares have enjoyed a 38% increase over the last month as it entered into commitments with Credit Suisse and Goldman Sachs for €1.615B (US$2.138B) in new senior secured credit facilities. Now that it has secured additional liquidity and financial resources, it will need to focus on improving core operations and selling off non-core assets.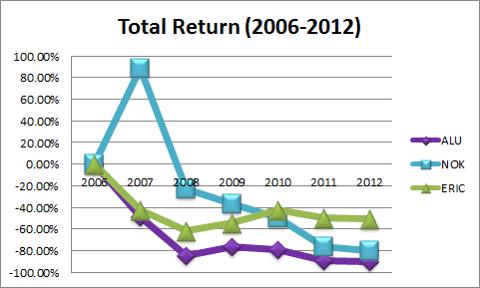 Source: Morningstar Direct
RECENT HIGHLIGHTS AT ALCATEL-LUCENT SINCE Q3 2012 RESULTS
Alcatel-Lucent started off the fourth quarter by facing two downgrades on its shares by UBS (Sell) and Goldman Sachs (Conviction Sell). It announced plans to shed 5,500 jobs as part of its plan to cut €1.25B (US$1.655B) in annual costs in the middle of October. ALU was recently able to secure a new €1.615B (US$2.138B) senior secured credit facility but it had to pledge its patent portfolio (estimated value US$6.5B) in order to secure the deal. The credit facility carries a weighted average interest expense of 8%, it will be issued at a 2% discount to par and carries a 1-2% prepayment penalty if Alcatel-Lucent refinances it within the first three years. ALU was in talks with France Telecom (FTE) in order to sell ALU's undersea cable-laying unit for €100M-150M (US$132M-$198M) as part of a plan to sell €1B-€1.5B (US$1.32B-$1.98B) in non-core assets. However, before anyone starts celebrating we would like to remind everyone that ALU has already harvested US$1.5B from the sale of Genesys and investors should be making sure that ALU isn't financing operating losses from the sale of business assets.
ALCATEL-LUCENT'S COMPETITIVE POSITION
Although Nokia Siemens and Ericsson are suffering from the same weak environment as Alcatel-Lucent, we have the most concerns about ALU's weak performance. Q3 2012 revenue growth for the telecom equipment industry was practically "a game of inches" and these three telecom equipment titans were in a smash-mouth, grind-it-out competitive struggle in order to generate any semblance of revenue and profit growth. Ericsson announced ahead of its investor day that it expected the telecom equipment segment to generate CAGR of 3-5% from 2012-2015, which is higher than what we would have expected. Ericsson recently announced that it was taking an 8B (US$1.23B) kroner impairment charge on its ST-Ericsson chip-making and losing making joint venture with STMicroelectronics (NYSE:STM). STM is looking to exit the joint venture and Ericsson is looking at strategic options for this venture.
Nokia Siemens recently announced it was selling its business support systems unit to telecom billing software firm Redknee for €15M (US$19.6M) + €25M (US$32.7M) in performance-based payouts. Nokia Siemens also agreed to sell its optical networking business to the private equity firm Marlin Equity Partners. Analysts speculated that this deal could be worth up to €200M ($261M) based on the value of patents included. Nokia Siemens also sold its IPTV software assets to Accenture and is looking to close a services unit that lost an essential contract with Deutsche Telekom.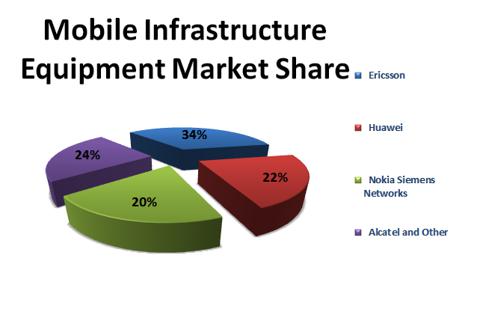 Sources: Reuters
ALCATEL-LUCENT AND THE BIG THREE (US) TELECOM SERVICES TITANS
Verizon Wireless (NYSE:VZ) is expecting to complete its 4G-LTE network build-out by the middle of 2013 and its CapEx for the first nine months has declined by nearly 10% in the first nine months of 2012 versus 2011. AT&T (T) recently announced a US$14B, three year network upgrade project which will result in AT&T increasing its annual CapEx spending from US$20B in 2012 to US$22B during the 2013-2015 period but if Verizon's CapEx spending trends is any indication, we are expecting AT&T's CapEx to decline after 2015. Although Sprint Nextel (NYSE:S) has been generating strong capital investment expenditure growth since 2009, we are aware that Sprint is a distant third in the US wireless space.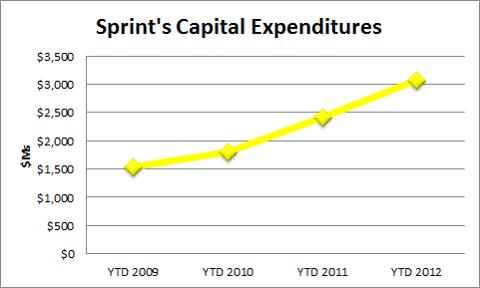 Source: Morningstar Direct
ALCATEL-LUCENT'S 25 YEAR RUN ON THE CAC-40 COMES TO AN END
Alcatel-Lucent suffered another indignity earlier this month as it was removed from France's CAC-40 stock market index in favor of smart card maker Gemalto (OTCPK:GTOFF). We are amazed that Alcatel's share price has dropped by over 80% since the first half of 2011. Then again, Alcatel-Lucent went from generating €117M (US$155M) in operating income for 2011 to incurring €556M (US$736M) in operating losses in the first nine months of 2012. ALU was part of the CAC-40 since its 1987 creation. Gemalto was previously part of the CAC Next 20 Index and Alcatel-Lucent will be taking Gemalto's place on the CAC Next 20 Index. Alcatel-Lucent isn't the only French multinational company that was demoted from the CAC-40 Index to the CAC Next 20 Index recently as Peugeot will be joining Alcatel-Lucent on its trip to the minor league of French stock market indexes.
CONCLUSION
In conclusion, we believe that Alcatel-Lucent will continue muddle through the morass of its mediocrity for at least 2-4 quarters before it begins to recover. We believe that ALU's shares have been bid up because investors believe that the company is in less danger of a bankruptcy with its new senior secured credit facility. However we are not as optimistic about its near-term business operating financial performance as it is facing a soft telecom equipment market. Verizon is expecting to complete its 4G-LTE network build-out by the middle of 2013 and its CapEx for the first nine months has declined by nearly 10% in the first nine months of 2012 versus 2011, AT&T (NYSE:T) will see a one-time increase in its CapEx by 10% over the next three years and Sprint is seeing solid CapEx increases for its Network Vision Project. When we take in account the mixed picture for telecom equipment demand in the US marketplace and combine it with a weak macroeconomic environment in Alcatel-Lucent's home market of Europe as well as a potential recession in the US due to the "fiscal cliff", we believe that there is still a significant level of risk and volatility in Alcatel Lucent's shares. Although we are keeping our eyes peeled for potential asset sales, we are mindful of the fact that the company has already harvested billions of euros from the sale of assets in 2009-2010.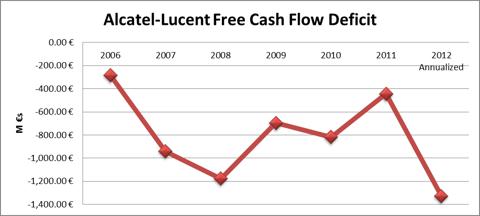 Source: Morningstar Direct
Disclosure: I am long S. I wrote this article myself, and it expresses my own opinions. I am not receiving compensation for it (other than from Seeking Alpha). I have no business relationship with any company whose stock is mentioned in this article.
Additional disclosure: This article was written by an analyst at Saibus Research. Saibus Research has not received compensation directly or indirectly for expressing the recommendation in this article. We have no business relationship with any company whose stock is mentioned in this article. Under no circumstances must this report be considered an offer to buy, sell, subscribe for or trade securities or other instruments.