We have been following Nokia Corporation (NYSE:NOK) off and on since 2000 and we considered investing it in 10 years ago when we bought our first cellular phone. We reconsidered it earlier this year when it was trading at US$6/share and we ended up taking a pass at that time. Nokia's sales volumes have been sagging since 2010 (when Stephen Elop became its new CEO) and because it has been burning cash this year, it had to cut its euro-denominated per-share dividend by 50%. In the first nine months of 2012, Nokia has incurred a €917M (US$1.214B) deficit in its operating cash flows and incurred €315M (US$417M) in capital expenditures as well as a €122M (US$161.5M) cash payments associated with the disposal of businesses incurred in Q1 2012. Nokia also harvested €95M (US$126M) in cash flows from the sale of fixed assets during the first nine months of 2012, primarily through selling 500 of its patents to Vringo (VRNG) and selling its Qt software business to Finnish IT services firm Digia Oyj. While we still see the core Devices & Services division continuing to struggle in the near-term time period, we are pleased with the recent asset sales by the Nokia Siemens Networks (SI) telecom equipment division and hope that Nokia doesn't have to cut its per share dividend again.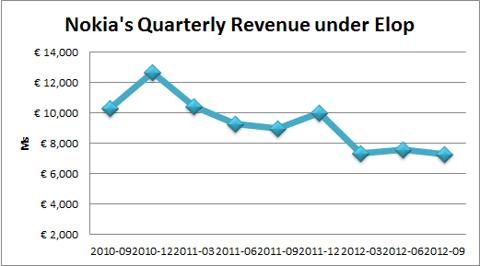 Click to enlarge
Source: Morningstar Direct
On September 11th, 2012, Nokia Siemens Networks' CEO Rajeev Suri confirmed rumors swirling around the potential sale of the division's non-core and low-margin operations in order to focus on mobile broadband solutions. NSN kicked off its asset sale initiative in Q4 2012 by selling its Internet Protocol Television business to Accenture (NYSE:ACN) on October 1st and terms were not disclosed for this deal. Accenture will be integrating NSN's IPTV business with its Accenture Video Solution product to create the industry's most comprehensive, feature-rich video software and services platform currently available for video service providers and their subscribers. We are not expecting NSN to have harvested much from this sale considering that only 17 employees from NSN joined Accenture upon the consummation of the merger, the transaction does not include the Nokia Siemens Networks' Belgacom related IPTV assets nor does it include certain smaller IPTV customers. Nokia Siemens sold the Belgacom related IPTV assets to Belgacom and 23 former NSN employees joined Belgacom upon the completion of this transaction.
On December 3rd, Nokia Siemens Networks announced that it was selling its optical networking business to private equity firm Marlin Equity Partners. Financial terms of the deal were not disclosed but Jyske Bank A/S analyst Robert Jakobsen estimated that NSN's optical business may be worth €200M ($US261M). As many as 1,900 NSN employees, mainly in Germany, Portugal and China, will transfer to a new company consisting of NSN's optical business. Marlin Equity Partners intends to acquire and consolidate companies in the fragmented optical networking business in order to create a leading presence in the optical networking industry. Nokia Siemens recently announced it was selling its business support systems unit to telecom billing software firm Redknee for €15M ($19.6M) + €25M ($32.7M) in performance-based payouts and is looking to close a services unit that lost an essential contract with Deutsche Telekom.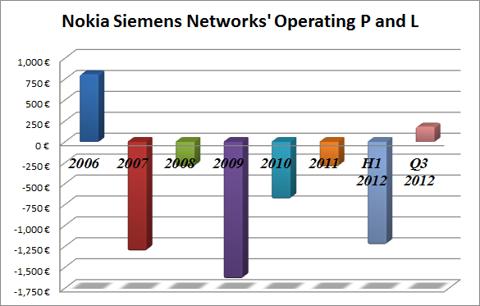 Click to enlarge
Source: Nokia Annual Reports: 2007-11 and Q3 2012 Results
Nokia Corporation also announced that it agreed to sell and lease back its Espoo, Finland headquarters as part of a sale and leaseback deal with Exillion, a Finnish real estate manager. Nokia will harvest €170M ($US223M) from this deal, down from a €200M-300M (US$261M-$396M) estimate from Ilta-Sanomat and it completed this transaction on December 12th. The building is formally known as The Nokia House and Nokia's headquarters has been in this building since 1997. The Finnish-language Helsingen-Sanomat newspaper first broke the story back in October about how Nokia was considering selling The Nokia House. Nokia also will be selling part of its recent closed Salo, Finland manufacturing plant to Orion Oyj, a Finnish drug maker.
Nokia's common stock dividend peaked in 2008 at €.53/share (US$.70/share). In 2009, it was reduced by 25% to €.40/share (US$.53/share). Nokia held this dividend payment constant from 2009-2011 before slashing it by 50% in 2012 to €.20/share (US$.26/share). Nokia's dividend yield is 6.5% and the company has €13.1B (US$17.3B) in gross liquidity and €6B (US$7.944B) in net liquidity. While the company had enough net liquidity to pay per share dividend payments equal to 2008's per share dividend payment level for about 3 years assuming the company can avoid burning through anymore free cash flows, we are aware that Nokia's management could simply reduce dividends again or even eliminate dividends to common shareholders. Considering that Nokia has had to lay off over 20K employees in order to cut its costs so as to deal with deteriorating revenue, we think that Nokia's management may want to cut its dividend in order to conserve cash as well as show its workforce that everyone is sharing in the sacrifice. Nokia has been paying a dividend to shareholders since 1989.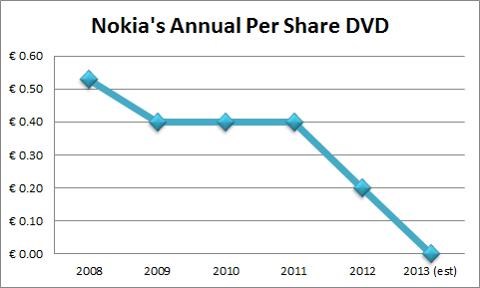 Click to enlarge
Source: Nokia's Investor Relations Website
In conclusion, we see the asset sales as a positive factor for Nokia. We're not ready to say that the company has turned itself around. We have seen a number of missteps by Stephen Elop since he has become CEO of Nokia, most notably The Burning Platform memo. We believe that the performance of Nokia will be extremely binary based on its dependence on Microsoft and the Windows Phone Platform. At least Nokia Siemens was able to generate a positive operating profit for Q3 2012 on a reported basis and an adjusted basis and it is making progress towards pruning its business mix. We believe that there is a significant level of execution risk in Nokia's shares due to its reliance on Microsoft and the Windows Phone 8. We have been surprised that Nokia's shares have been bid up by nearly 150% since its July lows of US$1.63/share even though Nokia's Lumia WP8 smartphone product launch was underwhelming and Nokia Corporation continues to lose money.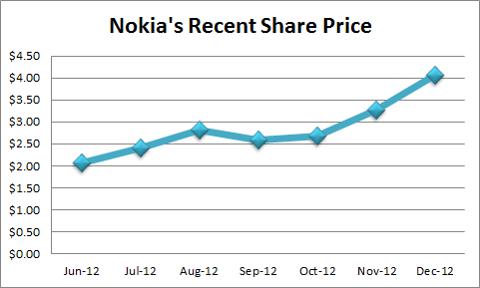 Click to enlarge
Source: Morningstar Direct
Disclosure: I am long ACN. I wrote this article myself, and it expresses my own opinions. I am not receiving compensation for it (other than from Seeking Alpha). I have no business relationship with any company whose stock is mentioned in this article.
Additional disclosure: This article was written by an analyst at Saibus Research. Saibus Research has not received compensation directly or indirectly for expressing the recommendation in this article. We have no business relationship with any company whose stock is mentioned in this article. Under no circumstances must this report be considered an offer to buy, sell, subscribe for or trade securities or other instruments